A new docuseries on the 14th Amendment to the Constitution that debuts Wednesday on Netflix features Indiana University Robert H. McKinney School of Law Professor Gerard Magliocca, who has researched and written about the drafter of the amendment.
The series, "Amend: The Fight for America," is six-part exploration of the impact of the 14th Amendment. A review by the Hollywood Reporter described the documentary as "meticulously researched" and "bringing history alive through strikingly presented archival materials… ."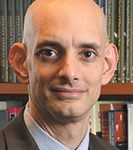 In the first episode, Magliocca discusses John Bingham, the drafter of the Equal Protection Clause. The IU McKinney professor took a close look at the antislavery lawyer and the constitutional amendment in his book, "American Founding Son: John Bingham and the Invention of the Fourteenth Amendment."
Published in 2013, the book drew wide praise.
The Los Angeles Review of Books said Magliocca takes the reader "step by step through the political and legal hurdles required to enact one of the most significant post-Bill of Rights provisions of our Constitution." Also, the Wall Street Journal said Magliocca made "Bingham come alive as an important political player in the Civil War era."
Magliocca discussed his book at the National Constitutional Center in Philadelphia.
One of the executive producers of the docuseries read Magliocca's work and eventually invited the professor to New York, where he was filmed talking about Bingham.
Magliocca is a well-known constitutional law scholar and the author of four books and more than 20 articles on constitutional law and intellectual property. His most recent book, "The Heart of the Constitution: How the Bill of Rights Became the Bill of Rights," was published in 2018.
A final fun fact: The opening soundtrack to the docuseries trailer is "This Land is Your Land," by Sharon Jones and the Dap-Kings. Jones had a connection to the legal professor, having worked as a corrections officer in New York before her singing career took off.
Jones died in 2016 after a battle with breast cancer.
Please enable JavaScript to view this content.