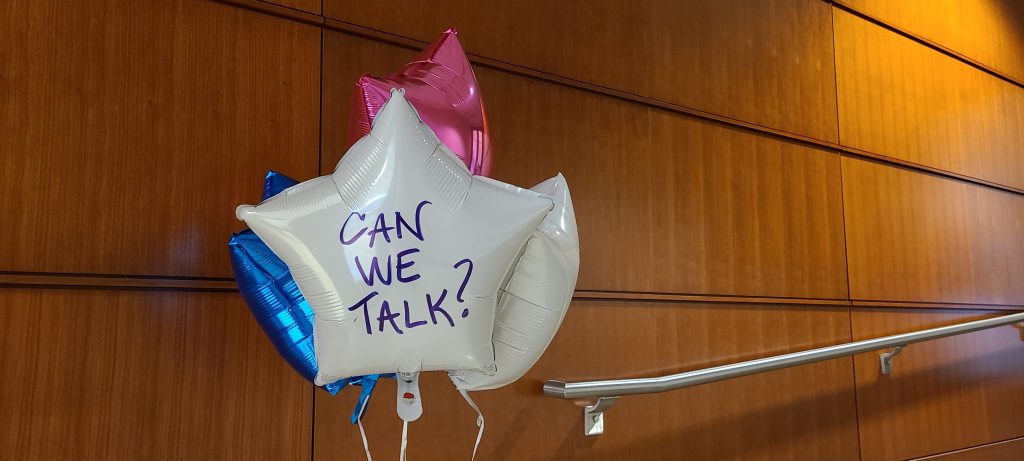 Indiana University Robert H. McKinney School of Law students hosted a panel discussion Tuesday called "Can We Talk? Women, Life and the Law," giving students the opportunity to ask questions about abortion-related issues.
The panel included Dr. Amy Caldwell, an Indianapolis OB-GYN, IU McKinney professor Jennifer Drobac, IUPUI professors Sheila Suess Kennedy and Kathy Marrs, and Laura Taylor, an attorney with Indiana Legal Services and a board member with Women4Change, where Marrs also serves.
Students and professors gathered in the law school's Wynne Courtroom to ask abortion-related questions. The discussion was put together by students who had been talking about Women's History Month in March and noticed there hadn't been a student discussion about abortion.
As a counter, members of Students For Life of America had a presence in the breezeway of Inlow Hall earlier in the day.
Kat Zoeller, a 3L at IU McKinney, said she enjoyed the panel discussion and was glad to see the number of people that filled half of the courtroom.
"It was a good turnout. We planned it pretty quickly and it was a good discussion," Zoeller said.
Drobac likewise said she was happy with the turnout, noting some students attended virtually.
Among the questions asked of the panel was what it means to describe a woman as six weeks pregnant.
Caldwell, who works for IU Health, said medically, pregnancy is dated from the woman's last menstrual period, because it is difficult to pinpoint the exact date of fertilization.
"The Indiana Legislature has decided to measure pregnancy by fertilization point, which isn't a distinct point," Caldwell said. Indiana legislation references pregnancy in terms of the number of weeks "postfertilization.
But Caldwell — who was a named plaintiff in an abortion-related lawsuit against Indiana Attorney General Todd Rokita — said that can cause conflict between doctors' training and the law.
Caldwell also discussed the ongoing controversy about mifepristone, a drug used to induce medication abortions that was put on hold this month by a Texas judge. Additionally, pharmacy giant Walgreens has announced that it will no longer sell mifepristone in several states, including Indiana, according to the Indiana Capital Chronicle.
Caldwell pointed to data from the Centers for Disease Control and Prevention showing that Indiana has the third-highest maternal mortality rate in the country.
"It is always safer to not be pregnant. It doesn't matter how that pregnancy ends — it is always safer," she said. "It is a stress on a patient's body that is at times, sometimes, the most dangerous point in that person's life."
Further, Caldwell pointed to the issue of OB-GYN "deserts" for many expectant mothers. Marrs agreed, adding that Indiana University officials have had discussions about how Senate Enrolled Act 1 — which bans abortion in Indiana with limited exceptions — will affect students and possibly drive potential students and graduates away from the state.
SEA 1 is currently enjoined while the Indiana Supreme Court considers its constitutionality. The justices heard oral arguments in the case against the law in January.
If it is allowed to take effect again, SEA 1 would ban abortions except in limited cases of rape and incest, fatal fetal anomaly, or to protect the life or health of the mother. While SEA 1 is enjoined, abortion is legal in Indiana up to 20 weeks postfertilization.
"Indiana has already gone further than I thought it would," Drobac said.
Drobac described herself as both pro-life and pro-choice, using the colloquial descriptors for abortion views.
"I am pro-life: I have a beautiful daughter and I am very glad to be able to have her," she said. "I had a choice, and I chose her."
For her part, Taylor said when people don't stand up for others, even when the issue doesn't directly affect them, then no one will stand up for them when they need help. She and Drobac pointed to the 14th Amendment, which protects "(a)ll persons born."
"I have a lot to be worried about," Caldwell said. "I am worried about my patients; I am worried about their health and safety. I'm worried about myself; I'm worried about my own safety. I'm worried about access to what are incredibly safe and effective medications as well as procedures. And I'm worried about stigma and authorization for the ostracization of abortion care in the United States."
Following the discussion, representatives from the Judges and Lawyers Assistance Program were available to students.
Please enable JavaScript to view this content.