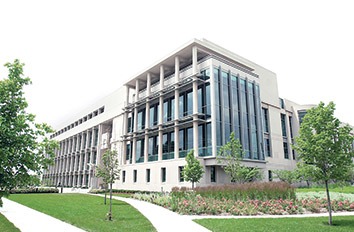 The Indiana University Robert H. McKinney School of Law next week will celebrate a $4 million financial gift designed to bolster diversity scholarship. The gift comes from an alumnus whose name has already been enshrined in the law school building.
On Nov. 15, the law school is hosting an event and reception in honor of alum Steve Tuchman and his husband, Reed Bobrick. The atrium in the law school building, Lawrence W. Inlow Hall, has been named the Steve Tuchman and Reed Bobrick Atrium.
In October 2020, Tuchman and Bobrick announced the $4 million financial gift to create a new endowed scholarship and professorship focused on the school's "community to diversity and inclusion."
The endowed scholarship will be available to IU McKinney students pursuing a J.D. degree. Special consideration will be given to underrepresented populations, including members of the LGBTQ community, immigrants, first-generation Americans, financially challenged students and/or students with diverse cultural experiences, among others.
"Steve thoroughly enjoys being a mentor to IU McKinney law students, many of whom have been so inspiring to us," Bobrick said in a statement released by the law school. "We are especially pleased that the school has had an excellent track record when it comes to issues of diversity, and we are certain that will continue."
For its part, the endowed professorship will be intended for an individual or individuals whose work is in advancing LGBTQ rights and issues, reproductive rights and issues, and/or immigration law practice and policy.
The Nov. 15 event will celebrate the financial gift, with a reception to follow.
Law school Dean Karen E. Bravo will host the event with Indiana University President Pamela Whitten, IUPUI Interim Chancellor and former IU McKinney Dean Andrew R. Klein, and Indiana University Foundation President and CEO J Thomas Forbes.
"We are extremely proud that our beautiful atrium will now be named for Steve and Reed," Bravo said in a statement. "The evidence of their generosity makes our school an even more inclusive space in which to obtain a life-changing legal degree and helps us welcome students and others from our community and around the world. We are deeply grateful to them both."
Tuchman, who graduated from IU McKinney in 1971 and retired as a director with Lewis Kappes, focused his practice on a wide variety of immigration and nationality issues, employment and family-related matters, employer sanctions, enforcement and removal cases, and naturalization cases. Bobrick, a graduate of Clark University, is a founding partner and the principal designer for Misch Bobrick Design LLC.
Tuchman and Bobrick previously made a substantial gift commitment to IU McKinney in 2013, which created the Tuchman Bobrick Scholarship. Also, they were recently selected for a lifetime achievement award by the Association of Fundraising Professionals-Indiana Chapter in recognition for their long-term philanthropic achievements.
"IU McKinney has been on an upward trajectory for a long time and we have to keep that momentum going," Tuchman said in a statement. "Our hope is this gift will make that bridge to the future bigger and stronger than it otherwise might have been."
Please enable JavaScript to view this content.