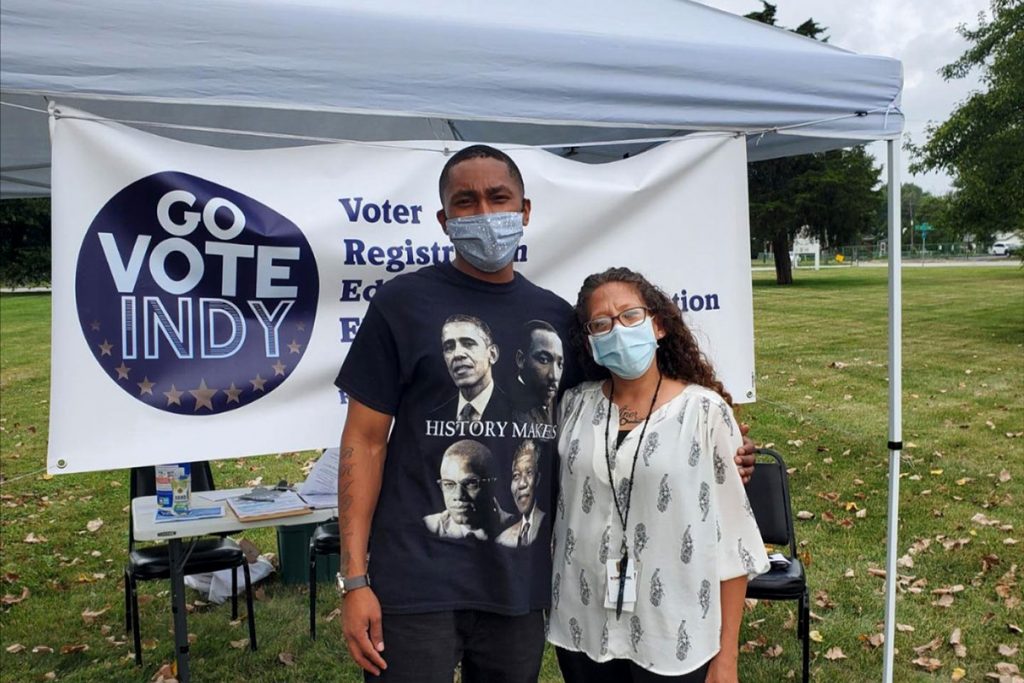 As a child, going to the polls with her parents was exhilarating for Jeannie Reed. Her mother and father, both teachers, instilled in her the importance of making her voice heard by casting a ballot.
"It was an exciting experience," Reed, a lead peer recovery coach with Public Action in Correctional Effort, or PACE, said. "I always looked forward to being 18 and having a voice, too."
But by the time she was old enough to vote, Reed had a felony conviction and was told she would never be able to cast a ballot.
"I had a corrections officer tell me that, 'You're not going to be able to vote, your vote doesn't matter, you have a felony now,'" Reed said. "I believed that, and I had a probation officer tell me the same thing. It almost made me feel like I wasn't a citizen."
It was years before Reed learned the truth: Indiana law stated she was eligible to vote once she was released. Now, Reed helps educate others who have experienced the criminal justice system — past and present — that they, too, have a voice.
Disfranchised
In the United States, an estimated 4.6 million Americans are ineligible to vote due to a felony conviction, according to a 2022 voting rights study conducted by The Sentencing Project. That's equal to one out of every 50 American adults.
More than three out of four such people are living in their communities, either while supervised on probation or parole or after having fully completed their sentences, according to the report.
Laws and policies regarding an offender's right to vote vary nationwide, ranging from full voting rights during incarceration to being prohibited from casting a ballot indefinitely for certain crimes.
In Indiana, Hoosiers who have a felony on their record are eligible to vote — they just have to re-register upon release.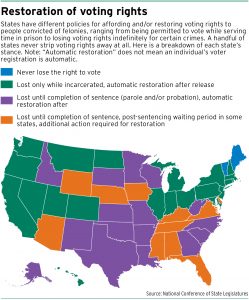 Indiana law
Under Indiana Code § 3-7-46-6, county sheriffs are required once every quarter to provide to their respective county voter registration offices a report containing the names of all Indiana residents who have been convicted of a crime and placed in a county correctional facility. Those forms must detail two things: whether the person remains in lawful custody on the day of the report and the individual's release date from the facility.
The county voter registration office in each county where an incarcerated individual lives must then be notified to remove that person from all voter registration records. Each county voter registration office must also prepare and mail a notice to the last known addresses of all persons within the county who have been disfranchised no later than the day after the registration cancellation, according to state law.
Upon release, Hoosiers who once were barred from voting due to incarceration receive an automatic restoration of their voting rights, whether on probation, parole, home detention or while enrolled in a community corrections program. However, Indiana law does not explicitly state that a person must be notified that they need to re-register to vote again.
William Groth, an Indianapolis election law and civil rights attorney, noted that although inmates released from incarceration following a conviction are eligible to vote, often they are "too late" in learning they must re-register.
"There is no outreach that I am aware of," Groth said.
Groth said many Hoosiers who were once unable to vote due to their incarceration are released with no knowledge that they have a restored ability to involve themselves in the election process.
"We don't have same-day registration, and our voter registration cuts off 29 days before Election Day," he said. "Many of the inmates fall through the cracks because no one tells you that you have to be re-registered."
The Indiana Election Division did not respond to a request for comment.
Access issues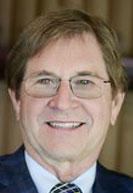 PACE, which helps justice-involved persons reenter society, partnered with Go Vote Indy in 2020 to help Hoosiers navigate the voter registration process. While standing outside a food bank with voter registration forms in hand, Reed delivered shocking news to many visitors.
"I always ask, 'Would you like to register to vote?' They say that they can't, they have a felony conviction or a criminal record," Reed said. "When they learn that's not true, they say, 'Are you kidding me? I've been told I couldn't vote. I'm 56 years old and I've never voted.'"
From her own experience in the justice system, and her conversations with those currently incarcerated, Reed said there is a lack of communication about voting rights for offenders.
State law does not require county sheriffs to provide voting opportunities or access for pretrial detainees. However, certain avenues are available for such detainees, such as voting by mail, in-person absentee, or early voting with jail transportation or traveling boards.
"It would have to be done on a county-by-county basis," Groth said.
The Marion County Sheriff's Office told Indiana Lawyer in an email that it does not keep track of how many detainees are registered to vote or who are eligible to register. It also does not track who does and doesn't vote.
According to the MCSO, inmate television announcements were made for roughly a one-week span "detailing rights to vote for incarcerated individuals, how to obtain voter registration and absentee ballot applications, and applicable deadlines."
An MCSO public information officer also said the facility's mailroom supplied voter registration and absentee ballot applications to the inmate population upon request.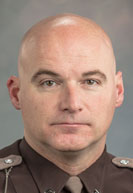 Allen County Sheriff's Department Deputy Chief Dave Butler said that as of Nov. 2, there were 303 pretrial detainees eligible to vote at the Allen County Sheriff's Department. Butler said the department has no way of tracking how many of the detainees participate in voting.
"We provide the application for absentee ballot by mail form to any detainee who requests one," Butler told IL in an email. "When the applicant receive(s) the absentee ballot, it is up to the inmate to mail it by the deadline."
Any notices, he said, are "posted in all cellblocks, as well as notices sent to the inmate tablets that each inmate has to acknowledge before they can proceed to use the tablet for any other purpose."
Getting the word out
Reed appeared skeptical about the provision of voting registration applications "by request." She compared it to inmates filling out requests for more toilet paper.
That form is familiar, she said. But what if someone has a third-grade reading level and needs help filling out a voting application that they've never seen before?
Not all counties where pretrial detainees are being held are willing to take steps to facilitate voting for incarcerated persons, Groth said.
"If they (urban areas) don't have programs, you can probably rest assured that the more rural counties don't either," he said.
"… On its face (Indiana law) isn't completely unreasonable. Indiana even allows people on probation, parole or home detention to vote," he continued. "But again, you often have to be a lawyer to know these things."•
Please enable JavaScript to view this content.