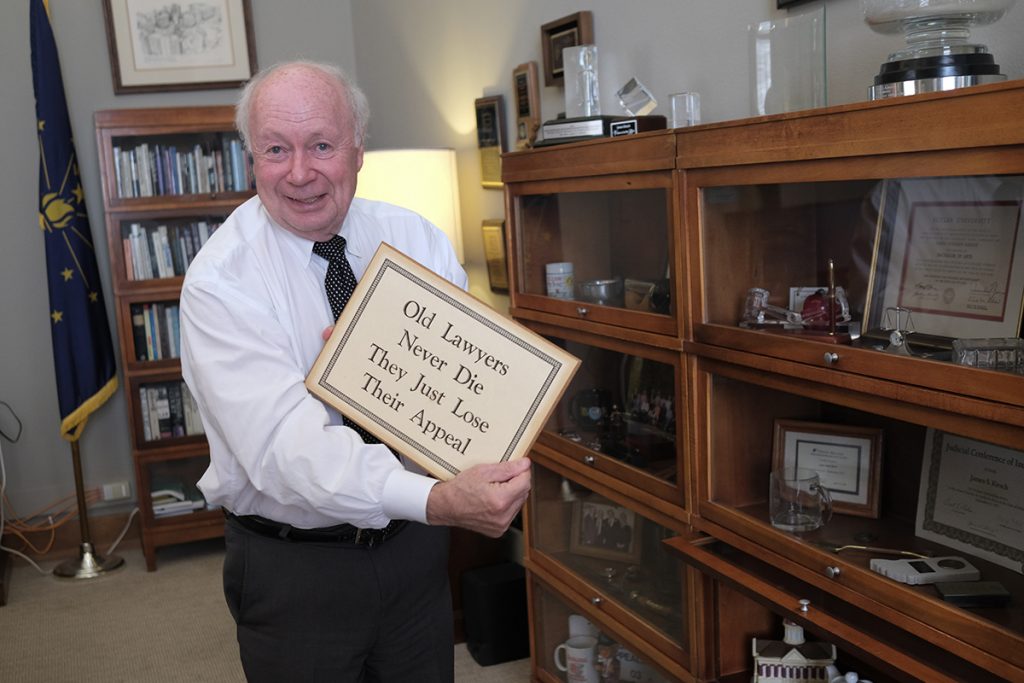 In his spacious office tucked away on the fourth floor of the state Capitol, Indiana Court of Appeals Judge James Kirsch strolls past the dozens of glass and gold trophies and plaques he's collected during his almost half-century career in law.
Kirsch lights up when mentioning his Hon. Paul H. Buchanan Jr. Award of Excellence and four Sagamore of the Wabash honors — just as much as he does when he shows off a framed "thank you" letter he received from a group of elementary school students more than two decades ago.
While the Indianapolis native has presided over thousands of cases during his time on the bench, he said the job has never felt like work to him.
"One of my favorite quotations is, 'Find what you love to do in life, and you'll never work a day,'" Kirsch said. "That's the way my career has been. I've loved the variety. I've loved the intellectual challenge."
All those accolades will soon go into boxes, as Kirsch is preparing to vacate his position on the appellate bench — a role he's held for more than 25 years.
In January, Kirsch, 74, announced his plans to retire from the COA this month. He will be succeeded by Ice Miller LLP partner Derek Molter, who was selected by Gov. Eric Holcomb on Aug. 12.
Kirsch has worked and lived in the Hoosier State his entire life.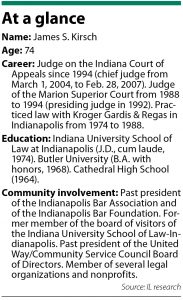 After graduating from Butler University in 1968, he spent almost three years teaching in the Circle City before pursuing his law degree from Indiana University School of Law at Indianapolis, now the IU Robert H. McKinney School of Law.
While working on his juris doctorate, Kirsch got his feet wet in the legal profession by working 25 hours per week for Indianapolis firm Kroger Gardis & Regas as a runner.
"I fell in love with the firm and the work," Kirsch said, adding that by the end of law school he was working 50 hours per week for the firm.
Upon graduation in 1974, Kirsch was an associate for KGR. He became a partner and managing partner before becoming judge in the Marion Superior Court in 1988. Kirsch served as the presiding judge of the court in 1992 and was appointed to the COA by Gov. Evan Bayh in 1994.
Kirsch, who served as chief judge from 2004 to 2007, was retained on the appellate court in 1996, 2006 and 2016.
While working as an appellate judge, Kirsch has spent a considerable amount of time sharing his wisdom with the next generation of lawyers.
Now retired from teaching, he held an appointment as visiting professor of law and management at the Krannert Graduate School of Management at Purdue University beginning in 1990. In addition, Kirsch has taught legal environmental business and transnational business law in more than 30 countries across five continents.
Kirsch has also held major leadership positions in the Hoosier legal community, including serving as president of the Indianapolis Bar Association and the Indianapolis Bar Foundation.
In retirement, outside of his senior judge duties, Kirsch said he plans to spend plenty of time with his wife Jan, children Adam and Alexandra and his grandchild. He said he especially looks forward to spending time in Hilton Head Island, South Carolina — a place his family has considered a second home for going on 50 years.
As the court prepares for transition, the retiring judge said he would use one word to describe his career: blessed.
Kirsch recently sat down with The Indiana Lawyer to reflect on his career.
IL: Are there any cases that stand out when you look back on your career?
Kirsch: I've done 4,000 cases, so it's hard to pick one or two or three. They are all a challenge. With every one of those cases there is someone that really cares about what the outcome is, and we care whether it's consistent with the precedent that has been set so far. When we say, "The law works itself pure," it's by constant reexamination. More than anything, what we do is draw lines. We say, "This is the line, you've crossed it, you're guilty" or, "This is the line, you didn't cross it and are not guilty." Finding where that line should be, deciding where that line should be, isn't easy. But it isn't done in one case — it's done in thousands of cases.
How did you start teaching?
It was a crazy time when I graduated from undergraduate school in 1968 — it was the height of the Vietnam War and the draft. They no longer had student deferments. I had been so fortunate in so many things that I thought my number would be high enough and I wouldn't be taken. My number was 42, which (was) an absolute assurance that I would be drafted. I ended up teaching seventh and eighth grade at a Catholic school on the northwest side. I taught there for two and a half years, and my feet deteriorated to the point, during that period of time, that the Army decided that I was 4-F and could not serve. That's when I went back to law school.
Why did you decide to pursue the Court of Appeals?
It was something I had always wanted to do. … I love the support given to us, particularly compared with trial judges. Trial judges are with people all day long. There's a mass of people coming through the trial courts. But when it comes to decisions, they're all by themselves. They have very little, or no, support. In our (COA) offices, each of us have three graduate attorneys that help us with writing, research and analysis, and an administrative assistant. All of our cases are decided by three-judge panels, which is the opposite of trial courts.
What advice do you have for your successor, Derek Molter?
Listen to your colleagues. That doesn't necessarily mean defer to your colleagues, but hear them. Hear what they have to say. They have more experience doing this than you do. I've met with Derek on a couple of occasions now and I'm very impressed with him. I'm very happy that he will be a member of our court. Because of the way our court is structured, he will be over in the (downtown Indianapolis) PNC building with me when I'm a senior judge. … He's a wonderful addition.
What do you hope your legacy will be?
That's a question that I haven't really thought about. I don't know where it went. Linda Pence, a very good lawyer in Indianapolis, was in my law school class of 260. She was one of 10 women. Now it's over 50% women in that class. I told her a few years ago, "Linda we blinked and missed a decade." Ten years later I told her, "Linda, we missed another one." I've just loved the job. I love this court and teaching at Purdue for 31 years. I just feel blessed.•
Please enable JavaScript to view this content.