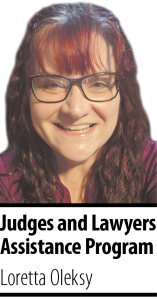 "The pandemic did not sit us all down and give us a come to Jesus moment for us to go back to chaotic, exhausting lives." –
Necole Kane
On Dec. 31, 2020, I determinedly stayed awake until midnight to see in the new year. I didn't feel celebratory, but I desperately wanted to mark the ending of that year. 2020 started for me with the death of my beloved dog, Kirby, who was not only my heart dog but also a fixture at many events in the Indiana legal community. Then COVID happened. And Breonna Taylor. And George Floyd. And the list goes on, and our lives were irrevocably changed.
So here we are in 2021. COVID deaths are on the decline and many of us are vaccinated. Businesses and workplaces are opening back up; mask mandates and other restrictions are being loosened. Many are joyfully declaring, "We are back to normal!" But what is this "normal" we are rushing back toward, and are we sure we want to embrace it? If, like me, you're feeling a little unsure about that, you're not alone.
Our human instinct is to move away from pain, both physical and emotional. We touch a hot stove and quickly remove our hand. We experience difficult emotions and want to push them away or numb them. We see someone in pain and want to make it better. The problem with that approach is that pain is a messenger. We learn something useful for the future when we pay attention to the pain we feel from touching the hot stove. Our emotions work the same 1. Growth can happen in any environment. Have you ever seen a beautiful flower growing up through cracks in concrete? Like those stubbornly resilient flowers, I learned I can do hard things in less than optimal conditions. Our JLAP team turned on a dime and learned a whole new way to connect with and support the legal profession. It wasn't always pretty, and we made mistakesg, but we supported each other and kept learning and growing. New services grew out of our willingness to get curious about what people needed and to be willing to grow.
2. Don't be afraid to say yes. When faced with unprecedented situations, there's no place for perfectionism. I learned to say yes, trust emergence and question convention. "We've always done it this way" just didn't apply anymore, and that opened up possibilities to get really creative in both my personal and professional life.
3. Be intentional about saying no. As strategic adviser and author Priya Parker says, "Make purpose your bouncer." The uncertainty of 2020 caused me to distill down what is really important to me, and just as I learned to be more open to possibilities, I also learned to say no to things that no longer served me. As a caregiver and recovering people-pleaser, finally owning that "no" can be a complete answer was life-changing. Saying no, without guilt, to the things that didn't align with my purpose opened up time and energy to say an enthusiastic yes to the things that did.
4. Practice self-compassion. Early in 2020 I read a quote that said we cannot truly be compassionate toward others if we don't start with ourselves. Say what? I did NOT want that to be true. I had spent most of my life believing I could generously offer compassion to others while simultaneously being my own worst critic and speaking to myself in ways I would never speak to others. Dang. Through a lot of self-reflection and support from my friend Jill (a scholar of self-compassion) I began to dismantle my belief that self-compassion is selfish and embrace the idea that being kind to myself makes me a better friend, spouse, employee, manager and human.
5. Embrace paradox. 2020 became the year of "yes, and" for me. I learned that I don't have to always choose either/or, that I could simultaneously be frustrated and grateful, hopeful and scared, and that I could take care of others and fill my own cup first. These days when I feel myself falling back into the trap of binary thinking, I step back to see how I can reframe and encompass options that may initially seem mutually exclusive.
These are just my top five of many lessons learned in 2020. What lessons did you learn from 2020, and how are you finding meaning and purposefully crafting what you are returning to? I'd love to hear your stories.•
• Loretta Oleksy is a lawyer, social worker and yoga enthusiast who serves as the deputy director of the Indiana Judges and Lawyers Assistance Program. Opinions expressed are those of the author.
Please enable JavaScript to view this content.