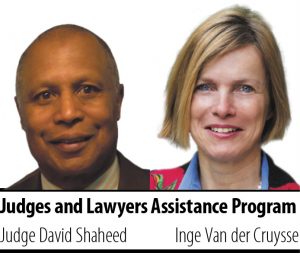 Retired Marion County Judge David Shaheed co-authored a groundbreaking national report on the effects of job stress on the judiciary. The report identifies both the sources of stress and strategies for managing it. Judge Shaheed has served on the American Bar Association's Commission on Lawyer Assistance Programs and the Indiana Judges and Lawyers Assistance Program Committee. In December 2020, CoLAP published "Stress and Resiliency in the U.S. Judiciary" in The Professional Lawyer, a comprehensive report surveying judges across the United States that suggests job stress has become a health concern in the U.S. judiciary. Judge Shaheed has long worked with people struggling with mental health and substance use issues and has now helped focus on the challenges and needs of judges.
The survey followed two 2016 national studies of lawyer and law student well-being. Those studies indicated the dismal state of well-being among U.S. attorneys and law students and the need for greater resources for attorney-specific prevention and treatment interventions: "The Prevalence of Substance Use and Other Mental Health Concerns Among American Attorneys" and "Suffering in Silence: The Survey of Law Student Well-Being and the Reluctance of Law Students to Seek Help for Substance Use and Mental Health Concerns." While studies on the well-being of the judiciary had been done in the past, a national survey of the well-being of the judiciary was lacking and thus commissioned by CoLAP.
Participating judges completed survey items on sources of stress, effects of stress, alcohol use, resiliency and stress management practices. The survey was tested by the Marion County Judiciary in Indiana and judges in Utah. With their feedback, it was sent out nationally to 18,000 judges, with 1,034 jurists responding, the majority (two-thirds) being state trial court judges. The report summarizes the findings and also devotes a section to recommendations to ease the road to improved well-being and resilience of our judiciary. The survey was conducted before the COVID-19 pandemic. The study notes that judges and the judicial system have "been subjected to stress and tests of their resiliency like never before."
The sources of stress cited most frequently by judges are: the impact and importance of the act of deciding cases (cited by 79% of the judges); heavy dockets (73.2%), a problem exacerbated in the first few months of COVID-19 lockdowns, creating a backlog; unprepared attorneys (67.6%); the number of pro-se litigants (62.5%) that has continued to rise since the 2008 mortgage crisis, with the compounding effect of forcing the courts to help these litigants navigate remote hearings during the pandemic; and hearing contentious family law issues (50.3%). Also, the profound sense of isolation among jurists (50.3%) has increased dramatically during the pandemic.
The effects of such stress on our judiciary are concerning. Nearly 39% of judges report having low energy and suffering from fatigue. For 23% of the judiciary, the stress causes depression and anxiety on a debilitating level. These diminish concentration, focus and even-tempered behavior. Depression is an indicator for suicide, and 2.2% (or 22) of the surveyed judges reported thoughts of self-harm or suicide. That the unique judicial work caused judges to consider such extreme measures is an indicator that judges need assistance. Roughly 9.5% of the judges admit to problematic drinking in 2019, compared to 20.6% for lawyers in the same year, but still more than problematic alcohol consumption in the general population 25 and older (6.6% in 2018).
The report demonstrates the critical importance of strategies to achieve resiliency among jurists, and judges have identified these. The majority of the judges knows that exercise (82.3%), and good nutrition (88.7%) release tension. Judges are aware that mental strategies like meditation, mindfulness and recreation are beneficial for their well-being, as is professional growth. Social interaction with trusted people (76.6%) and a diverse circle of friends in other professions (73.4%) are considered great strategies to cope with stress. The biggest obstacle for judges is to reach out for help from colleagues and members of the legal community: 54.7% report that they provide support to peers, but only 36.8% ask for support. Due to their leadership and isolated positions, judges are hesitant to take steps to address their mental health.
The report provides a significant list of recommendations to restore well-being and resilience in the judiciary. Judges need to focus on what they can do to help themselves. In addition, the report identifies constituents who can help judges manage their well-being and resilience: leadership in the court administration, regulators of the courts, LAP programs and individual litigators who appear in court.
The report lists resources that should be made available to judges to cope with work stress, including educational resources focusing on well-being and resilience; affordable treatment; a judicial disciplinary response that focuses on rehabilitation rather than punishment; litigators' preparedness and punctuality; reading materials for judges, attorneys and family members that can help prevent, identify and respond to stressors a judge experiences; and peer-to-peer support. Judge Shaheed notes that educational opportunities for judges where they can interact with peers help reenergize judges. The report specifically promotes opportunities for "judicial roundtables," which allow judges to present issues they deal with and to find emotional support from their peers.
In recent years, Judge Shaheed has found that mindfulness has become a regular topic at judicial conferences and training programs. Judges' hesitancy to seek help or participate in mindfulness or treatment programs may be related to their sense of isolation in the profession, their need for confidentiality or avoiding the risk of adverse reaction from a colleague. However, being able to share one's stress narrative, provide support for others and provide constructive feedback to a peer are important values and should be instrumental in stress reduction and resiliency for oneself and others.•
• Judge David Shaheed is currently a senior judge with a long-term commitment to problem-solving courts, JLAP, CoLAP and efforts at interfaith cooperation. Inge Van der Cruysse is a member of the JLAP Committee, a lawyer, an educator and a writer interested in well-being for all members of the legal profession. Opinions expressed are those of the authors.
Please enable JavaScript to view this content.