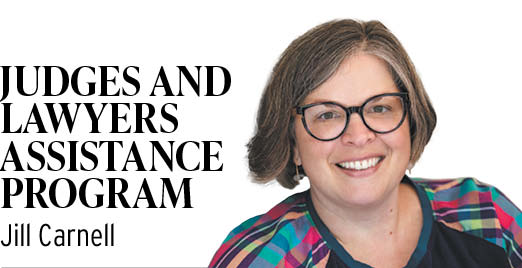 When I was in undergrad in the mid-to-late-1990s, there was a popular song called "Closing Time" by Semisonic. There were several memorable lyrics in the song, but one that I remember most is, "Every new beginning comes from some other beginning's end." I think that lyric has stuck with me because of its truthful simplicity.
Change is something that we all navigate, and over the past two years we have all certainly been navigating lots of rapid change collectively. In addition, maybe you, like me, have decided to make some changes in your legal practice. How is your heart feeling as you make these changes? Maybe you'd like some company for your journey? I am not an expert, but I have been on my journey for several years now and have some learnings to share.
Follow your curiosity
In her book, "The Lightmaker's Manifesto: How to Work for Change Without Losing Your Joy," attorney-turned-multihyphenate creative Karen Walrond cites author Elizabeth Gilbert's suggestion that instead of "following your bliss," she has found following her curiosity to be more supportive. My experience with lawyers is that we're naturally curious, but also that sometimes it feels like the demands of the practice of law have quashed our curiosity. I've also experienced the exhilaration of being asked one question that unlocked an unexpected adventure.
In the first semester of my master's degree work, I was enrolled in an introduction to academic writing course. In one of the first assignments, I was asked, "What are your research interests?" I don't recall that I'd ever been asked that question in all of undergrad or law school. I remember feeling a bit confused. I asked for clarification from the instructor, and she reiterated that she was curious about what I was interested in researching that semester. After I spent some time thinking about it, my answer was "labyrinths as meditative practice." That was three years ago. In the time since, I've written papers about labyrinths, gotten trained as a labyrinth facilitator, been published in a labyrinth journal, walked labyrinths in several states and facilitated numerous labyrinth practices. Along the way, I've learned that people who tell me (especially lawyers!) that they can never meditate often find engaging with a labyrinth in a meditative practice to feel supportive.
Pause
Here in Indiana, we've just entered the spring season, a time of birth, growth and more sunlight. We also live in a culture that tells us we always have to be doing, moving, planning and producing. If I invite you to pause, how does that feel in your body? Maybe the panic starts building in the pit of your stomach? "Wait, if I pause, won't I get left behind?"
I have found a pause to be supportive as I navigate change of all kinds. As Octavia Raheem shares in her latest book, "Pause, Rest, Be: Stillness Practices for Courage in Times of Change," "[t]he pause is a place of profound possibility. So much feels impossible because we do not trust the necessity of honoring the natural pause between one experience and the next."
What might honoring the natural pause between one experience and the next look like for you? For me, it looked like spending some time remembering some of the experiences in my previous roles in state and local government that were funny, some that were frustrating, some that were astonishing and some that made me feel proud. It looked like getting quiet and grounded enough to check in to ensure I was certain of my calling for this next part of the journey. It was spending some time with the question, "What's the worst thing that could happen?" and then turning to also answer the question, "What's the best thing that could happen?" before taking the next step.
Ask for support
Even if it doesn't feel like it, there are other people who are also making changes in their practices right now. Some of the changes may be gentle shifts, while others may be more substantial. In my role as a JLAP volunteer, I offer peer support to all kinds of people who are experiencing changes big and small. Peer support is a kind of companioning where I mostly listen and reflect what I hear and see, in a nonjudgmental way. I offer compassion during difficult times and celebrate in the joyful ones. There are JLAP volunteers, other lawyers like us, who are ready, willing and able to offer that peer support to colleagues who reach out to ask for support.
The Indiana Chapter of Mindfulness in Law Society is also a place where I find supportive colleagues. We are a group of people who are curious about engaging in mindfulness-based practices and offer support and connection as we engage with the practices. This is especially true when we talk about how we take our meditation practices "off the cushion" and bring them to our lives. I find that a recurring theme in our group is learning how to bring more ease into our legal practices by remembering our mindfulness training and intentionally using our present moment awareness when interacting with clients and colleagues.
Trust
I know — trust is a big ask! We ask our families, friends, colleagues and clients to trust us. I'm asking you to trust yourself as you trust emergence. This means that you trust that you have everything you need to navigate the journey ahead. You've got your curiosity, the pause and resources for support. Your journey of navigating change will be all the things — pleasant, unpleasant and neither pleasant or unpleasant. You also know, deep in your heart, that every new beginning comes from some other beginning's end. What's next for you? I hope you'll reach out and let me know.•
__________
Jill Carnell is an attorney who is dedicated to living a more contemplative life. After spending over 15 years in state and local government, she co-founded Thought Kitchen in August 2021, where she is the chief contemplative officer. You can reach her at [email protected]. Opinions expressed are those of the author.
Please enable JavaScript to view this content.