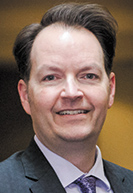 By Eric Wood
It was 1997. The year started with Bill Clinton being sworn in for a second term as president of the United States. Scientists in Scotland announced the successful cloning of a sheep named Dolly. The Hale-Bopp comet made its closest approach to Earth, inspiring 39 members of the Heaven's Gate cult to commit suicide. Diana, Princess of Wales, was killed in a traffic accident, the underdog Florida Marlins won their first World Series, and Hanson's "MMMBop" inexplicably became a hit song. It was also the year a group of determined lawyers convinced the Indiana Supreme Court to create a new agency for helping lawyers in need: The Indiana Judges and Lawyers Assistance Program.
Initially begun as an independent committee referring to themselves as Lawyers Helping Lawyers, JLAP concerned itself with identifying lawyers, judges or law students struggling with mental health or addiction issues and getting them the help they needed. You could say the fundamental task of that early committee is much the same as it is for JLAP now — to promote healing through connection. A former federal prosecuting attorney from Fort Wayne named J. Frank Kimbrough was a part of that early committee and has remained a fixture of JLAP to this day. And no one understands the importance of connection like he does.
In his 20-plus years of serving the legal community of Indiana, Mr. Kimbrough — Frank, as he would prefer to be called — has perfected the most vital aspect of any helping venture: the connection. No partnership will grow without a fundamental bond. In counseling, the process may be referred to as "joining." In joining, the counselor seeks to build a rapport that first alleviates defensiveness, then fosters comfort and trust for the recipient. Joining forms the foundation of a collaborative relationship. It is an invitation, if you will, to be heard and understood with an expectation that some degree of relief is forthcoming. Even though Frank is not a therapist, his work in establishing that connection sets the table for what will later become a therapeutic alliance with a helping professional.
To become a legend in any given field, one typically must contribute a singular innovation, a calling card of technique or skill, a signature move. Master session drummer Bernard Purdie had the oft-imitated "Purdie Shuffle." Professional wrestler Ric Flair had "The Figure 4 Leg Lock." Kareem Abdul-Jabbar had "The Sky Hook," Muhammad Ali "The Rope-a-Dope." Frank Kimbrough has "The Howdy Call."
Frank is a unique player for the JLAP team. Technically a part-timer, his title is Northern Indiana liaison. His territory begins near the confluence of the St. Joseph, St. Marys and Maumee Rivers of Fort Wayne and spreads outward like those waters throughout the territory. Any call for help originating in the 21-county region of northeastern Indiana is likely to filter through Frank at some point. Now, having a law career that spans seven decades is likely to give one ample opportunity to know and be known by many of one's peers. That is certainly the case for Frank. He's been practicing law since LBJ was in office! For example, if we were to receive a call for help for a young attorney in Muncie struggling with a drinking issue, Frank is likely to say, "Yeah, I used to share an office with his dad. Let me look in on him." Thus begins the howdy call.
For 77 years of age, Frank remains remarkably spry. Perhaps his work in fostering and training therapy dogs with Golden Retriever Rescue Resource keeps him energized. Or maybe it's his connection with Canterbury School in Fort Wayne, of which he was a founder, that keeps the spring in his step. Perhaps legendary rock-and-roll band Frankie and the Bananas, for which he plays rhythm guitar, serves as his fountain of youth. His raison d'être may emanate from enduring the loss of a law partner to alcoholism or surviving his own debilitating stroke. Whatever the source, Frank continues to bring that energy into his role with JLAP. His personality is ideally suited for the work, as well. Frank is engaging, personable, unassuming, genuine, compassionate, kind and, well, frank. His disarming demeanor and eagerness to help makes Frank the ideal purveyor of the howdy call.
The howdy call is what we may refer to in the mental health field as "the intervention before the intervention." If the goal of intervention is to produce a commitment to change, the goal of the howdy call is to invite it. Despite its importance, Frank's howdy call doesn't have a lot of moving parts. It essentially consists of Frank, Frank's car, a well-practiced knock on the door and a briefcase full of sincerity. A brief introduction and a simple query — "How can I help?" — routinely sets the stage for a vulnerable and heart-filled conversation. When under duress, sufferers typically employ a number of complex defense mechanisms to guard against the risk of exposure. Armed with equal parts charm and persuasion, Frank always manages to summon the vulnerability. We all still marvel at how he manages to put people so at ease during a time of crisis. When you have had a howdy call from Frank, you know it has been his intention to serve you in your time of need.
My favorite quote is, "Be bold and mighty forces will come to your aid," by theologian Basil King. I have always thought speaking one's truth in vulnerability is as bold as it gets. At JLAP, we may not look like much, but we are mighty forces when it comes to connecting with lawyers in distress. And none is mightier in this regard than our man Frank.•
• Eric Wood is a licensed clinical addictions counselor and clinical case manager at JLAP. Opinions expressed are those of the author.
Please enable JavaScript to view this content.