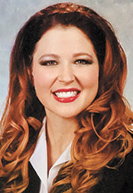 By Ashley E. Hart
I have a tattoo that reads "TCB" above a lightning bolt. A reminder I'm a musician at heart. I spent 20 years recording, writing songs and performing. Nothing taught me more about music catharsis than my uncles gathered 'round vinyl records pretending with every note they were Elvis Presley. I fell in love with the voice and black velvet smile of the boy from Tupelo, Mississippi, a singer who infused rhythm and blues into rock 'n' roll. Though we'd never meet, I worked with many around him: the Jordanaires, Sweet Inspirations, Millie Kirkham, D.J. Fontana, James Burton and Lisa Marie.
I adopted their "Taking Care of Business in a Flash." Be fearless. Don't hesitate. Take adventures. Push through. Show no emotion. Don't slow down. Put out fires. Be everything to everyone. Though our symbols may be a gavel and scales of justice, lawyers take care of business! Too much of this is a holiday recipe for burnout. In the thick of this pandemic, this charging forward mentality is only one puzzle piece. We must also stop and process what is happening.
We all feel it, right? It's a million little things from missing the connection at the bar association Christmas party or showing your spirit by wearing your favorite holiday tie to court. And it's earth-shattering moments of clients losing businesses, losing loved ones to the virus, or being sick and recovering ourselves. It's hard to put into words. "Where words fail, music speaks." — Hans Christian Andersen.
There is more in the air than holiday cheer. It feels heavy and different, the kind of energy you can't put your finger on. David Kessler, renowned grief expert, issued a wake-up call: "We are all dealing with the collective loss of the world we knew. The world we knew is now gone forever." This collective grief is fear of the unknown, loss of traditions and routines, evolving sense of safety and livelihood, physical losses, isolation, and anger about it all. 2020 is a grief song if I ever wrote one.
"Grief is like glitter. You can throw a handful of glitter into the air, but when you try to clean it up, you'll never get it all. Even long after the event, you will still find glitter tucked into corners, it will always be there — somewhere." — Unknown. How can we possibly navigate our own grief, let alone the collective feelings of the world? I reach for what brings me peace and what I know in my bones. More than "holiday blues," I know it's complex and overwhelming, but take a sound of music tour with me. This works best if you play the songs as you read. Put some records on. I'll be that girl singing at the top of my lungs in my uncles' warehouse. Let's start at the very beginning, with a few "blue" chords. Elvis sings grief truth.
"Blue Christmas" (Billy Hayes, Jay Johnson, 1957)
And when those blue snowflakes start fallin'
That's when those blue memories start callin'
You'll be doin' all right with your Christmas of white
But I'll have a blue, blue blue blue Christmas
The grief experience is haunting, like Millie Kirkham's high notes. Grief is different from each vantage point. It's looking through the window of someone's seemingly perfect holiday but sitting behind your own blue one. Our households are vast. Some are alone. Some have company and family. Each poses its own positives and challenges. Perception is not reality. Check on everyone, even your strongest connections. Just because someone grieving looks fine doesn't mean that burdens carried aren't heavy! Make a list of people and do holiday "check-ins."
"Blue Suede Shoes" (Carl Perkins, 1956)
Well, do anything that you want to do
But uh-uh, honey lay off of them shoes
Don't you step on my blue suede shoes
Carl Perkins wrote about more than stylish shoes … he set boundaries! You can too! Grief doesn't come with instructions to tell you how to handle it. Each grief journey is unique. Personal grief may be some of the worst moments of our lives. Don't compare your shoes — all grief deserves its place in the process, without one experience being more important. Take space to grieve as you need to, on your timetable.
"Moody Blue" (Mark James, 1976 — Author's favorite!)
Her personality unwinds, just like a ball of twine
On a spool that never ends
Just when I think I know her well, her emotions reveal
She's not the person that I thought I knew
She's a complicated lady, so color my baby moody blue
Grief moods are normal. Grief doesn't hit directly like an arrow. It's circular, at all angles. Some call it an ocean. We have grief triggers from our five senses and memories, any one of which can cause us to relive traumatic moments. Don't push these moments away. Sit with them. Feel them. Never be ashamed of these moments (and never shame someone for them). They are your mind, body, and soul's way of processing grief. Like every lawyer says, "it depends." Color this lady grief complicated! Give me a break, I'm grieving here!
"A Mess of Blues" (Doc Pomus, Mort Shuman, 1960)
I ain't slept a wink since Sunday, I can't eat a thing all day
Every day is just blue Monday
Since you've been away, since you're gone
I got a mess of blues
Grief is not a pretty process. It's tangled like last year's string lights stuffed back into the box. Some of which are physically burned out. It feels like everything hurts. Don't control the chaos — grief is feisty, it won't let you. Do your best to maintain order in small areas. Take care of you. Incremental goals help untangle the mess.
"G.I. Blues" (Sid Tepper, Roy Bennett, 1960)
We'd like to be heroes, but all that we do here is march
And they don't give the Purple Heart for a fallen arch
You can't march through grief, stomping all around never acknowledging it. That won't stop grief from finding you. It's exhausting holding emotions inside. Grief doesn't make you feel heroic, but facing grief and being vulnerable to tell the story is the fabric of warriors. You don't have to be a hero doing this alone.
"Blue Hawaii" (Leo Robin, Ralph Rainger, 1961)
Lovely you and blue Hawaii
With all this loveliness, there should be love
The holidays make us feel like we should get life together like a Hallmark movie. Life isn't a movie where Elvis wins the fight, saves the day, flawlessly sings a song, and kisses a girl in the first 10 minutes. I love it, but that is not grief's script. There are "Blue Hawaii vacation moments" in grief — treasured memories, daily gratitude, support from others, and people and places that feel like sunshine. Stay close to that invaluable paradise. Don't let grief's jagged edges make you bitter; it will only steal healing and life from you. Everything starts and ends with love. "Grief is just love with no place to go." — Jamie Anderson.
"When My Blue Moon Turns Gold Again" (Wiley Walker, Gene Sullivan, 1957)
The castles we used to build together
Were the sweetest stories ever told
Maybe we will live them all again
And my blue moon again will turn to gold
"Holiday heartache" will touch us. As a social worker, I get asked how to heal broken hearts. I continue to look for that answer in the places I go and with the people I meet. The heart is a muscle. It gets sore. It needs rest sometimes. It also needs exercise in giving all the love you have and receiving the love around you. Don't close it off; don't let your heart or empathy muscles atrophy. Maybe working through "blues" now will turn our moons as gold as these records again.
Elvis' TCB motto had an encore "TLC" piece. I'll need to add to that tattoo. Give yourselves and others tender loving care. Grief doesn't make you a broken bird that will never fly again. It will make your wings stronger and heart more compassionate. "You are not the darkness you endured. You are the light that refused to surrender." — John Mark Green. And as director and screenwriter Cameron Crowe wrote in the movie "Almost Famous," (2000) "if you ever get lonely, just go to the record store and visit your friends." I'll meet you there.•
• Ashley E. Hart is an attorney, licensed social worker and a committee member and volunteer of JLAP and serves the legal community with her faithful therapy dog, the Honorable K9, Judge. Opinions expressed are those of the author.
Please enable JavaScript to view this content.