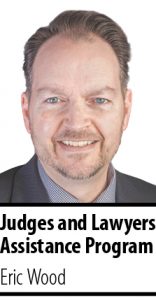 Happy holidays, friends. We've reached that joyous quirk of the calendar that gives us the extended opportunity to meet with friends and family, exchange gifts, eat too much, rotate our homes through seasonal decorating schemes and — most of all — celebrate. We don our gay apparel, deck the halls and go wassailing (whatever the heck that means) all in the name of good cheer and glad tidings. This year, however, is different than any in memory. This year, there is a faint hint of hope and optimism as we slowly and cautiously emerge from our pandemic cocoons.
For one young Indiana attorney, this holiday season is met with more gratitude and thanksgiving than in years past. It will mark year two of victory over a hard-fought battle with addiction. Anna (not her real name) was an exceptional student in her law class. Already a budding alcoholic, it surprised her that her law school orientation provided free drinks for students. Other school-sanctioned events, such as a barrister's ball, also featured ample access to alcohol. "Work hard, play hard" made perfect sense to her, while alcohol and the legal field seemed to make for a sexy partnership.
I met Anna at the start of her slow climb to sobriety following an initial call to JLAP in which she admitted, "I have an unhealthy relationship with alcohol." In our first meeting, Anna, by then a freshly minted attorney, decried the legal community's evident embrace of alcohol at professional and social events. She also lamented her family's lack of understanding regarding her compulsion to drink, noting her parents believed she should simply be able to stop drinking because she "should know better." I recently reached out to Anna to recruit her for the telling of her tale, which is one of destruction and despair, but also humility and hope:
"My road to recovery has been anything but a straight line. It has had twists, turns, hills and speed bumps. But the destination — nearly two years of sobriety as I type this — has been better than anything I could have wanted. Many people leave their partying days behind in college and begin to 'straighten up' after graduation. For me, going on to law school made that transition a bit muddier. I was still a student, and I stuck to my student habits: drinking and partying all the time. What started as drinking every weekend turned into drinking every day. What started as a fun social thing to do with friends turned into a crippling dependence on alcohol that I never expected I would develop. My husband started to comment on the frequency of my drinking, as well as the amount. I heard him, but I didn't listen. My stubborn attitude — which I've had for as long as I can remember — became my biggest enemy. I did not want to listen to anyone. Before I knew it, I was hiding (or attempting to hide) my drinking from my friends and family. I was sad all the time, and alcohol only exacerbated the sadness. My face was swollen and puffy from the alcohol.
In walked JLAP, which, at first, I was against. I didn't feel I "needed" JLAP yet and felt that by accepting their help, I was admitting defeat. I struggled for another 18 months after my first contact with JLAP. I was even arrested for DUI and kicked out of an outpatient treatment program for continuing to drink. My drinking increased steadily in both frequency and amount before finally coming to the point that I needed residential treatment. There was no denying it. The JLAP Treatment Fund* allowed me to take the time for myself and my health that I so desperately needed, and my family so desperately wanted, without the added financial burden. What resulted is nothing short of my life's biggest victory: sobriety.
Those who haven't struggled with dependency or addiction don't often understand what it is like to be told you can no longer indulge in something that everyone around you is indulging in. You have to say 'no' to something that virtually everyone around you is saying 'yes' to. It felt unfair. It was embarrassing, shameful. In early sobriety, a wave of shame and guilt overtook me, and I didn't know how to handle it. My only coping mechanism was now gone. I had to face my feelings head-on without the crutch I had come to rely on. Without the unconditional love of my husband, family and friends, I don't believe I would've made it to the other side. I believe I would still be drinking and most likely no longer in contact with any of them. That's a reality that I never, ever want to experience. I've learned through my sobriety that life has so much more color when it's not clouded by alcohol. I experience joy in small things that I didn't even notice before, like how fun it can be to just grocery shop with my husband, or how peaceful the early morning can be (you don't always notice that when you're hungover and sleeping in until 10). I've slowed down. I've appreciated. I've taken the time. Most importantly, I have forgiven myself. I will no longer allow the mistakes of my past to affect the happiness that I know awaits me in my future. I will not ever be able to adequately thank JLAP for their support — financially, mentally and emotionally. What I can do, and what I will do, is work my hardest to be a positive role model for those still struggling. I want those who are still in active addiction to see the happiness, positivity and pure peace that awaits them on the other side. For me, it has been my life's greatest gift."
*The JLAP Treatment Fund is maintained by the Indiana Bar Foundation and is funded entirely by donations.•
• Eric Wood is a licensed clinical addictions counselor and clinical case manager at JLAP. Anna is a former client and current JLAP volunteer. Opinions expressed are those of the authors.
Please enable JavaScript to view this content.