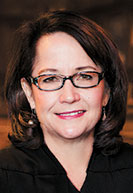 I am very familiar with Rush's advocacy in this area. Rush and her Indiana Supreme Court colleagues appointed me to consecutive three-year terms on the JLAP Committee beginning in 2014. As a committee member, I also served as a JLAP volunteer, and I have continued as a volunteer since my second term ended in January. I also serve on the FJC board and have organized and spoken at national well-being and addiction-related conferences for federal judges. I had the opportunity earlier this year, before the coronavirus outbreak, to sit down with Rush in her chambers and discuss attorney well-being, JLAP and related issues. The first thing I wanted to know was what life experiences put Rush on a path of so strongly advocating for well-being in the legal profession. It turns out that a variety of significant and emotional experiences have shaped her view in this area.
"I was a practitioner for 16 years and then a judge for 13 years, and I saw both sides of the bench," Rush said. "I saw attorneys that were struggling with alcoholism." On more than one occasion, Rush smelled alcohol on attorneys' breath, noticed their impairment and with their consent breathalyzed them, she recalled of her days on the bench in Tippecanoe County. "I called one obviously impaired attorney up to the bench along with the other attorneys in a criminal case and said you have two choices, you can take a continuance, or I'm going to breathalyze you. After three requests urging him to take a continuance, he was breathalyzed and he was over .24, if I recall. He was arrested. That same attorney came back to my courtroom later, as a part of his 12-step program. He had gotten help and he thanked me for reaching out." Rush smiled and added, "He is now a JLAP mentor, so isn't that a great full circle story?"
Not all of the experiences that landed Rush on the well-being bandwagon have happy endings. As a juvenile court judge in Tippecanoe County in 2002, a judge practicing across the hall from Rush whom she described as a "dear friend" committed suicide. "There are wounds that sometimes cannot be seen that we need to look at," Rush lamented. Rush also recalled a "well-known attorney" who died in a drunken driving accident. And there was a former Tippecanoe County judge who "was really struggling with addictions," she said. Rush explained that this judge "was close to courthouse staff … and almost died … the staff was traumatized."
These experiences made Rush truly appreciate all that JLAP has to offer. Rush responded to the crisis with the struggling Tippecanoe County lawyer by contacting JLAP executive director Terry Harrell. "I contacted Terry not only to get help for the lawyer but to get help for my staff on dealing with something you know that had occurred, and she was phenomenal," Rush said. "I mean she was non-judgmental, completely confidential."
I asked Rush to elaborate on JLAP confidentiality, because despite JLAP's best efforts, there continues to be a mistaken belief that JLAP matters are not confidential. Rush confirmed JLAP's strict confidentiality. She said she has referred people to JLAP for help, and then wondered what type of follow-up JLAP had. Out of concern for one individual, Rush asked JLAP how that individual was doing. JLAP staff politely reminded Rush they could not provide her any information whatsoever. That pleased her. "You know, if they'll keep it from me, I think they will keep it from anyone," Rush said. "I am completely confident in their confidentiality. And I was proud of them."
Despite Rush's impressive commitment to the well-being of the legal profession, she made sure to single out others who have been instrumental in the well-being movement. In addition to Harrell, JLAP deputy director Loretta Oleksy and the entire JLAP staff, Rush mentioned former Indiana Chief Justice Randall Shepard as someone who did a "marvelous" job of making JLAP vibrant. Rush also credits her current Indiana Supreme Court justice colleagues for being fabulous individuals who take a real interest in taking care of one another and knowing how each of them is doing.
With this spirit of holding out the contributions and successes of others, Rush used her 2020 State of the Judiciary speech to highlight Indiana's problem-solving courts, which have a record of success against a common denominator of mental health and addiction issues. When addressing Indiana's Legislature, Rush used the chamber's large monitors to display pictures of successful graduates of these courts in order to put faces with these successes. "I think a picture can speak a thousand words with regard to the powerful reach of the courts," Rush said, emphasizing that addiction is a chronic, treatable brain disease, not a moral failure. "These people have just been in the belly of the beast with regard to addiction and mental health, and have come out on the other side," she added.
Rush went on to note that the justice system is the number one referral system to get somebody into treatment. "So, think about it, judge. If you're that person that is in the criminal justice system and you need to get someone treatment and you don't know what works, or you don't understand the science behind addiction, then you are not part of the solution."
Rush's work as co-chair of the National Judicial Opioid Task Force focused on helping to solve this dilemma. The task force was composed of experts from 24 states, representing trial and appellate judges, court administrators, program directors, probation and parole representatives, child welfare advocates and others. In November 2019, the task force released findings, best-practice recommendations and solutions for courts addressing the crisis of addiction. The task force report includes a comprehensive set of court-specific tools, bench cards, webcasts and educational materials that can be accessed electronically and at no cost. The task force report even includes a substance use disorder dictionary to help judges use correct terminology. For example, the dictionary explains the difference between "substance abuse" and "substance use disorder." As Rush noted, there is a significant difference between telling a defendant they "tested positive for illegal drugs" as opposed to saying they tested "dirty." "Words matter," she stressed.
But Rush doesn't just talk the talk; she walks the walk. As she encourages others to do, Rush makes time for her personal well-being. Since becoming Indiana's chief justice in 2014, she has started attending yoga classes once a week. She takes solace in her home and in her church community. She takes time to appreciate her friends and her co-workers. And when given a platform, Rush encourages judges, lawyers and law students to embrace JLAP and other well-being initiatives. "I think it's so important to know help is out there," she said.•
• Tim A. Baker is a U.S. magistrate judge in the Southern District of Indiana. Opinions expressed are those of the author.
Please enable JavaScript to view this content.