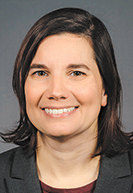 By Rebecca J. Berfanger
Before the pandemic, large law firms and legal departments in Indiana were among 187 signatories around the country who pledged to encourage attorneys to focus on wellness and wellbeing as part of an American Bar Association initiative.
In 2017, the ABA's Working Group to Advance Well-Being in the Legal Profession was formed, and in September 2018, that group launched a campaign that included helping attorneys recognize and address and navigate the issues of well-being, mental health and substance abuse; promoting healthy habits; developing partnerships among health care providers and legal assistance programs, such as Indiana's Judges and Lawyers Assistance Program; and breaking down stigmas around help-seeking and self-care.
Cummins, Inc., Faegre Drinker, Barnes & Thornburg and Ice Miller are among the local firms and companies that have signed the ABA pledge.
Their efforts have included access to fitness programs, gyms, yoga, group walks, dietitians, personal trainers, online resources and other benefits.
Since March, some of the programs have added or adapted programming to virtual programs, including yoga and meditation.
"We believe that wellness is holistic and multi-faceted and is not just about stress and substance abuse," said Natalie Stucky, assistant general counsel, real estate and environmental, at Cummins, Inc.
Following a program about self-care that Cummins offered legal staff in December 2017, Stuckey and a colleague started a wellness initiative that "we organized around what we call our eight pillars of wellness: relational, mental, emotional, physical, spiritual, professional, financial and community wellness."
In addition to classes for individuals, Stuckey said, they "incorporate wellness components into all of our in-person team meetings. Some things we have done include a cooking demonstration and discussion by a dietitian on the importance of good nutrition and hydration for managing stress and long-distance travel, outside speakers on relevant issues (Justice David addressed our global senior counsel team in April this year), and walk and talk and stretch breaks."
Beyond Cummins, she said, "We also have met with some of our law firms and a couple other companies about their lawyer wellness programs and continue to look for opportunities to have those discussions, share best practices and explore possible program collaborations."
Faegre Drinker's leadership also recognizes the benefits of wellness.
"Making time for self-care is critical in the legal profession," said Kathy Osborn, Indianapolis office leader/partner for Faegre Drinker Biddle & Reath. "We provide the best solutions for firm clients when our team members are physically, mentally and emotionally well. We are proud of our wellness program and the talented team supporting these many initiatives, and promote these services both to current Faegre Drinker professionals as well as new colleagues whom we are hoping to bring to the firm."
Osborn said that the programs are "consistently well received. The steps and other activity challenges have resulted in small groups of colleagues getting together to walk during lunch — or even hit the road for meetings that don't require note-taking or looking at a screen."
Other offerings include virtual meditation sessions called "Mindful Mondays" and "Wellness Wednesdays," and virtual yoga.
To help lawyers make the transition to virtual work, the firm also offered online resources including an internal newsletter, "Living in a Virtual World." The email and an online database offer wellness tips, mental health resources, virtual programs and sessions to help colleagues stay in touch with one another.
As of Sept. 4, the firm has started offering a concierge service to provide "both work and e-learning-related technology support, expanded Help at Home resources from the firm's EAP, and homework help and online resources allowing colleagues to crowdsource solutions and tips," Osborn added.
Barnes & Thornburg signed the ABA wellness pledge in 2018. Since then, the firm has worked diligently to introduce and/or expand programs directed to the well-being of their attorneys.
Angela Pannicke, professional responsibility analyst at Barnes, and Karoline Jackson, partner, general counsel and leader of the firm's wellness committee, promote the firm's initiatives among employees.
BT Empower, Pannicke explained, includes an onsite performance coach and therapist. During remote work, the BT Empower coach has continued to meet virtually with his firm clients and also delivers helpful information firmwide through email and webinars.
The firm also has partnered with LifeXT, a company offering programs focused on resilience and mindfulness.
The firm's Indianapolis office also has access to an onsite workout space complete with cardio equipment, weight machines and a group fitness room. Onsite fitness classes are expected to be offered in the future, in addition to onsite yoga classes open to everyone. Each of the firm's offices also organizes their own initiatives, including walking groups.
Plus, Pannicke said, "Barnes & Thornburg's management committee included wellness as part of its strategic vision plan, recognizing the critical need to improve the health and wellbeing of its attorneys and employees and that the adoption and implementation of wellness programs allows us to attract and retain the best lawyers and staff."
Another Indiana signatory, Ice Miller, offers a range of opportunities to employees.
"Ice Miller offers wellness initiatives to lawyers and staff because they promote a better work-life balance and we want our team to be their best. The wellness initiatives provided by the firm are among the many benefits we share when hiring new attorneys," said Jen Sizelove, benefits, wellness & employee relations supervisor at Ice Miller.
Among the benefits are a LIFE stipend, which stands for learning, improvement, flexibility and engagement. Attorneys use these funds for gym memberships, including the fitness center located in the same building as the Indianapolis office; at-home workouts; meal delivery services; personal trainers; and training for marathons and triathlons.
For attorneys looking to give back, Sizelove said, "the firm offers volunteer time off to be used throughout the year and participates in an annual firm-wide day of service to give back to our communities." Cummins and some other firms offer similar opportunities.
To learn more about the local wellness programs for attorneys, including support groups and virtual yoga, visit in.gov/judiciary/ijlap.•
• Rebecca J. Berfanger — [email protected] — is a journalist, professor and solo attorney at RJBerfangerLaw.com in Indianapolis. Her practice includes legal research for other lawyers, estate planning, expungements and family law. She practices wellness by biking, volunteering, subversive cross-stitching, and producing a First Amendment podcast, "Another's Lyric." Opinions expressed are those of the author.
Please enable JavaScript to view this content.