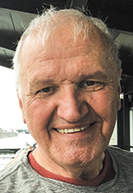 Retirement. Depending on where someone is on the age spectrum, it is a prospect too distant to be felt with any sense of reality or something that is coming like a fastball straight at your nose. Two lawyers who recently retired and I exchanged our thoughts about life in retirement.
Marc Kellams served 38 years as Superior and Circuit Judge in Monroe County before retiring in January 2019. Mark Robinson retired in June 2019 after 41 years managing the New Albany office of Indiana Legal Services. I retired in early 2020 after 40 years in private practice, the last 14 years as a solo practitioner.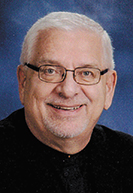 Decision to retire
The decision to retire was different for each of us, yet there are common threads in the process. For Kellams, the decision was self-evident. After 38 years on the bench, he was nearing 70 and an election. "It didn't make sense to run for another six-year term," he said. "It was just time."
Kellams and his wife, Chris, were high school sweethearts who have now been married 51 years.  Although lifelong residents of Bloomington, they relocated to Bargersville after retirement to be closer to three of their grandchildren.
The path was different for Robinson. At age 68, he had a health scare during a routine cataract surgery that required insertion of a stent. "Waiting 1½ hours in the physician's office for a heart cath gave me time to think about mortality," Robinson said. That led to thinking about when and how to retire. The process involved analyzing medical, financial and personal aspects of retired life, leading to his retirement four years later in June 2019.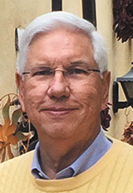 Robinson and his wife, Karen, have played a bit of "tag, you're it" with retirement. Karen retired first from her position as a longtime professor and researcher at the University of Louisville School of Nursing. But not long after Robinson retired, Karen was approached by the University and returned to her teaching and research on a part-time basis.
My solo practice centered largely on civil litigation. I anticipated practicing until age 70 or longer, but as I approached age 65, I felt myself tiring of the constant adversarial nature of a litigation practice. I felt my energy and enthusiasm for litigation ebbing.
When you are building your practice, or going about the day-to-day routine, few of us consider how that practice will translate into the latter part of your career. We change, too, often in ways we don't see coming.
I just felt there were other things in my life I wanted to do. My adult children are scattered across the country, and I didn't want to be a stranger to my two granddaughters. Also, my wife, Diana, has adult children with families in Florida and North Carolina. So I started being more selective about cases I took, always considering how long it would take to complete the matter. By mid-2019, I saw a way clear to wrapping up my practice by early 2020.
Retirement: Begin again
Author James Baldwin wrote, "If one refuses abdication, one begins again."
One similarity among Kellams, Robinson and me is that none of us views retirement as an ending. We all retain  active status with the Supreme Court and keep busy schedules. We are all still active with the ISBA and serve as volunteers for the Judges and Lawyers Assistance Program (JLAP).  Robinson is the current JLAP chairman and Kellams is JLAP vice chairman.
Robinson jointly studied both law and religion, receiving both a J.D. degree from University of Louisville and a Master of Divinity from Louisville Presbyterian Theological Seminary. He has found a more fulfilling spiritual life in retirement. "When I was practicing, in the morning I rarely had time for prayer, reading scripture and contemplation," Robinson said. Now, prayers, scripture and meditation are part of his daily routine.
There was no solid line of demarcation for Robinson when he retired. On a Friday, there was a small celebration in his office at Legal Services. The following Sunday night, he was reviewing depositions, and on Monday, he was in court trying a case for one of the five Legal Services clients whose cases he promised to personally finish.
In his local community, Robinson works 10-12 hours per week as the volunteer president of the River Ridge Development Authority, a 6,000-acre business and industrial development on the site of what was a World Ware II-era Army munitions plant. It's a position he's held for 15 years. He speaks of the project with obvious pride. "We inherited a wretched powder plant. It's now restored with first class office space literally raised from the ashes. We've brought 12,000 good-paying jobs with benefits to the area."
Leaving the day-to-day practice has had its tangible benefits for Robinson. "When practicing, I used to need to take Tylenol due to stress," he said. "Now I can't think of the last time I took any Tylenol. And my blood pressure is noticeably better."
Robinson's retirement has given him what he terms "this incredible sense of freedom."
Kellams, too, has found a deeper outlet for his faith in retirement. About 10 years before retiring, Kellams became an ordained Catholic deacon. As a deacon in his church, he assists the priest at his local parish, delivering sermons, conducting baptisms, weddings and funerals, and following his own personal calling — visiting the elderly, the ill, the infirm and the dying.
In retirement, Kellams is coordinator of corrections ministry for the Archdiocese of Indianapolis. Normally the position would involve regularly visiting the state's prisons to look after the spiritual needs of those incarcerated. However, the COVID-19 crisis has placed the state's prisons on lockdown. Still, Kellams works from home, attends national virtual conferences on prison ministry and is in the office of the archdiocese at least once a week.
Kellams retains his status as senior judge, sitting as judge at least 30 days annually in various courts in central and southern Indiana. He also continues to teach Trial Advocacy at IU's Mauer School of Law, something he has been doing since 1983.
"Retirement has been a wonderful experience," Kellams said. "I'm certainly glad I did it.  I'm active and involved in things that matter to me, which I've enjoyed a great deal."
I made the right decision at the right time to retire. Stress, some of which I wasn't even aware of, has been lifted. Now I'm spending my time doing things that are more meaningful to me at this point in my life.
Having written three novels, I have more time for writing. Over the past few months, I've written two articles for the American Bar Association's Experience Magazine. One of my short stories was recently published in the anthology "Murder 20/20," and I'm working on another story for a 2021 Halloween anthology.
I serve on the Board of Midwest Writers Workshop (MWW), a nonprofit that annually hosts two conferences for writers as well as smaller writing classes. With the pandemic, MWW faced the daunting challenge of restructuring its two annual multi-day conferences into virtual Zoom events.
When fitness facilities closed this past spring due to the pandemic, I rekindled his love of biking. A one-time avid biker, I wiped the cobwebs off my old mountain bike, oiled it up and headed out onto nearby country roads. A few weeks later, I had my 35-year-old road bike refurbished.
I ride primarily along the Cardinal Greenway Trail, which follows an abandoned C&O rail line through mostly rural eastern Indiana from Marion to Richmond. In addition to fitness, I found a peacefulness that was rare when I was practicing law. I leave my earphones behind and ride with the sounds of nature — birds, insects, and an occasional flowing creek. I don't ride as fast as I used to, or as far, but I get a greater sense of contentment than when I was younger.
Covid and retirement
Covid has significantly impacted all three of us. Each of us takes the pandemic seriously, including cancelling travel plans. Robinson and his wife postponed a Viking River Cruise in Europe. An avid motorcyclist, I still takes day trips on my touring motorcycle, but I shelved a summer motorcycle trip to Colorado/Utah and a fall trip along the southeastern seaboard from Cape Hatteras to Key West. Robinson and I both hope to reschedule our trips in 2021.
We all enjoy socializing with friends, which has largely been put on hold by the coronavirus. In echoing the sentiments of all three of us, Robinson said, "Covid has curtailed some of the fun part we thought retirement would be."
But for all three, the worst part of the pandemic has been limiting visits with grandchildren. Kellams and Robinson have grandchildren that live nearby, but both Kellams and I have long-distance grandchildren we have not seen in person since last Christmas. FaceTime helps, but it is no substitute for that hug for grandpa.
Advice to those approaching retirement
Lining up a support team is crucial to a positive retirement, according to Robinson. "Take the necessary time and effort to establish your safety net team — financial, medical and spiritual." In the four years leading to retirement, Robinson put together a medical team including an internist, cardiologist and other medical professionals he might need during retirement. He also turned to his friendship with fellow lawyers at his Lutheran church, who regularly meet for breakfast, prayer and fellowship. "When you have that team all in place, you won't enter retirement with fear and trepidation," Robinson said.
With no mandatory retirement age, some lawyers plan to never retire. Calling on his experience as a JLAP board member and monitor, Kellams thinks that is usually a big mistake.
"As a professional, you have to be careful about staying too long in the practice. There is a tendency for lawyers to view themselves as 'that person.' Retirement means not having that same identity," Kellams said.
"Some lawyers stay too long and can no longer fulfill the obligations of being an attorney. They become a concern to the bar, the bench and their community. No one wants to be the bad guy, because these are people long respected who played important roles in their community. But by then, it's often too late, even when JLAP steps in to help. It's so sad."
Advice to young lawyers
Robinson has a very specific suggestion for younger lawyers. "Keep a journal of the really significant cases, events and people in your life. When you have a joyful or meaningful outcome, make a little note about what you felt when this happened. I'm keeping a gratitude journal now, but I wish I had started when I was young."
I encourage young lawyers to find a quiet place in their lives and in themselves. Whether it's in faith, or meditation, or introspection during long walks in the woods, you need that place where you find a centering peace. I rarely took the time and effort to do that. It was a mistake both in my practice and in my life. It's difficult, particularly in a high-pressured litigation practice, but looking back, I think it would have been worth the effort.
Like Polonius, Kellams gives his wise advice to young lawyers:
"I suggest younger lawyers devote the amount of time to have successful careers, but don't let that be everything you are. Be there when your kids grow up; have interests outside of the profession; take care of your health."
"I've seen too many older lawyers consumed by their practice. I hear them say, 'I haven't been on a vacation in 15 years.' I think, 'what a shame.'  Everyone needs a life outside the law."•
• Stephen Terrell recently retired after 40 years of practicing law. He is now concentrating on writing and traveling on his motorcycle. He has written three novels, including his most recent, "Last Train to Stratton." Opinions expressed are those of the author. Read the unabridged version of this column at www.theindianalawyer.com.
Please enable JavaScript to view this content.