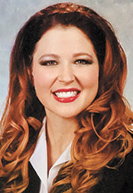 By Ashley E. Hart
It's said you can take the girl out of the country, but you can't take the country out of the girl. I was raised on a farm in a rural Midwestern town that was the kind of place where a handshake was your word, and where I believed cowboys, like my dad, really existed. It wasn't all Mayberry and roses, because every farm kid knew storms would blow in, wreaking havoc on land, crops and people's lives and livelihoods. With those storms came devastation and reconstruction; heartbreak and resilience; disappointment and hope.
In those storms, I learned the most about what it means to have "grit" to survive. Perhaps best defined by the Duke, John Wayne: "True grit is making a decision and standing by it, doing what must be done. No moral man can have peace of mind if he leaves undone what he knows he should have done." Yet under the tough cowboy exterior of leaders who face the storm are violent seas of emotions just as complicated as the cowboy himself. We do not just survive storms, but we live them, we breathe them, we react to them and we are changed by them. As Dr. Maya Angelou reminds us: "Every storm runs out of rain" and "[n]o matter how dull and seemingly unpromising life is right now, it's going to change. It's going to be better. But you have to keep working." That reminder is what cowboys struggle with the most; it is grace.
The coronavirus (COVID-19) pandemic is a multifaceted grief storm. It is an assault on our physical, emotional, psychological, sociological and spiritual well-being. We are still learning how it lives, how it moves and the severity of its destruction. Dr. Anthony Fauci, director of the National Institute of Allergy and Infectious Diseases, has warned us that: "For a while, life is not going to be how it used to be in the United States. We have to just accept that if we want to do what's best for the American public." But "for a while" doesn't mean we must embrace a "new normal" as permanent. To this country girl, it means we saddle up with both grit and grace for a "temporary abnormal," and I will do my best to leave you with some ammunition to ride through this challenging terrain.
What is "grit"? I think grit is where we don't just watch the storm from the fence, but we dive into the storm with our own two hands to be part of the solution. Note that this risks the almost guaranteed chance that we will get dirty! Angela Duckworth, researcher and author of "Grit: The Power of Passion and Perseverance," challenges us to "[s]top reading so much and go think." Ask yourself how you can use your grit to help others, for it is often when we are helping, we are contributing to our own well-being and survival.
Lawyers are not strangers to the concept of grit. We provide counsel, advice and advocacy when we step into the ring for our clients. We take incremental victories and defeats as they come, and we go back to the drawing board when necessary to change our strategies. We have mental and physical endurance for such legal storms. Those qualities do not leave us when we are met with the kind of life storm of COVID-19.
In times of our greatest storms, we must first ensure that we are taking care of ourselves so we can then take care of others. Maintain your grit during this time by taking the micro-resilient steps of eating and sleeping well, meditating, exercising, taking necessary breaks from your work, going outside to absorb the sunshine and reaching out for help when you need it.
Grit is Rocky Balboa's life speech in a nutshell: "[N]obody is gonna hit as hard as life. But it ain't about how hard you hit; it's about how hard you can get hit and keep moving forward." If we don't develop our own inner grit, we cannot survive the hits of the storm. Grit is believing that despite all of the temporary abnormal challenges, defeat is not an option.
What is "grace"? As tough as grit is, grace is the opposite. It is soft, cleansing and emotional. It is the extension of kindness to ourselves and to others. During times of crisis, we will not always be calm, cool and collected like John Wayne. Grace is not always pretty. Grace is recognizing that it's OK to grieve the state of the world, the losses that COVID-19 has left behind, and the collateral grief of limited human connection and socialization. You have permission to experience the stages of grief – and to move between them. Feel those emotions. Take space for them. And then, "Let It Be."
It is normal to be uncertain and even afraid. I like to think of grace as that fragile but brave voice that tells us at the end of the day: we did enough, we are enough and we have the opportunity to get up and try again tomorrow. Not only do we have to engage in daily reminders to ourselves, but we must encourage others that to be vulnerable is to be courageous; you cannot have one without the other.
During crisis, we cannot control the outcome, the decision-making or reactions of others, but we can control how we react, how we help and how we love. Grace is checking in with yourself and staying connected with others using all the tools you have so that you don't allow the storm to change the way you love yourself and others. As you navigate through this, remember you are not alone. The JLAP staff is available to walk with you through the storm. All it takes is the grace to pick up the phone and dial the number: (866)-428-5527 or (317)-833-0370.
To my John Waynes and Annie Oakleys of the legal community, you have to ride through this storm with grit and grace. Grit is having the strength to survive the eye of the storm and to carry on long after it is over with newly learned lessons for the rebuild. Grace is finding compassion and empathy during the high winds and rain and discovering the rainbow of growth in the aftermath. "And once the storm is over, you won't remember how you made it through, how you managed to survive. You won't even be sure, in fact, whether the storm is really over. But one thing is for certain. When you come out of the storm, you won't be the same person who walked in. That's what the storm is all about." – Haruki Murakami.
Crisis does one of two things to us: it either bonds us in ways we could never imagine, or it works to tear us apart. Grit and grace are the formula for post-traumatic growth – if you use both, you can come out of the storm wiser, more compassionate and with deeper, more meaningful connections in your personal and professional lives. We may never understand why or how the storms occur, but we can learn something we didn't know before they came: that we can survive them and thrive after them.•
• Ashley E. Hart is an attorney, licensed social worker and a committee member and volunteer with the Judges and Lawyers Assistance Program who serves the legal community with her faithful therapy dog, the Honorable K-9, Judge. Opinions expressed are those of the author.
Please enable JavaScript to view this content.