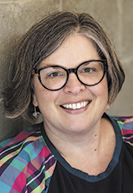 By Jill Carnell
For the past two years, I have been engaged in a Master of Arts in mindfulness studies program studying neuroscience, the Buddhist roots of contemplative practice and deepening my own meditation practice. As a lawyer, I have been using my professional practice as a laboratory to try the methods that are emerging from research regarding the impact of mindfulness practices on stress reduction, enhanced brain function and emotional regulation. I invite you to try the practice of self-compassion described below because it can make you a better lawyer by helping you to more easily "reset" when you find yourself in an emotionally or physically painful situation.
In "Self-Compassion: The Proven Power of Being Kind to Yourself," Dr. Kristin Neff writes about the habitual and unhealthy states of the human mind that naturally occur in all of us: on the one hand, we want to feel better about ourselves, so we "airbrush" our self-image to try to make it more acceptable. Then, when we fall short of these unattainable standards, we harshly and relentlessly criticize ourselves. According to Neff, we vacillate wildly between these two states because our basic survival instincts are that we want to be safe, and to be safe we either need to be dominant (the "airbrushed" version) or accept our subordinate status (the self-critical version) in the social order. The good news is that there is a way to counteract this self-criticism: by understanding it, bringing compassion to it and replacing it with a kinder response. Neff says we can do that by bringing the three core components of self-compassion to bear: self-kindness, common humanity and mindfulness.
In order to be self-compassionate, we must balance all three components, although in operationalizing the model, the order of engaging in the components is not important. Self-compassion can be reached through any of the doors of self-kindness, common humanity or mindfulness.
Neff offers some concrete suggestions to practice self-kindness. The first is to give ourselves a hug, which "… releases oxytocin, provides a sense of security, soothes distressing emotions, and calms cardiovascular stress." She also cites the practice of nonviolent communication by Marshall Rosenberg, which invites us to use empathetic rather than judgmental language in our internal dialogues. The questions are simple: What am I observing? What am I feeling? What am I needing right now? Do I have a request of myself or someone else? This practice helps to bring awareness to what we need most in the present moment and invites a posture of self-kindness to our internal dialogue.
The second core component of self-compassion is recognition of the common human experience. According to Neff, "Self-compassion honors the fact that all human beings are fallible, that wrong choices and feelings of regret are inevitable. … The pain I feel in difficult times is the same pain that you feel in difficult times. The triggers are different, the circumstances are different, the degree of pain is different, but the process is the same." The felt sense of interconnection is the key to recognizing our common human experience. The practice is to remember this common humanity in times of suffering.
The third core component of self-compassion is mindfulness, which, according to Neff, "refers to the clear seeing and nonjudgmental acceptance of what's occurring in the present moment. … To give ourselves compassion, we first have to recognize that we are suffering. We can't heal what we can't feel." When we fall short of our expectations, we tend to focus on the failure itself rather than the pain caused by the failure. If our attention becomes completely focused on the perceived flaw, it does not leave room for first recognizing and acknowledging our pain. If we stop for a breath or two to recognize that our pain deserves a kind and caring response, especially from ourselves, then we face a lower chance of increasing the feelings associated with the pain. If we do not, Neff writes, "We risk getting burned out, exhausted, and overwhelmed, because we're spending all our energy trying to fix external problems without remembering to refresh ourselves internally." This can be very difficult to do because of our innate tendency to turn away from pain. With mindfulness, we can practice noting the pain, turning toward it and being with it as it is.
Mindfulness also allows us to avoid overidentifying with emotions or feelings, which happens when our entire reality becomes consumed by feelings. A practice that can be supportive to developing "mindfulness muscle" is the noting practice, which helps us become more consciously aware of what we are experiencing. For instance, I have become aware that there is some discomfort in my back and arms because I have been sitting at the table for a while typing this article. In the noting practice, I note the discomfort and then decide how to respond wisely, such as taking a stretch break or perhaps shifting my position a bit. If my present-moment awareness isn't fully functional, I might get wrapped up in the feelings of discomfort and feel frustration about the lack of a comfortable chair.
The noting practice can lead to the opportunity to respond rather than react. Neff gives a beautiful metaphor for this practice: "After some practice you can actually make a habit of this, so that as soon as you notice that you're suffering you automatically embrace yourself with compassion. Think of it as pushing the reset button on your computer when it gets locked up. Rather than staying stuck in painful feelings of self-judgment or merciless stoicism, you can reboot your heart and mind so that they start flowing freely again. Then, whatever actions are needed to help your situation can be carried out with more calm, stability, and grace — not to mention effectiveness."
Neff's model of self-compassion is accessible to anyone and is portable, so it is always available to each of us. It is my hope that each of us may feel supported by this practice.•
• Jill Carnell, a JLAP volunteer, is an attorney and the chief administrative officer at the Indiana Department of Administration. She is currently writing her thesis, "Bringing the Brahmaviharas to the Practice of Law: An Introduction and Training Program," and will graduate from Lesley University in May 2021. To learn more about mindfulness practices specifically for lawyers, visit jillcarnell.com or @thought_kitchen on Instagram. Opinions expressed are those of the author.
Please enable JavaScript to view this content.