The process of choosing Indiana's newest appellate judge from three finalists selected earlier this month is underway.
Indiana Gov. Eric Holcomb must choose between two trial court judges and an attorney in private practice to fill now-Justice Derek Molter's seat on the Court of Appeals of Indiana.
Hamilton Circuit Judge Paul Felix, Grant Superior Judge Dana Kenworthy and attorney Carol Joven of Williams & Piatt LLC were chosen Oct. 12 following a second round of interviews with the Indiana Judicial Nominating Commission.
The commission initially interviewed 12 candidates for the COA vacancy, which opened up last month when Molter joined the Indiana Supreme Court. That group was parsed down to six candidates before the three finalists were chosen.
Felix, Kenworthy and Joven were selected by the unanimous vote of the JNC. Once their names are officially submitted to the governor, he'll have 60 days to make his selection.
Judge Paul Felix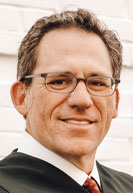 Felix has served on the Hamilton Circuit Court since 2009, presiding over a general jurisdiction court hearing major felony, family, civil and juvenile cases. Before that, Felix served in the Johnson County Prosecutor's Office for more than a decade as well as a short stint as the Carmel City Court judge from 2007 to 2008.
Felix, who received his law degree from Indiana University Maurer School of Law in 1995, said his desire to become a prosecutor was rooted in wanting to help protect society from dangerous and violent people, particularly in domestic violence situations.
Looking over his years of judicial experience, Felix said temperament is very important for a judge because litigants are entrusting the most important aspects of their lives to a stranger's hands. He said he's worked hard to avoid repeating any mistakes made during his years as a younger judge and to ensure he understands his "place in the courtroom."
"It's very important to listen and be patient with the way that the case is presented," he said. "I think that generally, I tried to say that I did an exemplary job every day when I'm on the bench."
In Felix's opinion, the major issues currently facing the judiciary are mental health crises, substance abuse disorders and access to justice. Watching Hoosiers participate in drug courts is meaningful and impactful, he said.
"It's changing me," he said. "I think that we need to take some of the things that we have learned from our drug court processes and bring it into the way we handle our regular courts. I think that would be helpful."
Carol Joven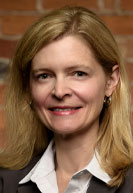 Originally from South Bend, Joven's legal practice in Indianapolis focuses on plaintiffs' complex civil litigation, including antitrust and other business disputes, professional malpractice, civil rights and personal injury. She previously worked in the Indiana Attorney General's Office and clerked for now-senior Judge John Baker of the Court of Appeals.
Joven, who received her law degree from Indiana University Maurer School of Law in 1994, said she is passionate about appellate work. The idea of serving on the appellate court is exciting, she said, because it would give her the chance to do what she loves and make a positive impact.
When asked if she believes the U.S. Constitution is a living document, Joven said yes, to some extent — for example, in situations that arise today involving technology and electronic information that the Founding Fathers wouldn't have been able to imagine at the time the Constitution was written.
"But on the other hand, I think we have to try and stay as close as we can to the original intent of the framers of the Constitution, because otherwise, where does it stop?" Joven said. "I think one of the things that makes our country great is our system of separation of powers and checks and balances. If the judiciary can try to stay in the lane of interpreting the law and the Legislature can make the laws, I think it all kind of balances out in the end and works out better that way."
In choosing from Socrates' essential qualities of a good judge — "to listen courteously, to answer wisely, to consider soberly and to decide impartially" — Joven said her strength is the third.
"I think that's one of the things that I definitely would bring to the table. I like to look at both sides," Joven said. "I've represented plaintiffs and defendants, and I've been on both sides. I also like to do a lot of research and make sure I understand what the arguments and different theories are."
Judge Dana Kenworthy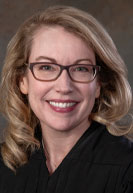 After receiving her law degree from Indiana University Robert H. McKinney School of Law in 2001, Kenworthy worked in the Grant County Prosecutor's Office and in education.
She was later appointed as judge pro tempore of the Grant Superior Court in 2010 and was eventually elected to the job in 2013, where she has remained since. Kenworthy presides over a general jurisdiction docket, including criminal, juvenile, family, civil and probate cases.
As a young girl, Kenworthy said she was introduced to and inspired by books detailing the lives of women trailblazers like Sojourner Truth, Clara Barton and Harriet Tubman. She said she hopes to help young Hoosiers, like herself at the time, see the bright possibilities of their futures.
"I think it's important for little girls from small-town Indiana to understand that they can (become a judge)," Kenworthy said. "And I would be very happy to carry that message."
Thirty years from now, if Kenworthy is selected to fill the COA vacancy, she said she would want her legacy to reflect her hard work, collegiality and humanity.
"I've worked with people for a very long time," she said. "I've looked into their eyes and delivered decisions directly to them, often with an audience. And so I know words matter, and words are more powerful when born of experience."•
Please enable JavaScript to view this content.