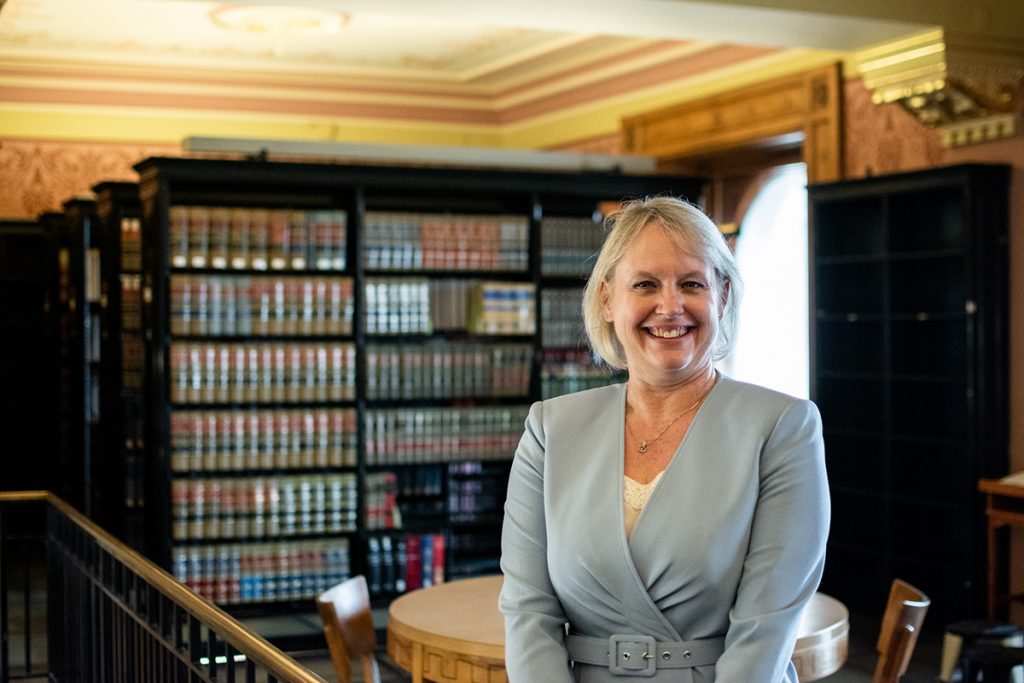 "Adrienne, I have something to tell you."
It's not her favorite phrase to hear on the other end of the phone. Adrienne Meiring has heard that sentence a handful of times during her tenure as counsel of the Indiana Judicial Qualifications Commission, and each time it's been uttered by a judge who has made "a really bad error."
When she gets that call, Meiring said she has to employ several skills at once: show compassion, use discretion, give advice and just be a human.
She's been using those skills as counsel to the JQC for more than 10 years, and now she's preparing to transfer them to her new role as executive director of the Indiana Supreme Court Disciplinary Commission.
Meiring was selected to succeed G. Michael Witte, who retired from the post earlier this year. She plans to complete her transition in 30 to 60 days, although the timeline is not yet firm.
The JQC and the Disciplinary Commission do have some overlap, but Meiring said her new role presents a challenge in the form of a larger staff and a bigger group of professionals to oversee.
"I currently am over less than 1,000 (judges), and there are 20,000 attorneys in the state — the vast majority of whom are never going to have any interaction with the Disciplinary Commission," she said.
Meiring's aim is to keep Hoosier lawyers from having to interact with the Disciplinary Commission. Her overarching goal is to provide training and educational opportunities that keep Hoosier attorneys abreast of their ethical obligations.
"Everybody wins when people know the rules and complaints aren't coming to the Disciplinary Commission," she said.
Meiring recently sat down with The Indiana Lawyer to discuss her career with the JQC and her future with the Disciplinary Commission. Part of that conversation is captured below but has been edited for space. Click here for the full transcript of Meiring's conversation with IL.
IL: You had several jobs before going to the JQC — public defender, district court, Marion County Prosecutor's Office, the Equal Employment Opportunity Commission and other Supreme Court agencies. Why did you decide to stay with the commission?
Meiring: The thing about ethics is that it holds even the people who are in positions of power to those standards, and no one is above the rules. I used to present with a gentleman at the National Judicial College who said that the purpose of judicial conduct commissions is to protect the public from bad judges and to protect good judges from bad complaints. It's a job that is constantly calling upon me to question values, fairness, equity and doing the right thing. How can anybody be bored with that?
Have you always had an interest in legal ethics?
All of my jobs have been about fairness and giving a voice to people who feel like they don't have one anymore. And so, it was sort of like when I landed in judicial qualifications, it was where I was supposed to be.
What does it mean to be "counsel" to the JQC? Is it the counterpart to the executive director of the Disciplinary Commission?
It's sort of "the head" (of the JQC). They're not quite the same, but similar. I have a much smaller staff, most of which I've built up. We do a lot more than where (the JQC) started from. I do a lot more training, I do a lot more writing — the job is easier if people don't violate the rules, so teaching people what the standards are is always preferable.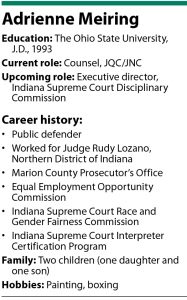 What's the relationship between the JQC and the Disciplinary Commission?
Judges and lawyers are often the first line to see when there are problems in a courtroom, on both sides. If there's a lawyer that has certain competency issues going on, judges might call me to find out what to do. On the other side of the fence, lawyers seeing judges with demeanor issues might call. So there is some collaboration between the two agencies when it's necessary.
What have you enjoyed about being counsel to the JQC?
I have liked answering questions for the judges, helping them work through ethical issues before they become problems. I like analyzing issues to try to figure out what we need to do with a particular situation — what is the right thing? What is the fair thing? I like litigation. I like teaching for the judges. I like talking about ethics — not everybody does, so if people have to listen to me, I will make it entertaining.
Do you get much negative feedback when people disagree with a JQC decision?
One of the interesting things about ethics is that there's only so much you can say about certain things. We try to be as transparent as possible, but understandably, there are reasons for the confidentiality rules for both respondent-lawyers, respondent-judges, and for the commission and complainants, as well, as to why we don't publicly say certain things. I find that many times when people make comments like that, they don't have the entire landscape on something, which is why education is so important.
As you're transitioning, do you have any plans for the Disciplinary Commission?
Right now I'm meeting with a lot of people, stakeholders, various different users of the Disciplinary Commission — respondent-lawyers, commission members, just a variety of different individuals to get their input and insights. So right now I'm in the information gathering stage on a lot of those things. I definitely would like us to be reaching out, teaching, educating lawyers.
There have only been a handful of Disciplinary Commission executive directors. Does that give you the opportunity to forge your own path?
I think that we'll be looking at a lot of things. I want to have a positive impact, and I'm interested in the philosophy and the thinking and beliefs of other agencies, as well, which would include the (Indiana Supreme) Court.
What challenges do you foresee?
I think anybody who takes a position like this and isn't a little bit daunted is perhaps a much more courageous soul than I am, or maybe I'm just realistic about things. I think it's important to listen. If you want to move forward, you have to listen to other people as to what works, what could be done better and what might need to be left behind.
How does your varied legal experience benefit you in your current role?
I think it's beneficial because I rarely look at a question, issue or problem from one point of view. I'm always trying to look at it from the other person's point of view and giving it the most innocent explanation possible until it is shown otherwise, and I think that comes both from my family background and from my varied work experience, because I haven't done just one line of thought the whole entire time. I've had to think like a defense attorney, I've had to think like a prosecutor, I've had to think like a federal regulator, all of those things, and so I take that with me now.
Do you have a replacement for yourself at the JQC?
I'm looking at all of those kinds of things. The court is taking this as an opportunity for efficiency and streamlining, so we're just looking at a bunch of potential alternatives.
The JQC counsel is also counsel for the Judicial Nominating Commission. The commissions are comprised of the same people but are two separate bodies. Are those roles different for you?
Completely. It's different because there are much more public access questions (at the JNC), making sure the trains go on time, providing whatever information that the commission members need or want, which is extensive.
Tell me about your family.
I have two children, both teenagers. They're both fantastic but they keep me humble. I told my son that I got the job and he goes, "Yay. What's for breakfast?" That was sheer and utter love from my son. I grew up in Ohio since I was 5. There was a lot of public service in my family. We had family dinners pretty much every night around a table talking about social issues and things like that, and my mother, being an elementary school librarian, quoting Disney, Dr. Seuss and A.A. Milne. That quantified my childhood.•
Please enable JavaScript to view this content.