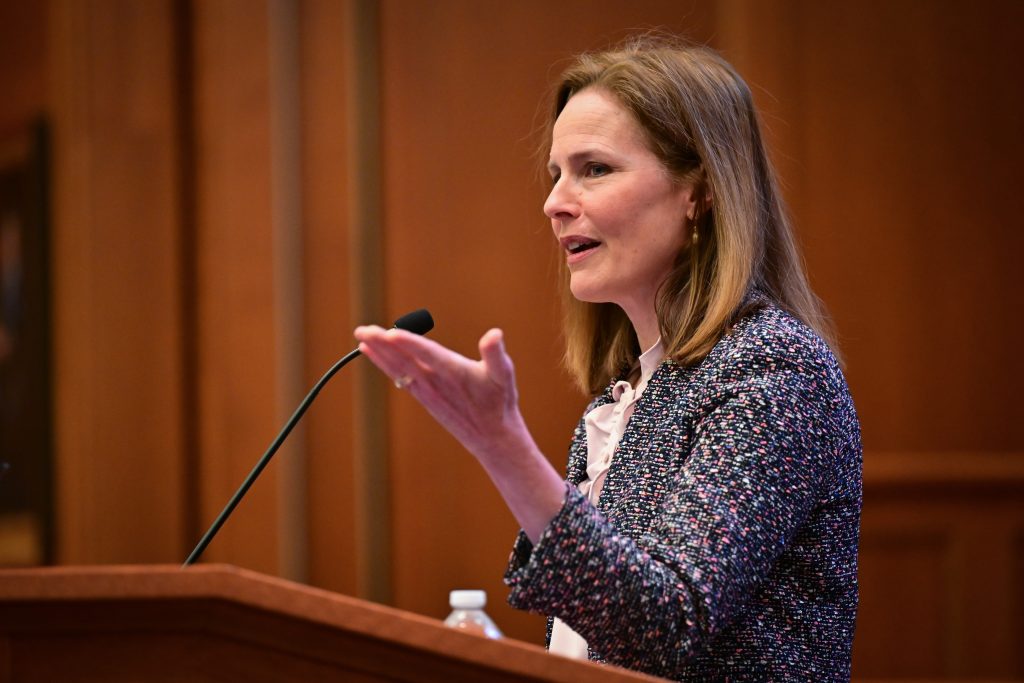 Stepping up to the podium inside the McCartan Courtroom, U.S. Supreme Court Justice Amy Coney Barrett opened her keynote address as part of the Notre Dame Law Review's Federal Courts Symposium with some humor.
"It's really good to be home. When the Law Review extended this invitation, how could I resist February in South Bend?" Barrett mused.
On Monday, Barrett gave a 30-minute presentation on federal equity power before taking questions from law students and professors in attendance.
Barrett, who was appointed to SCOTUS after the death of Justice Ruth Bader Ginsburg in 2020, discussed the "tension" that happens in the federal courts when it comes to the law and equity and compared it to debates over constitutional interpretation.
"At root, it's about the tension between the demands of the law, which constrains, and the demands of fairness, which is flexible," she said.
The newest associate justice labeled herself as a formalist and said equity is a "technical branch" of the law.
"Equity jurisdiction gives federal courts access to a body of law," Barrett said. "It does not empower federal judges to be lawmakers."
In her first example of federal equity powers, Barrett cited the case of Grupo Mexicano de Desarrollo SA v. Alliance Bond Fund Inc., 527 U.S. 308 (1999), where the high court found the federal courts couldn't issue a preliminary injunction to prohibit a failing Mexican business from transferring or dissipating assets pending final judgment to satisfy debts.
Justice Ginsburg partially dissented from that opinion, calling for more flexibility. Barrett noted she was a clerk for the late Justice Antonin Scalia the year the case was decided.
Barrett said the law most often delivers justice rather than equity and that lawmakers must make changes when injustices occur.
"Congress has numerous tools to right injustice," Barrett said. "Where the text is clear, everyone agrees judges' hands are bound. Judges don't always have the ability to step in and always ameliorate unjust results or unfairness."
Barrett's second example was the 2021 case of Terry v. U.S., 593 US ___ (2021), where SCOTUS determined the petitioner was not entitled to the benefit of the First Step Act, finding it does not apply to crack cocaine offenders whose offense didn't trigger a mandatory minimum sentence. Justice Sonia Sotomayor, whom Barrett said is more on the "pragmatist" than formalist, concurred with the judgment but wrote in a separate opinion Congress should "right this injustice."
During the Q&A, the newest SCOTUS justice and former 7th Circuit Court of Appeals judge called Notre Dame home and said coming back was a slice of her "old life." She said one of the most difficult parts of becoming a justice has been the public spotlight that comes with the position — especially in the age of social media.
"It's like learning to ride a bike with everybody watching you," she said.
Monday's visit to Notre Dame was the second time the former professor had publicly been on her alma mater's campus since joining the country's high court. This past summer, she taught a one-week court to 15 third-year law students on statutory interpretation.
Barrett is the third active Supreme Court justice to give a speech at Notre Dame since September, when Justices Samuel Alito and Clarence Thomas both gave their opinions on the public's perception of the high court. Barrett also gave a speech on the issue last summer, but during an event hosted by Senate Minority Leader Mitch McConnell, R-Kentucky, at the University of Louisville.
Please enable JavaScript to view this content.