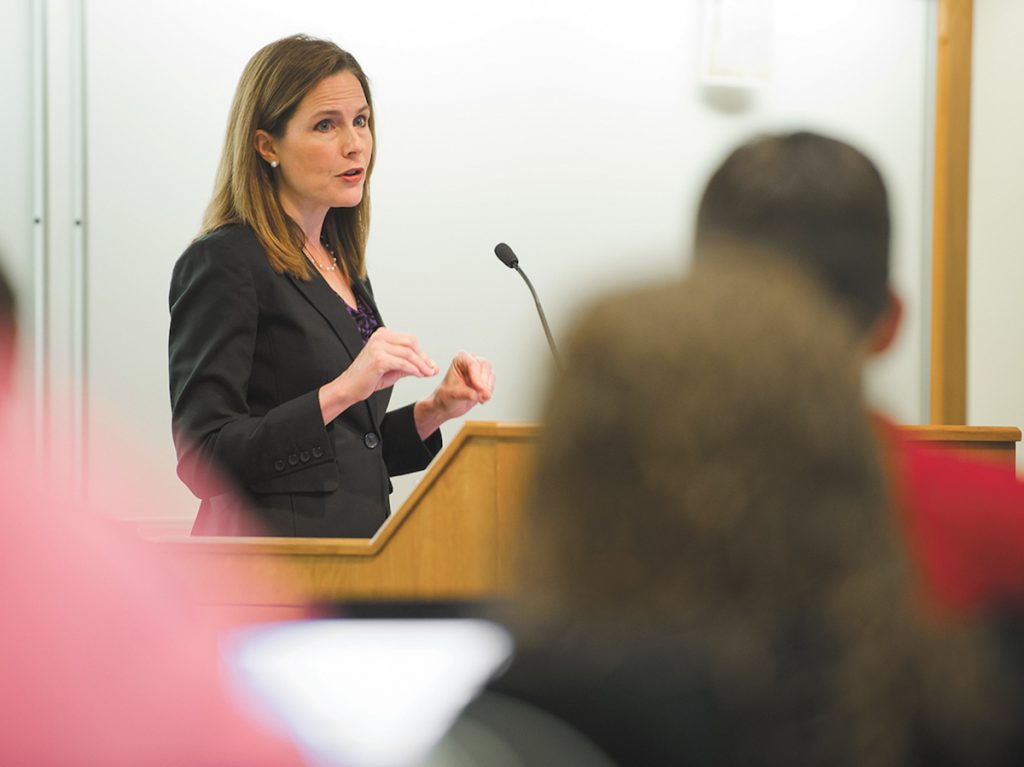 IL Staff and Associated Press
The newest — and youngest — justice ascended to the nation's highest court just shy of three years after her confirmation to the federal bench from the classrooms of her alma mater, the University of Notre Dame Law School.
Judge and professor Amy Coney Barrett, 48, was confirmed to the United States Supreme Court on Monday, closer to a presidential election than any justice in history. Her nomination and confirmation further polarized a divided nation where nearly 60 million people had already cast ballots by the time the Senate voted along party lines 52-48 to confirm her. Just one Republican defected from the majority, and Barrett's confirmation marks the first time in modern history that a justice was confirmed with no support from the minority party.
Notre Dame Law School Dean G. Marcus Cole hailed Barrett's confirmation. "We at Notre Dame are immensely proud of our alumna, colleague, and friend on this momentous occasion," he said. "For more than two decades, we have been blessed by her brilliant scholarship, her devoted teaching, and her thoughtful, open-minded approach to legal questions. Justice Barrett's brilliance as a scholar has only been exceeded by her exemplary kindness and generosity toward everyone she encounters. While we will miss her presence on our campus and in our community, we look forward to witnessing these qualities as she serves on our nation's highest court."
Democrats had argued for weeks that the vote was being improperly rushed during a pandemic and that the seat should be filled by the winner of the election, arguments the Republican Senate rejected.
Trump's choice to fill the vacancy of the late liberal icon Ruth Bader Ginsburg potentially opens a new era of rulings on abortion, the Affordable Care Act and even his own election. Democrats were unable to stop the outcome, Trump's third justice on the court, as Republicans race to reshape the judiciary. Barrett's lifetime appointment as the 115th justice will solidify the court's rightward tilt, giving conservatives a 6-3 majority.
Indiana Republican Sen. Todd Young had urged his colleagues to confirm Barrett to the Supreme Court. Speaking on the Senate floor late Sunday, he described the 7th Circuit Court of Appeals judge as a brilliant jurist who will interpret the Constitution as written and carefully weigh the facts of each case.
"Despite Democrats' repeated attempts to try to drag her into the political fray, Judge Barrett has proven that she will make her decision based on the law rather than politics," Young said. "When I met with Judge Barrett earlier this month, I was assured that she would be guided by the law and precedent and be faithful to the Constitution."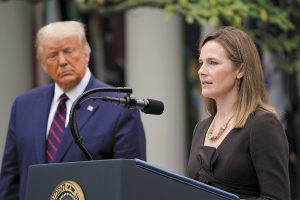 After voting to confirm Barrett, Young said, "Throughout the confirmation process, Judge Barrett has more than proven her credentials to sit on the highest court in the land. This is a proud day for Indiana, as one of our own will soon be sworn in as the next Supreme Court Associate Justice."
The spiking COVID-19 crisis hung over the proceedings. Vice President Mike Pence's office said Monday he would not preside at the Senate session unless his tie-breaking vote was needed after Democrats asked him to stay away when his aides tested positive for COVID-19. His vote was not necessary.
Pence's presence presiding for the vote would have been expected, showcasing the Republican priority. But Senate Democratic leader Chuck Schumer and his leadership team said it would not only violate virus guidelines of the Centers for Disease Control and Prevention, "it would also be a violation of common decency and courtesy." Many Democrats also criticized the process of rushing Barrett to the high court without taking further action to address the pandemic.
Some GOP senators tested positive for the coronavirus following a Rose Garden event with Trump to announce Barrett's nomination last month, but they have since said they have been cleared by their doctors from quarantine. Pence was not infected and his office said the vice president tested negative for the virus Monday.
Since taking the bench, Barrett has heard more than 600 cases and authored nearly 100 opinions. She said during her confirmation hearings that the late Justice Antonin Scalia was a mentor, but also sought to assure skeptical Democrats she would keep an open mind on the court.
"When I said that Justice Scalia's philosophy is mine, too, I certainly didn't mean to say that every sentence that came out of Justice Scalia's mouth or every sentence that he wrote is one that I would agree with," Barrett told the Senate Judiciary Committee earlier this month.
During several days of public testimony before the committee, Barrett was careful not to disclose how she would rule on any key cases.
She presented herself as a neutral arbiter and suggested, "It's not the law of Amy." But her writings against abortion and a ruling on "Obamacare" show a deeply conservative thinker.
Several pre-election matters are awaiting decision just a week before Election Day, and Barrett could be a decisive vote in Republican appeals of orders extending the deadline for absentee ballots in North Carolina and Pennsylvania — decisions that also could impact a similar case in Indiana.

The justices also are weighing Trump's emergency plea for the court to prevent the Manhattan District Attorney from acquiring his tax returns. And on Nov. 10, the court is expected to hear the Trump-backed challenge to the Obama-era Affordable Care Act. Trump said he wanted to swiftly install a ninth justice to resolve election disputes and is hopeful the justices will end the health law.
Sen. Lindsey Graham, R-S.C., the chairman of the Judiciary Committee, praised Barrett, a mother of seven, as a role model — "a conservative woman who embraces her faith." Republicans focused on her Catholic religion, reviving earlier Democratic questions about her beliefs. Graham said Barrett is "unabashedly pro-life, but she's not going to apply 'the law of Amy' to all of us."
Barrett was born and raised in Louisiana and came to Indiana to study at Notre Dame Law School. She graduated summa cum laude and first in her class in 1997 then went on to clerk for Scalia from 1998 to 1999. In 2002, she returned to Indiana to begin teaching at her law school alma mater.
Young claimed Barrett as Indiana's own.
"Hoosiers are extremely proud of Amy Coney Barrett and the trail she has blazed for others. A role model for women everywhere, including, I might say, my own three young daughters," he said. "I'm incredibly proud that our next Supreme Court justice will hail from America's heartland, from the great state of Indiana."
The American Bar Association's Standing Committee on the Federal Judiciary committee gave Barrett a favorable rating. A "substantial majority" of the standing committee determined she is "well qualified" and a minority found she is "qualified" to serve on the Supreme Court of the United States.
Several professors at the Notre Dame Law School wrote in support of her nomination, as did some former law clerks and former law students. Also, members from her 1997 class of Notre Dame Law School wrote in support of her nomination.
"As fellow students, we often learned more from Amy than the professor whenever she had asked a thoughtful question in class or engaged in a considerate debate with the professor," her classmates wrote. "Her insight and approach to the discussion always elicited clear thinking, elucidated the issue, and demonstrated an open-mindedness to all sides of a debate. We were better for having been her classmates. Amy earned our admiration because of her consistent preparation and rigor."
At Notre Dame, Barrett has taught civil procedure, constitutional law, evidence and federal courts.
Former Notre Dame Law School Dean Patricia O'Hara appeared remotely before the Senate Judiciary Committee to help introduce Barrett. In her remarks and her letter to the committee, she praised her colleague's teaching skills and legal scholarship.
O'Hara also noted she likewise supported the confirmation of now-Justice Elena Kagan, whose tenure as dean of Harvard Law School overlapped with O'Hara's tenure at Notre Dame. Kagan was nominated by Democratic President Barack Obama in 2010.
"Amy Coney Barrett has served with distinction in every professional position she has ever held and during her tenure on the United States Court of Appeals for the Seventh Circuit," O'Hara wrote in her letter to the Judiciary Committee. "I am confident that if she is confirmed by the United States Senate, she will be an outstanding justice — brilliant, fair, impartial, and empathetic — and will serve to strengthen an independent judiciary committed to the rule of law."•
IL senior reporter Marilyn Odendahl contributed to this report.
Please enable JavaScript to view this content.