The basic concept of indigency is well-understood in the law. A low-income defendant who can't afford a lawyer will be appointed one, and their court fees also may be waived.
But across Indiana, lawyers say judges in different counties often take different approaches to making an indigency determination. That's led to what some call "justice by geography" — that is, a person facing charges might be deemed indigent in one county, but the same person facing the same charges in another county might be found to have the ability to pay.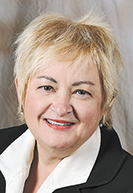 Speaking at a summer study committee hearing in August 2019, Sen. Karen Tallian, D-Ogden Dunes, said there are four main issues where indigency is a factor: public defenders, court costs/fees, probation/post-conviction fees and bond/bail. Among those four issues, Tallian told the Interim Study Committee on Corrections and Criminal Code, there is no continuity in how indigency is determined.
Thus, during the 2020 legislative session, Tallian presented the Senate Corrections and Criminal Law Committee with Senate Bill 302. The legislation creates a statutory list of factors for judges to consider when making indigency determinations.
Some concerns have been raised about SB 302 — specifically related to the fiscal impact it might have if more people are determined indigent — but Tallian's bill has so far received unanimous, bipartisan support. The goal of the bill, she said, is to bring parity to the criminal justice system in each of Indiana's 92 counties.
"We were trying to — you know, 'equal justice for all' — standardize at least some of the factors that courts would look at," she said.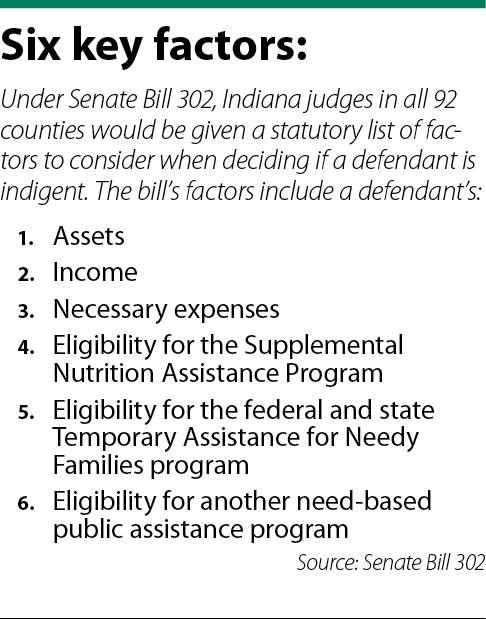 Factors and fiscals
Senate Bill 302 would create a new section of the Indiana code, I.C. 35-33-7-6.5, listing six factors to consider in indigency determinations.
The first three factors — assets, income and necessary expenses — include "shall" language. But the other three factors "may" be considered as sufficient evidence to establish indigency: a person's eligibility for the Supplemental Nutrition Assistance Program, the federal and state Temporary Assistance for Needy Families program or another needs-based public assistance program.
"The court may issue an initial indigency determination pending receipt of documentary or other evidence from the person concerning the person's income, assets, expenses, or welfare eligibility," the proposed language of Section 6.5(c) reads. Section 6.5(d) continues: "If the court finds that the person is able to pay some of the fines, fees, and court costs, the court may prorate the person's fine, fee, and court costs, and require the person to pay an amount that the person can reasonably afford."
The legislation also includes language allowing judges to review indigency determinations at any time during the proceedings if a judge receives "evidence of a material change" in a person's financial situation, or if the person fails to provide sufficient evidence to sustain an initial indigency determination.
"The idea was that you make a determination, you present your evidence and then that sort of follows you through, unless all of a sudden you've won the lottery, or you got a new job," Tallian told Indiana Lawyer.
Sen. Aaron Freeman, R-Indianapolis, voiced concerns during a Jan. 14 committee meeting about the potential fiscal impact of SB 302. The original language of the bill held that a person deemed indigent would carry that status "throughout the proceedings, including for the purposes of the ability to pay fines, fees, court costs, and program costs." Losing those court fees and program costs, Freeman posited, could have a "huge" impact on criminal justice funding.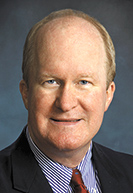 A fiscal impact statement prepared by the Legislative Services Agency on Jan. 29, however, says the bill would have an "indeterminate fiscal impact on the amount of revenue collected from court fees," though LSA did say public defense expenditures could increase.
Among the agencies potentially impacted by SB 302, LSA said, is the Public Defender Commission, which reimburses counties for meeting heightened public defense standards. But Mark Rutherford, chair of the Public Defender Commission, told Indiana Lawyer he doesn't foresee the legislation having a significant impact on the commission's budget.
Tallian likewise said the possibility of lost fees did not factor into her consideration of the legislation. But, she did endorse amendments offered by Freeman that struck the contested language from her bill and added language requiring judges at sentencing to inquire into whether a defendant has paid all required fees.
Creating uniformity
For Marion Superior Judge Amy Jones, SB 302 likely won't change much about how she makes indigency determinations.
Already the criminal court judge asks defendants about their employment status, their housing, their family situation and their use of public assistance programs, among other factors. She generally holds two indigency hearings: one at the outset of the case, and one after the defendant has served their term.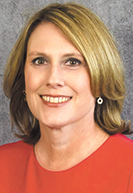 "So much can change," Jones said. "They can lose jobs, gain jobs. It's good to see where they are before I make a decision on fees."
Also as the bill provides, Jones will offset fees if it's necessary for an offender's situation. For example, if an offender has to participate in a fee-based program more often than is typical, she might reduce their fee obligation to compensate for the greater frequency.
Jones has heard concerns from public defenders about whether judges ask enough questions to make accurate indigency determinations. She also acknowledges Marion County courts often have more resources than courts in other counties, including an established public defender office and the Indianapolis Bar Association's Modest Means Panel, which provides reduced-cost criminal representation to low-income defendants.
But "it's hard even here in Marion County," she added. "None of us do a single thing the same, so I can appreciate the Legislature wanting to add uniformity."
Clark Superior Judge Vicki Carmichael, president of the Indiana Judges Association, did not respond to a request for comment on the legislation by the IJA.
Appropriate sentences
From a public defense perspective, Rutherford said he has heard anecdotal concerns about counties taking different approaches to indigency determinations.
The factors in the bill are a good step toward creating uniformity, Rutherford said, though he added that existing caselaw is more specific on what it means to be "indigent." But, he continued, SB 302's indigency factors don't seem to be exclusive, so judges still have the discretion to make additional considerations.
Further, the legislation has the effect of indirectly reducing recidivism, Rutherford said. When indigency is determined uniformly, he said, the appropriate defendants will be appointed counsel, which leads to more appropriate sentences.
"You don't want somebody going to jail for 10 years if an attorney could tell them they should be doing something different," he said.
Bernice Corley, executive director of the Indiana Public Defender Council, also supported SB 302, offering her support for the bill in committee testimony.
Dave Powell, senior counsel with the Indiana Prosecuting Attorneys Council, told the Senate committee IPAC is neutral on SB 302. He said the council supports the idea of creating uniformity and noted some counties require defendants to file an affidavit or provide other evidence of their indigency. Likewise, the language of the legislation allows courts to consider "documentary evidence."
The bill has been referred to the House of Representatives but had not been assigned to a House committee at Indiana Lawyer deadline.•
Please enable JavaScript to view this content.