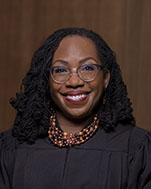 The naming of a Miami-area street for Justice Ketanji Brown Jackson brings to four the number of sitting Supreme Court justices similarly honored and makes possible a high court-focused road trip between Florida and New York.
Jackson, the first Black woman to serve on the court, was on hand for the naming ceremony Monday in the community where she was raised.
"To have my name so prominently displayed on a street in a community that has given me so much, that is a very special honor," Jackson said.
Justice Ketanji Brown Jackson Street in Miami-Dade County runs for about three-quarters of a mile, just west of Biscayne Bay.
To start the trip, head north on Interstate 95. In Georgia, the highway crosses Interstate 16, not far from Savannah. That's the Justice Clarence Thomas interchange. Drive into town to check out the Savannah College of Art and Design's Clarence Thomas Center for Historic Preservation.
Continue all the way to New Jersey to drive along Justice Samuel Alito Way, in Hamilton Township, east of Trenton.
In New York City, roughly 1,300 miles from Jackson Street sits the Justice Sonia Sotomayor Houses and Community Center, the Bronx housing development where the justice grew up.
Sotomayor, the senior justice on the liberal side of the court since Justice Stephen Breyer's retirement last year, also is the court's leader as measured by places named in her honor. Public schools in California, New Jersey, South Dakota and Texas also bear her name.
No one has as many public honors as Justice Thurgood Marshall, the first Black person on the Supreme Court. Among the places named for Marshall are the international airport between Baltimore and Washington and 35 public schools in 18 states and the nation's capital.
One of those schools, in a Maryland suburb of Washington, previously had been named for Chief Justice Roger Taney, who wrote the pre-Civil War Dred Scott decision, which held that Black people could not be American citizens.
Please enable JavaScript to view this content.