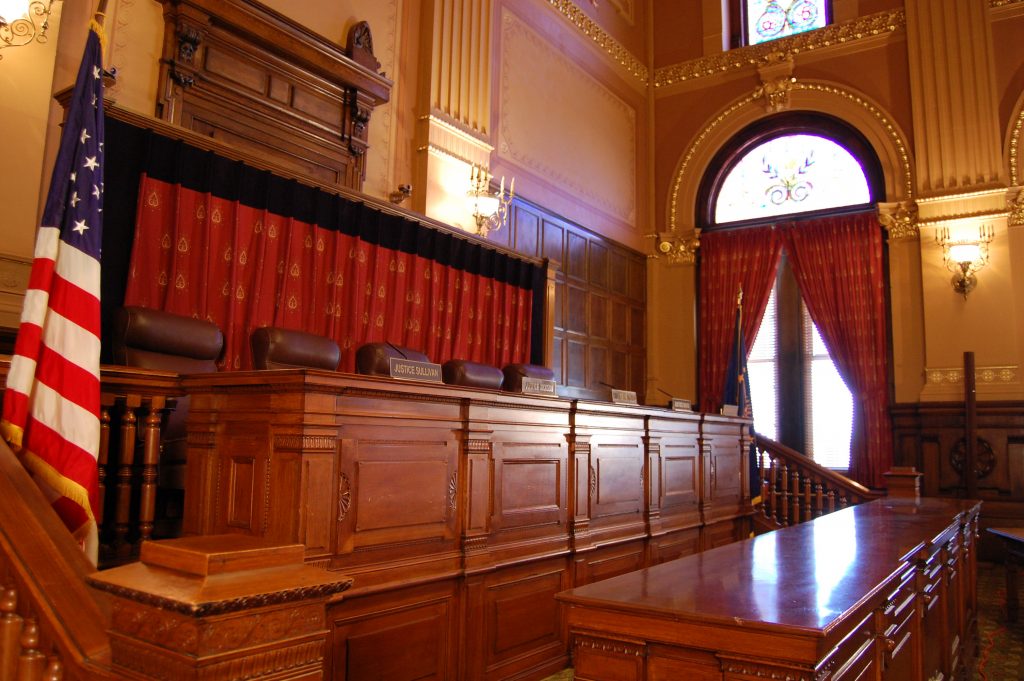 Indiana Supreme Court justices have agreed to consider two cases for the week ending April 7.
The cases included one in which an Indiana woman who secured a protective order against her ex-husband stemming from an incident with their daughter had the order reversed by the Court of Appeals of Indiana.
In S.D. v. G.D., G.D. filed for an order of protection against S.D. in Starke Circuit Court, alleging that she was a victim of domestic or family violence and that S.D. had caused physical harm to their daughter.
A majority of the Court of Appeals of Indiana reversed, finding it undisputed that S.D. had parenting time without incident after the December 2021 incident and before the issuance of the ex parte order of protection.
"Based on the record, we conclude that the altercation on December 26, 2021, as described by the testimony and for which Mother was charged, is insufficient to establish that S.D. represents a present, credible threat to her safety or the safety of H.D.," Judge Elaine Brown wrote for the majority, joined by Judge Elizabeth Tavitas.
"There was insufficient evidence of any present intent by S.D. to harm the petitioner or the parties' child," Brown wrote. "… Further, there was no balancing of any need for protection against the burden imposed by the protective order as required by (S.H. v. D.W., 139 N.E.3d 214 (Ind. 2020))."
But in a separate dissent, Judge Robert Altice wrote that while the issues at hand presented "a close case," the trial court "is the one to make that call."
The court will also consider James A. Crowe , et al. v. Savvy IN LLC.
In that case, the Court of Appeals of Indiana reversed a tax sale, finding the homeowners did not receive any notice that their Madison County property was being sold.
James and Phyllis Lynn Crowe filed a motion for relief from judgment pursuant to Indiana Trial Rule 60(B) after they received a phone call on Feb. 1, 2022, informing them that the 82 acres they had lived on since 1998 had been sold at a tax sale.
Previously, the property, valued at $2.1 million, had been sold at a tax sale in 2019. The couple received notices of that sale and their right to redeem the property, gathered the money, and were able to keep their house and land.
However, for the October 2020 tax sale in which their property sold for $394,994, the Crowes told the Madison Circuit Court they did not receive any notification by certified mail. They pointed out that neither of their signatures appeared on the certified mail receipts submitted to the court by the purchaser, Savvy IN LLC.
The appellate panel pointed to Indiana Code § 6-1.1-25-4.5, which holds that a purchaser is entitled to a tax deed only if a notice is sent by certified mail with return receipt requested to the property owner's last address.
Also, I.C. 6-1.1-25-4.6 requires the purchaser to file a petition to direct the county auditor to issue a tax deed if the property was not redeemed from the sale. Notice of the petition must be sent through certified mail to the owner, as well.
"Here, the Crowes presented testimony that they did not receive notice regarding their right to redeem the property following the 2020 tax sale or Savvy's request for tax deeds and that their signatures did not appear on the certified mail receipts," Judge Elaine Brown wrote for the appellate court. "They further testified that no mail carrier knocked on their door in 2020 or 2021 or identified them as recipients of the return receipt requested mail."
The justices denied transfer to 37 other cases last week.
They concurred on all denials except for four.
Chief Justice Loretta Rush voted to grant transfer to R.K.W. Homes, Inc. v. Aaron Hutchison, et. al., 21A-CC-2767.
In that case, a home construction company that won a $58,500 verdict against a former client was also entitled to prejudgment interest and attorney fees, the Court of Appeals of Indiana ruled, overturning a trial court's denial.
Rush did not participate in the decision of Lee Evans Dunigan v. Chief Justice Loretta H. Rush, 22A-MI-444.
Justice Christopher Goff and Rush voted to grant transfer to State of Indiana v. Elijah I. Parchman, 21A-CR-447.
The Court of Appeals reversed in the case, finding the trial court abused its discretion in granting Elijah Parchman's motion.
The Vanderburgh Circuit Court granted Elijah Parchman's motion to correct error requesting a new trial following his conviction for murder and attempted murder.
Justice Geoffrey Slaughter and Justice Mark Massa voted to grant transfer to Timothy Stabosz v. Shaw Friedman, 22A-PL-541.
The Court of Appeals affirmed a trial court's decision to deny a motion by Stabosz to dismiss a defamation suit brought by Friedman, finding that the trial court did not err in doing so.
Please enable JavaScript to view this content.