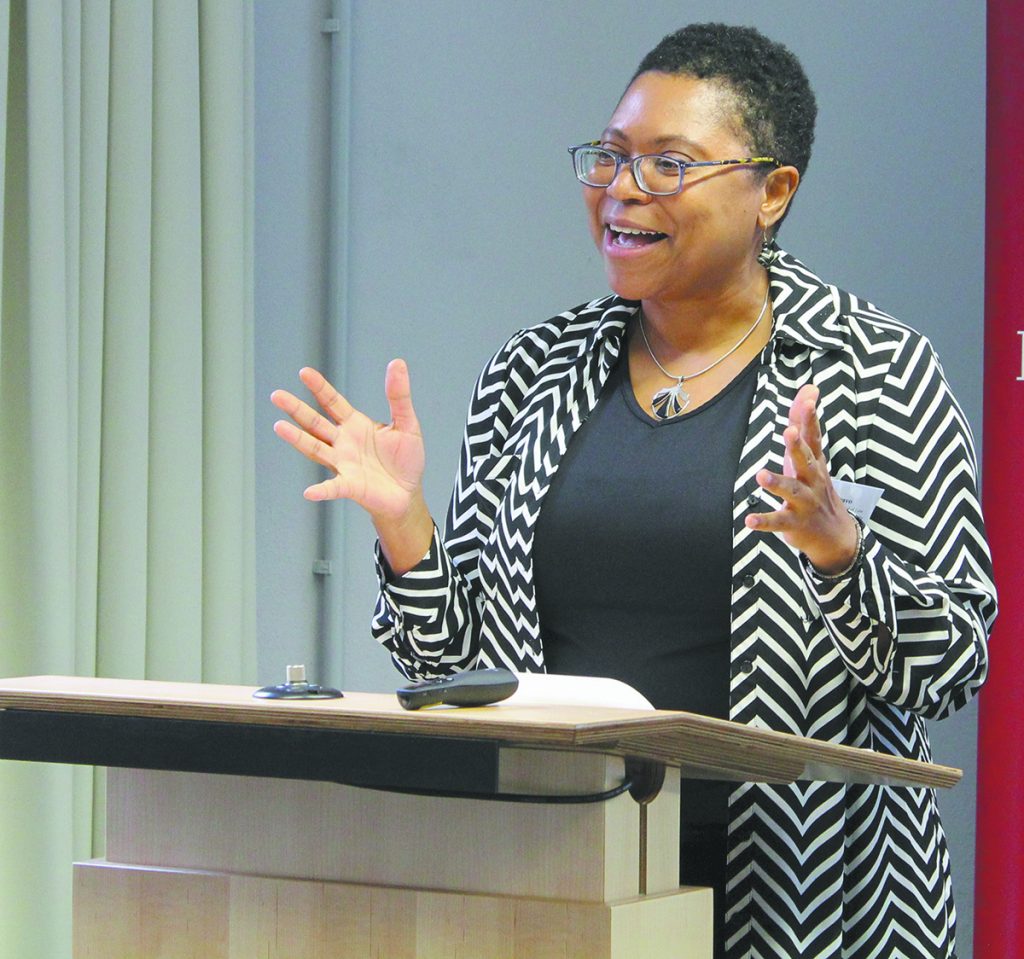 Following a nine-month search that brought hundreds of applications, the best person to lead Indiana University Robert H. McKinney School of Law was found to be someone who was already a member of its family.
Karen Bravo, vice dean and director of the master of jurisprudence degree program, has been tapped to be IU McKinney's new dean starting July 1. Having joined the law school's faculty in 2004, she will not only be the 13th person to lead the urban institution since its affiliation with IU in 1944, but she also will be the first person of color and the second woman to be named dean.
Bravo had been among the top candidates being considered to lead at least two other law schools — Mitchell Hamline School of Law in Minnesota and Willamette University College of Law in Oregon — but she said IU McKinney has "always been dear to my heart."
"I love this law school, I love this campus and I love this city," she said, "so the idea of getting the opportunity and being invited to lead this great institution, I think, it's an offer one could not refuse."
Her work at the law school as well as at Indiana University Purdue University Indianapolis along with her scholarship are consistently cited as the qualities that set her apart from the other finalists.
As a professor, she has taught courses on international business transactions, international law and international trade. Also, she is regarded as an expert in human trafficking and is the founder and leader of the Slavery Past, Present and Future Project, an interdisciplinary initiative that brings together scholars, civic leaders and other interested parties to study human trafficking and slavery.
As an administrator, Bravo served as associate dean for international affairs and as associate dean for graduate students and international affairs before becoming a vice dean for the law school. In addition, she has helped create a pipeline of future leaders by co-developing the Next Generation 2.0 leadership program for women and underrepresented faculty and staff at IUPUI.
IUPUI Chancellor Nasser Paydar said Bravo's vision for the law school and her connections to Indianapolis were significant factors in her selection. The university, which prides itself on its partnerships with the city and the state and boasts a wealth of opportunities to study aboard, wants to continue to build programs that expand its reach across the state, the nation and around the world.
As part of that agenda, Paydar said the university expects the law school to continue attracting outstanding students in addition to finding more openings for scholarship and building more relationships with the larger community.
"We thought she would be a great person at this time in our history to be leading IU McKinney," Paydar said.
Charting McKinney's future
To start her tenure as dean, Bravo said she wants to launch a strategic planning process for the law school. She intends to bring together students, faculty, staff and alumni to assess the strength of the curriculum and to examine the impact of the programs along with the faculty research on the legal profession, particularly in Indianapolis.
"I view myself as a servant leader and my job is to serve this institution," Bravo said. "I do have many ideas about what I want to do, but I would like to get an assessment because I have an open mind."
IU McKinney, according to Paydar, is "in good shape financially" and "positioned to move forward." However, the university has articulated to Bravo its expectations concerning the bar passage rate and national ranking.
In recent years, the law school's class statistics have been fairly consistent.
The class that entered in 2019 had a median LSAT score and undergraduate GPA of 154 and 3.44, respectively, according to the American Bar Association.
Bar passage and employment outcomes have been improving slightly, ABA data shows. The Class of 2017 had an ultimate bar passage rate of 85.6% two years after graduation, up from 83.9% for the Class of 2015. Also, 59.2% of the Class of 2018 had full-time, long-term, J.D. required jobs nine months after graduation, compared to 48.8% for the Class of 2016.
Conversely, IU McKinney has been slipping in the annual U.S. News & World Report rankings. The Indianapolis school was ranked 108th in the United States in the 2020 rankings, which were released in March 2019. This is down from 98th in 2019 and 88th in 2018.
IU McKinney Alumni Association board president Paul Kruse is not worried about the numbers. He believes the education provided by the law school is one of the best in the country, and he is confident Bravo will build on the success by recruiting strong faculty and students.
"I think they made the right choice and a great choice," Kruse said of Bravo's selection as dean. "She is absolutely committed to excellence in academic and legal education. She's a leader."
'Transformative power'
Bravo is the second consecutive in-house pick to be IU McKinney's dean. The current dean, Andrew Klein, was chief of staff for the IUPUI chancellor when he was installed as the law school's leader and has since earned praise for successfully guiding the institution through turbulent times.
Retired Indiana Chief Justice Randall Shepard, who co-chaired the search committee, downplayed concerns about a lack of fresh perspective in the top job, noting some top-tier law schools have been naming in-house candidates as deans for decades. Moreover, he pointed out hundreds of legal academics with strong credentials applied for the position, which gave Bravo stiff competition.
Bravo, Shepard said, enjoys a high-level of trust within the law school. She is ready to have a conversation with various stakeholders about the future and she wants to learn what others think about attracting quality students and distinguished faculty.
Born in Jamaica, Bravo migrated to New York after earning an undergraduate degree at The University of the West Indies, where she focused her studies on sociology and languages. She settled into a job at a law firm in her new home and worked there for nearly 10 years before deciding to enroll in Columbia University School of Law. Following a stint in private practice in New York and Boston, she moved into the classroom.
Since then, she said, she has developed a "belief and commitment to the transformative power of legal education." She has seen students transform into lawyers and society transform through the work, service and leadership of IU McKinney graduates.
IU McKinney professor Florence Roisman praised Bravo as an excellent choice in part because of her devotion to the classroom.
Under Bravo's leadership, IU McKinney will "continue to be a center for dedication to teaching," Roisman said. "I think this law school is unusual among law schools because we really care about teaching people to practice law in the real world."•
Please enable JavaScript to view this content.