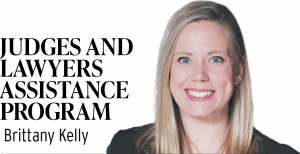 As 2022 comes to a close, many of us will take time to reflect, plan for the next year and set an intention or two. In doing so, I urge you to consider making 2023 the year to focus on your well-being and to remember that you are not alone.
A New York Times article calls 2022 "the year we lost it" and a "rage-filled emotional dystopia." A survey from CNN in partnership with the Kaiser Family Foundation found that nine out of 10 adults believe there is a mental health crisis in the U.S. today. The legal profession is not immune to these phenomena, and some might argue we are even more at risk.
A look at the legal profession's current state of well-being
The 2021 Survey of Law Student Well-Being revealed that slightly more than half of respondents had some type of mental health diagnosis: depression, anxiety, eating disorder, psychosis, personality disorder and/or substance use disorder. Over 80% of respondents reported having experienced trauma in at least one of 15 categories, with roughly 70% reporting having experienced two or more types of trauma. Nearly 27% of surveyed law students affirmatively answered two or more of the four questions that comprise the CAGE assessment, results that indicate alcoholism.
The 2020 National Judicial Stress and Resiliency Survey, designed by the American Bar Association Commission on Lawyer Assistance Programs (CoLAP), revealed that almost four of 10 judges experienced fatigue and low energy as a result of stress, and that one in five judges met at least one criteria for depressive disorder — things like not having initiative, preoccupation with negative thoughts, work no longer feeling meaningful, and wanting the day's work to end.
In a 2016 national study by the American Bar Association, together with the Hazelden Betty Ford Foundation, it was found that one in three practicing lawyers are problem drinkers, 28% suffer from depression and 19% show symptoms of anxiety. Of the respondents who stated they believe their alcohol use has been a problem (23%), a near-majority (44%) indicated that the problem began within the first 15 years of practice.
You deserve to be well
The ABA's National Taskforce on Lawyer Well-Being lays out three simple reasons to care about lawyer well-being: 1. It's good for business; 2. it's good for clients; and 3. it's the right thing to do. I'd like to add one more: You deserve it.
People come to lawyers in times of crisis. Lawyers, as early as in law school, are expected to have the answers. The practice of law can be isolating, stressful and overwhelming. Yet the practice of law can simultaneously be incredibly rewarding and deeply fulfilling. We have the privilege of serving our communities and achieving lasting change.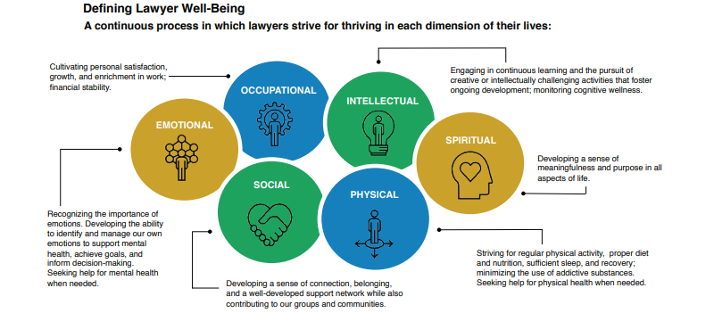 In the figure above, the national task force defines lawyer well-being as having six dimensions. Well-being is not merely the absence of dysfunction or the ability to feel happy all the time; rather, well-being spans across our entire selves. It is in our ability to regulate our emotions, seek help, find connection, continually learn and grow, and feel enriched by our daily lives.
Not sure where to start? Let's talk about it!
The Centers for Disease Control and Prevention recently found that mental health treatment became more common over the course of the pandemic: Nearly 22% of adults got mental health treatment in 2021, an increase from about 19% in 2019. Together, let's acknowledge that there is nothing wrong with seeking support — in fact, there is strength in knowing when to reach out. Prioritizing your well-being will make you a more competent lawyer with the mental strength to operate at your highest scope of practice.
It will take us all to fight the stigma around seeking help. In the CNN/KFF study referenced above, Justin Baker, a psychologist and assistant professor at the Ohio State University College of Medicine, echoed that sentiment by saying, "Not everyone's a cardiologist, but a lot of people are trained in CPR." By seeing well-being as our collective responsibility, we can dramatically change the health of the legal profession.
Nationally, law students appear to be leading the way on this idea. In the 2021 law student study, roughly 80% of respondents indicated they would be somewhat likely or very likely to encourage a peer to seek help from a campus counseling center for either an alcohol/drug problem or a mental health problem, while roughly half indicated they would be somewhat likely or very likely to encourage the student to seek help from a lawyer assistance program and roughly one-third indicated they would be somewhat likely or very likely to encourage the student to seek help from a dean of students. Most encouragingly, the percentage of respondents who said they would be somewhat likely or very likely to do nothing dropped from 33% for alcohol/drugs in 2014 to 23% in 2021, and from 36% for mental health in 2014 to 19% in 2021.
Whether for you, a loved one or a colleague, JLAP would love the privilege of joining you on your journey to a healthier 2023. You will not be alone in doing so. In 2021, JLAP received 397 calls for help. Of those calls, 36% were related to mental health or substance use disorders. Other calls centered around grief, physical health, practice management and retirement. Notably, 40% were based on "situational stressors," which include things like burnout, compassion fatigue, experiencing a toxic work environment, prepping for the bar exam or caring for a loved one.
Better yet, let's form a relationship before something becomes a crisis. Nothing is too big or too small for us to form a plan around. Using the six dimensions of lawyer well-being as a guide, it is clear that well-being is so many things. Prepping for the bar exam? Dealing with student loans? Starting to think about retirement? Contemplating a job change? Wishing you had more resiliency in life's day-to-day moments? Looking for a therapist? Seeking connection? Want better work-life balance? Well-being need not be an elusive concept, and JLAP is here to help you.
What about systemic change toward well-being in the legal profession?
We are in the midst of a movement to improve well-being in the legal profession. In 2017, the National Taskforce on Lawyer Well-Being, with the support of the ABA Commission on Lawyer Assistance Programs, released a report titled "The Path to Lawyer Well-Being: Practical Recommendations for Positive Change."
The report revolves around five central ideas: 1. identifying stakeholders and the role each can play in reducing toxicity in the legal profession; 2. eliminating stigma associated with seeking help; 3. emphasizing the connection between a lawyer's well-being and competence; 4. educating lawyers, judges and law students on issues of well-being; and 5. taking small steps toward a healthier legal profession.
The report itself contains recommendations that are both individual and systemic in nature, an important approach to change. Additionally, the report divides recommendations based on the type of stakeholder looking to implement them. There are specific, actionable recommendations for judges, regulators, legal employers, law schools, bar associations, lawyers' professional liability carriers and lawyer assistance programs.
While there have been significant achievements since the report was released five years ago, such as the release of the Well-Being Toolkit for Lawyers and Legal Employers, the work is not done. If you are interested in implementing ideas in the Well-Being Report, call JLAP. We would love the opportunity to work with you both individually and systemically to champion well-being among legal professionals.
You are invaluable to the legal profession
As we venture into a new year together, know that your work in the legal profession is invaluable. When you set your intentions for the year ahead, I hope you will remember to serve yourself with the same vigor that you serve your clients with every day. Together, let's say farewell to the "year of rage" and hello to the "year of well-being."•
__________
Brittany Kelly, JD, MSW, LSW, is deputy director of the Indiana Judges and Lawyers Assistance Program. Brittany is a graduate of Indiana University Robert H. McKinney School of Law and the IU School of Social Work. Brittany was named an Up and Coming Lawyer by Indiana Lawyer in 2022. Prior to joining JLAP, she served as a Marion County public defender, followed by associate director of IU McKinney's Hall Center for Law and Health. She is an adjunct faculty member for IU McKinney, where she teaches health and human rights, and she is an active member of the Indianapolis Bar Association. Opinions expressed are those of the author.
Please enable JavaScript to view this content.