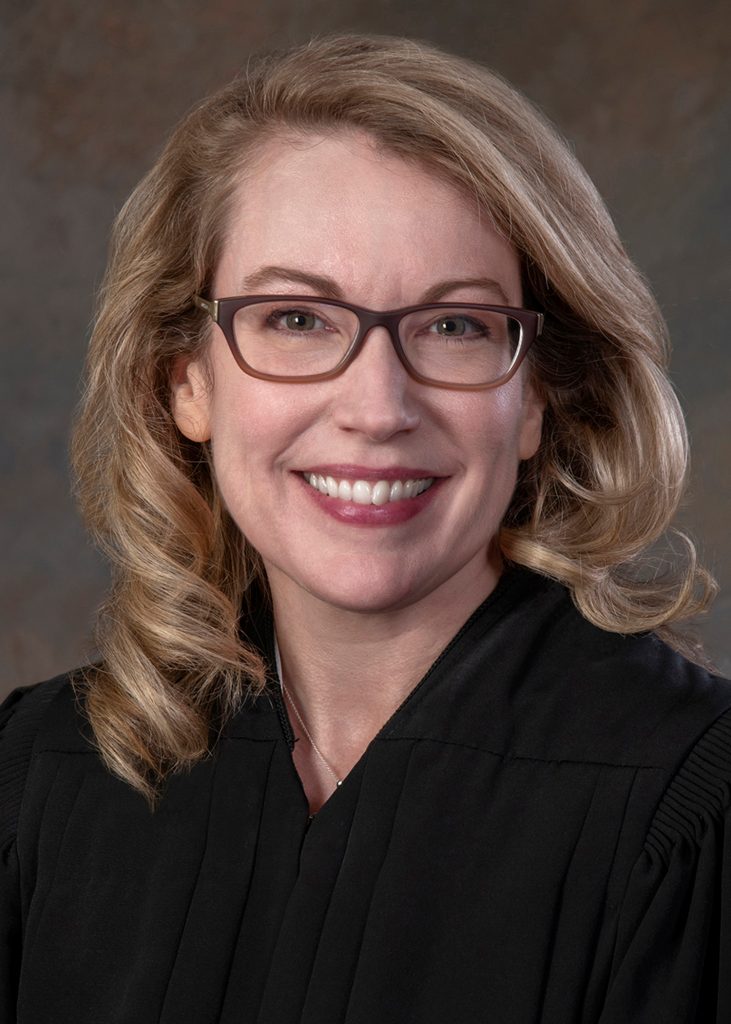 Editor's note: This article has been updated.
When Indiana Chief Justice Loretta Rush asked Grant County Judge Dana Kenworthy why she wanted to join the appellate court, Kenworthy provided a vivid image.
"She said, 'I feel like a racehorse at the gate,'" Rush recalled of the conversation, adding, "She had me."
The chief justice shared the story Wednesday, when Kenworthy was announced as the newest judge of the Court of Appeals of Indiana. Kenworthy will succeed now-Justice Derek Molter, who briefly served on the Court of Appeals before being elevated to the high court.
Indiana Gov. Eric Holcomb selected Kenworthy after 12 candidates applied for the appellate court vacancy. The Indiana Judicial Nominating Commission narrowed that pool of candidates down to three: Kenworthy, Hamilton Circuit Court Judge Paul Felix and attorney Carol Joven of Williams & Piatt.
"To say that I was hopeful we would meet again is really an understatement," Holcomb said at the Wednesday announcement. He had interviewed Kenworthy earlier this year when she was a finalist for the Supreme Court vacancy that ultimately went to Molter.
Kenworthy recalled meeting Molter during her remarks Wednesday, saying when she met him, she thought he was intelligent and "genuinely nice guy."
"And I thought, 'Rats,'" she quipped.
Molter's ascension to join the high court meant a vacancy on the Court of Appeals opened up, so Kenworthy – who has served as judge of Grant Superior Court 2 since 2010 — decided to go through the merit-based selection process with the JNC and the governor for the second time in a year. She said she met with the current COA judges during the process and heard the same message from each.
"To a person, they all told me, 'This is the very best job you can have in the legal profession,'" she said, adding, "I'm very glad to join you all."
Kenworthy's appointment to the appellate bench is historic. She'll join seven sitting women COA judges — Nancy Vaidik, Elaine Brown, Melissa May, Patricia Riley, Margret Robb, Elizabeth Tavitas and Leanna Weissmann — to bring the number of women on the 15-member court to eight. That's the first time in the history of the Court of Appeals that the bench has been majority female.
"There's a shift there," Holcomb said of the diversity milestone. Rush, seated in the audience, then began a round of applause.
While Holcomb said any of the three finalists for the COA vacancy would have "served with distinction," he selected Kenworthy due to her contagious positivity, her endless energy and her dedication to her work. He called her a "quintessential Hoosier," having grown up in a small Miami County town, and said she is "one of the sharpest legal minds in our state."
Holcomb made special note of Kenworthy's work on children and family issues. He noted she was named prosecutor of the year by the Indiana Coalition Against Domestic Violence and pointed to her founding of one of Indiana's first family recovery courts, her volunteer work as a guardian ad litem and her work as a foster parent with her husband, Alex.
"This is a powerful couple … ," Holcomb said. "They've literally devoted their adult lives to serving others in the most important ways that anyone could."
Speaking about her work, Kenworthy said the job of a judge is to listen, because litigants want to be heard.
"The law was written for people in their daily lives, and court decisions have real human impact," she said. "I will bring those experiences and faces with me and will work hard to be worthy of the privilege of serving in that capacity. I'm really excited to get started."
Picking up on Kenworthy's racehorse analogy, COA Chief Judge Cale Bradford added, "And they're off."
Please enable JavaScript to view this content.