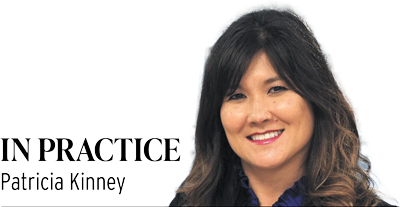 Do you know what it is like to be the only one that looks like you in a space? It can be exhausting. Representation matters. Last year I saw a national television commercial that had an entire Asian cast. I noted this was the first time I recalled seeing such a thing. With the exception of a few rare occasions, and law school was NOT one of them, this has been my experience my entire life. As a student of color and a first-generation law student in Indiana, I did not have others who looked like me to aspire to be or to mentor me with empathy as I navigated into a profession not meant for me and filled with unwritten rules I did not know. I did not feel as if I belonged. At the time, I had no clue what I was enduring was not unique. We have a long way to go in our evolving society that continues to become more diverse. Unfortunately, we are in the 21st century and still lacking representation in so many spaces, including in our law schools and esteemed profession.
This month, the Indiana University Robert H. McKinney School of Law is taking a constructive step to contribute to the solution of improving representation in the legal academy with the launch of its "Future Faculty Fellows" Visiting Assistant Fellowship program. It is a welcome addition to the law school's portfolio of pipeline initiatives — efforts that aim to increase access to the legal profession, including the academy, for people from historically underrepresented backgrounds. This program is designed to recruit future law professors into this teaching, scholarship and mentorship pipeline. The Future Faculty Fellows program also furthers the law school's mission by advancing the recently adopted diversity, equity and inclusion strategic plan.
"Legal academia and our profession, as well as our society writ large, are grappling with the consequences of the lack of representation within our ranks," said IU McKinney Dean Karen E. Bravo. "This new initiative is one part of our commitment to addressing those challenges and disparities pursuant to the law school's recently adopted DEI strategic plan."
The Association of American Law Schools recognizes that having diversity among faculty is a factor that strengthens the institution. The creation of visiting assistant professor programs is one of the strategies they list in their Statement of Good Practices – Recruitment & Retention of Minority Law Faculty Members.
According to a 2020 report from the National Association for Law Placement, 8.1% of equity partners in law firms were people of color, up from 4.7% in 2011. In addition, the same report revealed that among law firm partners, 0.69% are lawyers with disabilities, 2.19% are LGTBQ lawyers and 2.05% are military veterans. These numbers lag far behind the representation of the U.S. population. While there is a lot of discussion about increasing the representation of our student bodies and the legal profession, the ranks of law school faculty are not immune.
IU McKinney's Future Faculty Fellowship is designed to support a promising candidate with a law degree who has demonstrated a strong interest in legal scholarship and who is preparing for a career in the legal academy. The program encourages the application of prospective law teachers whose participation will increase the representation from historically underrepresented populations among law school faculty.
The Future Faculty Fellowship will prepare soon-to-be faculty to enter the legal academy job market. The IU McKinney faculty is strengthened by several faculty members who participated in similar programs prior to joining IU McKinney. For example, professors Stephanie Hoffer and Lahny Silva began their academic careers with teaching fellowships. Professor Hoffer took part in a visiting assistant professorship at Northwestern Pritzker School of Law. Professor Silva was a William H. Hastie fellow at the University of Wisconsin Law School.
"The Visiting Assistant Fellowship Program is so important to diversifying the profession," said Silva, an award-winning teacher and mentor. "Without the Hastie Program, a similar and a very successful initiative at the University of Wisconsin Law School, I am 100% sure that I would not be a law professor today. These types of efforts prepare interested, nontraditional individuals for a career in the academy by offering hands-on support, faculty mentoring, scholarship guidance and practical opportunities in teaching. At Wisconsin, I was able to publish an article, teach courses and receive invaluable assistance that prepared me for the academic job market. It is my hope that McKinney can do the same for someone else."
Professor Hoffer is the Lawrence A. Jegen chair in tax law at IU McKinney.
"Programs like McKinney's fellowship are critical because they give new scholars a chance to learn the language of the academy before applying for tenure-track positions," Hoffer said. "It is difficult to balance the demands of high-quality teaching, which students need, with the demands of scholarship, which the college requires. I had the privilege of being a visiting assistant professor at Northwestern. There are no lawyers in my family, and I am the first person to graduate from college on my mom's side. I was an academic outsider at the start of my career. Northwestern's visiting assistant professorship gave me a chance to figure things out, and I left with lifelong friends and mentors. That kind of access is critical for people who traditionally are underrepresented in the academy. I am excited that McKinney will be able to offer something similar to other new scholars."
Future Faculty fellows will be guided and mentored by IU McKinney faculty and the fellowship committee. The fellowship will extend over two years and be focused on scholarly research, presentation and submission for publication; development of teaching skills; and participation in the life of the law school. The fellowship will conclude with a semester-long teaching assignment and preparation of each fellow's application to enter the application cycle for the law teaching market.
To learn more, visit IU McKinney's website.•
__________
Patricia Kinney, J.D. '02, is assistant dean of diversity and inclusion at the Indiana University Robert H. McKinney School of Law. Opinions expressed are those of the author.
Please enable JavaScript to view this content.