Lake Superior Senior Judge Diane Boswell, described as a compassionate jurist who inspired many, died unexpectedly Tuesday. She was 72.
"She was just an inspiration who showed you can be committed to the bar, your community and your family at the same time," said St. Joseph Superior Judge Cristal Brisco. "She inspired me throughout my career and taught me I'm a better jurist if I am integrated and fulfilled in all facets of my life."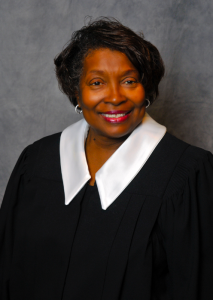 Boswell was appointed to the Lake County bench in 2005 by Gov. Mitch Daniels.
A native of Gary, she earned a bachelor's degree at Tennessee State University and a master's degree in social work from Loyola University, according to The Times of Northwest Indiana. She later returned to Loyola to earn her J.D. degree.
Boswell's career in public service extended several decades and included her tenure as a staff attorney for the Lake County Division of Family and Children and her experience as a social services director for several hospitals and home care agencies. In 1994, she became a deputy prosecutor for the Lake County Prosecutor's Office.
When he appointed her, Daniels noted Boswell had confronted her fear of flying by taking flight lessons.
"Diane brings integrity and an impeccable reputation to the bench, and she has the right mix of compassion and toughness to be successful," Daniels said when Boswell joined the judiciary. "Diane has given much to her community and leads by example."
According to The Times, Boswell had been out of the office the week of Oct. 11 for undisclosed reasons. Gary City Court Judge Deidre Monroe told the newspaper she had talked with Boswell on Saturday.
"We are in total shock," Monroe told The Times. "She was just a beautiful soul in and out. She cared about people, and she cared about doing the best for Lake County. She will truly be missed."
Other members of the Lake County legal community also remembered Boswell's warmth, kindness and work to uplift others.
Lake County Prosecutor Bernard Carter told The Times that Boswell was an extraordinary woman.
"Judge Boswell's passion for righteousness and her ability to inspire others will continue through those whom she has touched," he said.
Brisco grew up with Boswell's son, Alger, who is now a public defender in Lake County. She had already decided to be a lawyer by the time she met Boswell, but Brisco still remembers being awed. Boswell was the first Black female lawyer Brisco had encountered.
"She was so classy, so warm and so vibrant," Brisco said.
Boswell encouraged Brisco as she completed her undergraduate and law school studies. When Brisco became a magistrate judge in 2018, she said Boswell greeted her at a judicial conference and hugged her "like my own mother would."
Every time Boswell saw Brisco, she reminded the younger jurist of the importance of a full life. Brisco said Boswell would be focused on how she was doing and what was new with her family.
"To have a woman of her stature and success be so humble and engaging with everyone she met, that is what all judges aspire to be," Brisco said.
Please enable JavaScript to view this content.