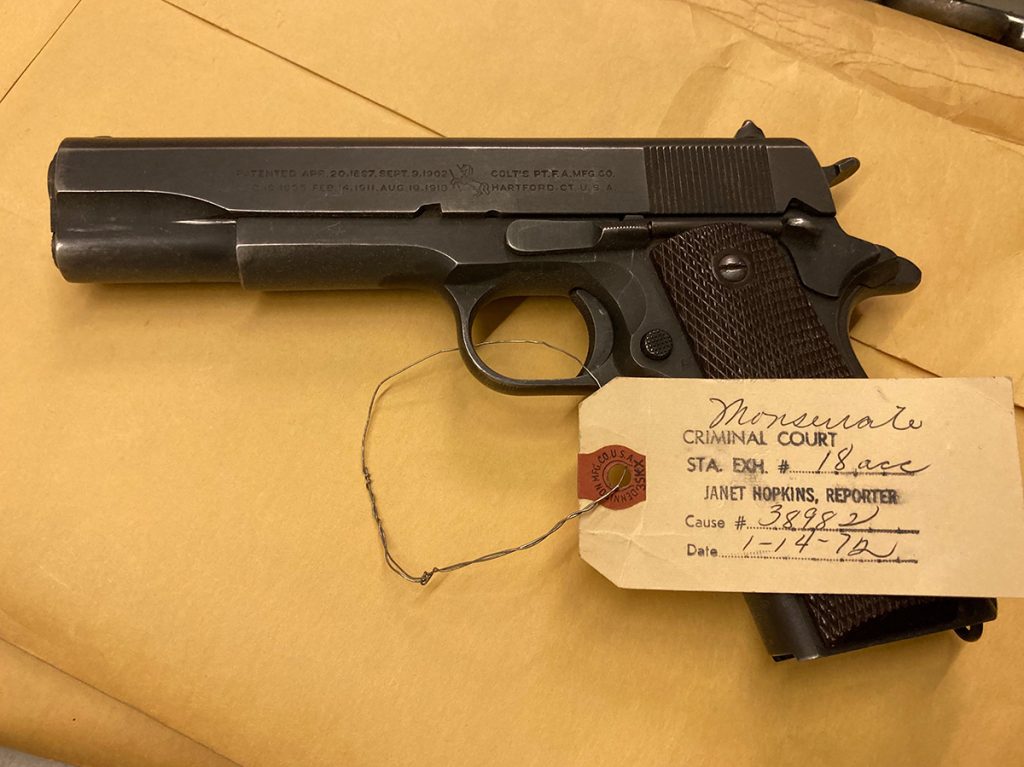 On Oct. 11, Lake Circuit Judge Marissa McDermott made her way to the Lake County Government Center in Crown Point to do a little holiday cleaning.
Because the courts were closed for Columbus Day, McDermott felt it was a good time to "chip away" at a closet stacked with various items from over the years. She had always been hesitant of disposing the materials en masse, so the process of purging hasn't been a quick one since she took office in 2016.
As she sifted through storage, the judge found a banker's box at the bottom of one of the piles. Opening the container, McDermott found two handguns, a .45-caliber Colt Model 1911 and a Harrington & Richardson revolver, with dated tags that displayed cause numbers and the name Monserrate scrawled across the top in cursive.
Upon further review, McDermott realized she hadn't just stumbled across any ordinary evidence, but a pair of guns linked to one of the most high-profile murder cases in Lake County history.
These firearms were linked to three separate Indiana Supreme Court opinions.
The 'Madonna Murder'
In 1967, Sharon Diane Potts, 19, was found dead on her knees behind a church in East Chicago.
Luis Montes, 16, told police he and Luciano Monserrate, 23, had shot and killed the woman after she threatened to report she'd been raped by them at a party. A third person, Geraldo Torres Resto, was also brought in on the case, as he owned the gun used by Montes in the killing.
During the first trial in November 1967, a jury found Monserrate guilty of first-degree murder and Montes guilty of voluntary manslaughter. Resto, who testified against Monserrate and Montes, was granted a separate trial.
The following month, Montes was sentenced to two to 21 years in the Indiana Reformatory while Monserrate received the death sentence.
However, Monserrate never went to the electric chair.
Monserrate's scheduled date of execution, April 2, 1968, was stayed pending appeal before the Indiana Supreme Court set aside his conviction and reversed and remanded for a new trial in Luciano Monserrate v. State of Indiana, 256 Ind. 623 (1971), finding error in the jury selection process. In the high court's opinion, the justices ruled the jurors were improperly selected due to the dismissal of potential jurors who had views in opposition to the death penalty.
The Supreme Court also found error when Lake Criminal Court Special Judge T. Cleve Stenhouse allowed Montes' confession implicating Monserrate to be read into the record, as the justices determined a co-defendant's confession cannot be used when being tried together, even with jury admonition.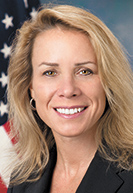 In her research, McDermott said she found the 1971 case was the first in Indiana history to apply the Supreme Court of the United States case of Witherspoon vs. Illinois, holding that potential jurors cannot be dismissed for personally opposing the death penalty. She also said the opinion has 21 citing decisions.
A second murder trial, with a new special judge, Russell Willis, was held for Monserrate the following year.
Monserrate was again found guilty of first-degree murder and was sentenced to life imprisonment on Feb. 7, 1972. Also, during this time, the state filed a nolle pros for Resto.
Montes would spend the rest of his days behind bars.
In 1973, Montes and another inmate, John D. Farrar, bludgeoned David Doty, a "houseman" who oversaw the operation of a work-release center located in a residential neighborhood in Indianapolis, to death. Montes was charged with second-degree murder and sentenced to life in prison, which was later affirmed in Montes v. State, 332 N.E.2d 786 (1975). He died in prison in 1980, according to The Times of Northwest Indiana.
In October 1974, Monserrate filed a petition for time served and the following January the court granted him credit time for 312 days.
The Supreme Court affirmed Monserrate's conviction during the summer of 1976. In Monserrate v. State, 265 Ind. 153 (1976), the high court found the trial court didn't err by failing to call a mistrial after the jury pool circulated the local newspaper, The Gary Post-Tribune, which had the headline "CONVICTED SLAYER'S RETRIAL BEGINS WITH SELECTION OF JURY." Also, justices found the state did not have to be specific in response to notice of alibi, McDermott said. Since the opinion was issued, the case has been cited 25 times, she said.
Monserrate filed a petition for post-conviction release in November of 1977. Not only was his PCR petition granted in 1981, but a new trial was ordered. The state appealed the grant of PCR, but the Supreme Court dismissed it on procedural grounds in State v. Monserrate, 442 NE2d 1095 (1982).
Monserrate then pleaded guilty to voluntarily manslaughter in 1983 and was released from the Indiana State Prison in Michigan City that February.
Additional time would be served by Monserrate, but not for the "Madonna Murder." In 1984, he was arrested as part of a major drug bust where at least 22 were arrested. He pleaded guilty to dealing heroin and was sentenced to 15 years.
According to the NWI Times, the Indiana Department of Correction released Monserrate, then 52, in 1996.
What's next for the evidence
McDermott doesn't want the evidence she found destroyed.
"I would hate to see them melted down because they're a part of Lake County history, legal history," she said. "I would like to see perhaps if the sheriff's department can help in making them inoperable so they could be either displayed or maintained as the historical artifacts they now are."
Since finding the guns, McDermott has spent hours of her free time looking into the case. She said most of the judges and lawyers who were involved in the murder are now dead, but some older members of the community remember the shock of the case all these years later.
"… My interest in this case really kind of grew with the number of legal ramifications it had as well as how long the story ended up being," McDermott said. "The fact Monserrate had some of the best legal minds in Lake County and Indiana working on his behalf for decades, and they finally got him released, only to see him finally charged with heroin about a year later."
How the guns made it over to the government center is unknown.
McDermott guesses the evidence could've been transported when the courts moved to the new complex in 1974 from the old Lake County Courthouse and were held in case they were needed again during trial.
"I think there is a lot of history that has been lost over the years with things being thrown away and buildings being closed and opened," she said.
"… It's sort of heartbreaking to think how many things should've been kept that weren't."•
Please enable JavaScript to view this content.