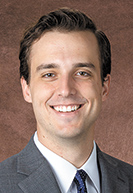 By Robert P. Lamey
I have had a law license for one month. Admittedly, it is somewhat paradoxical for an inexperienced lawyer to offer advice about the practice of law. Nonetheless, here's my perspective as a fellow brand new lawyer as we begin our legal journey.
1. Stay humble.
After years of education and internships, we can finally call ourselves "lawyers," "attorneys" and "esquires." Our prospects are bright. As we join our fellow inhabitants of the "real world," our long-anticipated life of bountiful riches and happiness is finally within our grasp. Seemingly, we have made it. It is hard to not be proud.
Amen. I say to you, stay humble. We must maintain an honest sense of self. The practice of law, while rewarding, can be equally harsh. It is particularly harsh to the proud. The proud stand up. The proud stand out. The proud get crushed until they sit silently.
Instead, we should recognize and embrace our inexperience. We, simply put, have no idea what the heck is going on. Ask questions such as, "What the heck is going on?" The first step to learning is recognizing that there are things we do not know. A healthy amount of humility will maximize our ability to learn from those more experienced.
Rejoice! We will be surrounded by people happy to humble us. If peers frequently remind us that we are inexperienced punks, they might not be acting out of cruelty. Instead, we perhaps earned the comment by acting overconfident. Let us swallow our pride and ask for feedback.
Finally, staying humble allows us to be kind to others. Be equally compassionate to the waiter, the associate, the old friend down on his luck, the caddie, the lady selling the shoes you can finally afford, the paralegal and the esteemed partner. Check yourself, as the kids say.
2. Ask for feedback.
If you're like me, you tend to treat turning in a project like guerrilla warfare. You'll shoot a quick email with your work attached or slyly leave your work on someone's desk, then run back to cower in your office. There, you sit, hoping no one comes marching in demanding an explanation and questioning your grasp on the English language. No news, assumingly, is good news.
This is not an effective way to learn and improve our skills. Instead, ask for feedback. When a colleague says the work was satisfactory, do not bask in the joy of confirmed credibility. Instead, ask what was right and try to find a way to improve, even if only slightly. When a colleague says the work is poor, do not slink away to try to find synonyms for the word "jerk." Rather, without testing someone's patience, we should ask where the project went wrong and learn from our mistakes. Without asking for feedback in response to praise or criticism, we will stagnate at our current level of mediocrity.
For the more experienced reader, freely give feedback to the new attorneys. Do not shy away from giving criticism only to later bash that young associate at the next partners' meeting. Instead, help the young attorney. We will gain much more from a good tongue-lashing and a hurt feeling or two than from a disingenuous "looks good."
3. Stay confident.
"Fake it 'til you make it." This adage echoes the importance of embracing our inexperience without letting it define us. Every great legal mind was once in our spot. For the most part, older attorneys will remember what it was like to be untried. Our colleagues will likely be patient with mistakes caused by our greenness, so long as they are not mistakes born from apathy or inattentiveness.
Do not be afraid! Expect to make mistakes. We will likely get chewed out. We will get over it. When we are finished crying, we must get back to the keyboard and pump out the best product anyone in the office has ever seen.
What would a legal writing be without some confusing contradiction? Stay humble AND stay confident? Well, it is a fine line. Remember that our accomplishments give us credibility, but they do not make us better than anyone.
4. Prepare family
By now, we are fully aware of the demanding nature of the practice of law. We know that we will spend more time with the dreadful duck painting hanging in the office than with family. It is imperative that family is familiar with the extent of our commitment.
I am no relationship expert, but I posit that communication is important. Whether it is a fireside chat, a lengthy text message or a shouting match in a coffee shop, we should explain our expected lack of free time to whomever might be slighted by our absence. Emphasize that we would rather be at home watching a telenovela with them than editing that motion for summary judgment. Stress that we are doing what is required, not intentionally avoiding loved ones. Rely on our humility when explaining that the practice of law does not come before their needs. Ask them to prioritize the events they feel we need to attend. We should stay confident that our relationships can handle a few late nights. With this advice in mind, I need to call my fiancee.•
• Robert P. Lamey is an associate at Kahn, Dees, Donovan & Kahn in Evansville. Opinions expressed are those of the author.
Please enable JavaScript to view this content.