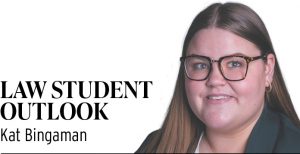 In 1997, Chief Justice Randall T. Shepard received an invitation to his 25th law school reunion. He recalled his time at Yale Law School and thought about the distinctive makeup of his 1972 graduating class.
Of his class, 10% were women and 5% were African Americans — a rarity for the time.
Chief Justice Shepard described his exceptional law school class in his 1997 State of the Judiciary address and expressed his belief in diversifying Indiana's legal field by stating, "I believe for America to thrive as a common society, all the people in the society must have the chance to succeed in business, in politics, in the professions, including the legal profession."
Chief Justice Shepard envisioned an opportunity to give historically underrepresented groups a chance to thrive in the law school setting.
The groundwork for this opportunity was laid out by the American Bar Association. In 1968, the Council on Legal Education Opportunity was founded to promote access to the legal profession to those who came from minority, low-income and other disadvantaged backgrounds. However, the program faced funding obstacles from the federal government. Ultimately, the funding ended in 1995.
However, Chief Justice Shepard saw the potential for a program like this in the Hoosier State and wanted to create a CLEO program for the state of Indiana. Shortly after his State of the Judiciary address, Gov. Frank O'Bannon signed legislation funding Chief Justice Shepard's idea. The Indiana Conference for Legal Education Opportunity — the very first state program of its kind — was born.
The program has grown considerably since 1997. Today, 655 participants are certified ICLEO fellows, with 20 more to join after the summer of 2022. ICLEO's past fellows are fundamental members of the legal profession in Indiana and around the country. Some notable ICLEO fellows include Judge Rudolph Pyle (Court of Appeals of Indiana), Judge Cristal Brisco (St. Joseph County), Lun Kham Pieper (United Nations consultant), Kendra Key (Indiana Supreme Court staff attorney), Tanya Bell (president and CEO of Indiana Black Expo Inc.), Karrah Herring (Indiana Governor's Office's chief equity, inclusion and opportunity officer), Alfredo Estrada (Lake County Bar Association's first Latino president) and many more.
ICLEO includes a multidimensional summer institute, which gives participants the chance to simulate the law school experience. The hosting venue alternates between Indiana University Robert H. McKinney School of Law, IU Maurer School of Law and Notre Dame Law School. In the six-week summer program, first-year courses are taught by law school professors at the hosting law school. This gives the fellows a unique opportunity to practice reading cases, become familiar with the Socratic method and take mock law school exams.
Kendall Bowers, a first-year law student at IU Maurer School of Law, said, "The summer institute gives students a chance to prepare for the absolute unexpected. It facilitates success in an incredibly difficult educational venue."
The summer institute also provides fellows with professional networking opportunities. Fellows are exposed to local law firms, government agencies and volunteer opportunities. Participants begin building professional bonds not only with one another, but with the attorneys they meet during their fellowship. This is a professional opportunity that many fellows would not have without the program.
Additionally, ICLEO provides scholarships to participants who complete the program to help offset the cost of law school. ICLEO participants may choose to participate in self-service volunteer ethics training, which prepares fellows to assist unrepresented litigants in an Indiana courtroom.
Critically, ICLEO gives participants a stipend to help them prepare for the Indiana bar exam through an accredited practice program. Further, ICLEO has externship and other job opportunities that are specifically designated to ICLEO fellows — a huge advantage in the competitive summer search for legal positions.
The institute also gives participants access to ICLEO participants who completed the program before them. Often, the teaching assistants for the program come from the most recent class of ICLEO fellows. Having access to students who have not only completed the program, but their first year of law school, is incredibly insightful.
Judith Perez-Castro, a 1L in the part-time program at IU McKinney, said, "Seeing the 2L and 3L ICLEOs was a reminder that I could do it when I experienced self-doubt. I watched them lead student organizations, and they mentored me without hesitation."
ICLEO does much more than prepare participants for law school; it gives them support during each step of their legal education and their legal profession.
For Perez-Castro, ICLEO has paid off.
"Through my efforts and support network I made the dean's list, am a member of McKinney honors legal society, am the incoming treasurer for the Hispanic Law Society and will intern with the Marion County Prosecutor's Office this summer. Thanks to ICLEO I can say I succeeded in my 1L year," Perez-Castro said.
For myself, as a 2021 ICLEO fellow, my entire experience was nothing short of stupendous. I applied to ICLEO as a first-generation law student, hoping to get some insight into what I had just agreed to for the next three years at IU Maurer School of Law. I learned more in six weeks than I ever thought possible. I read and briefed my first case, wrote my first "IRAC" paper, got through my first cold call and took my first law school exam.
Additionally, I was exposed to experiences that would not have been possible without ICLEO. I went to several Indianapolis law firms and met with affinity groups of the Indiana and Indianapolis bar associations. For the first time in my life, I stepped inside a federal courthouse and even had the chance to meet three of the five Indiana Supreme Court justices. Every step of ICLEO gave me an exhilarating look into what my legal career could be like.
Of course, getting a taste of law school in a risk-free environment was truly a blessing, but more than anything, I am so thankful for the group of students I was with for the summer. The institute gives participants the chance to bond — giving me a strong support network before entering the most academically rigorous time of my life.
Beyond the participants in my ICLEO class, my support network outside the law school is vast — vaster than I could have ever imagined. I developed professional connections with members of the Indiana Supreme Court, the professors who taught me during the summer and hundreds of ICLEOs located all over the country.
Without ICLEO, my professional network could not reach the lengths it currently does. I would not have had the chance to meet my wonderful ICLEO fellows or truly comprehend the distances that ICLEO will go to support its participants in their legal careers. I sincerely feel that ICLEO bettered me as a law student and as a colleague.
Every single day I am thankful that Chief Justice Randall T. Shepard took a chance on law students like myself, and I am eternally grateful for being selected to participate in this trailblazing fellowship.•
Kat Bingaman is a first-year law student at Indiana University Maurer School of Law, a 2021 ICLEO fellow and a 2022 Barnes & Thornburg summer associate. Opinions expressed are those of the author.
Please enable JavaScript to view this content.