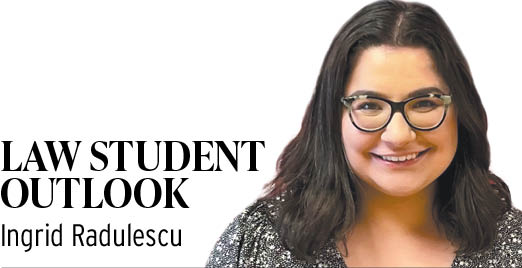 This school year, Indiana University Maurer School of Law welcomed the largest number of Latinx law students in its history. Yet there has only ever been one Latina faculty member at IU Maurer. This fact reveals an even more startling statistic: according to the American Bar Association only 5% of attorneys in the United States are Latinx. Despite this disheartening number, the Latinx community's achievements at IU Maurer persist. Because we are one week into National Hispanic Heritage Month, now is a great time to celebrate the history, culture and contributions of the Latinx community, especially here at IU Maurer.
This past July, the first and only Latina faculty IU Maurer has ever hired took the reins of the law school as interim dean. Dean Christiana Ochoa gushed: "Maurer School of Law has provided me with a home and place to grow as an academic and an administrator. I am delighted and I've been especially gratified by the conversations I've had with Latinx students who've expressed how meaningful it's been to them. As a former Latina law student in my earlier life that could not have imagined a Latinx law dean, I can only imagine how true that is." Former president of the IU Maurer Latinx Law Student Association Michael Hernandez shared: "The appointment of Dean Ochoa as interim dean, the first Latina dean in IU Maurer history, is important and uplifts the small Latinx community in Indiana. We see ourselves in Dean Ochoa and she is a reminder of our potential as a community."
While having someone like Dean Ochoa in power demonstrates promise, for others it reveals the pressures that come with being a woman of color in power. Samantha Espada (3L), who is the current LLSA president, shared her reflections on these pressures. She agreed that she is excited there is someone like Dean Ochoa to have as an example. However, Espada also highlighted that efforts must go into building community and support for each other so those pressures can diminish. Often, those with marginalized identities have an additional burden to strive for constant excellence. Survival is more than enough in law school; you shouldn't have to be exceptional to be enough.
This is the delicate balancing test that is not new to students, faculty or staff that hold historically marginalized identities. Arantxa Recarte, a 2L who is on the LLSA executive board, shared similar sentiments: "I see how hard she (Dean Ochoa) works, and I admire that. But I wish she didn't have to work that hard to constantly prove herself." Recarte also happens to be Dean Ochoa's research assistant. Recarte further shared that with someone like Dean Ochoa as the head leadership in the school, she feels confident that diversity, equity and inclusion work will be centered and taken seriously.
In an effort to build that system of support, this year's LLSA board chose the theme of Building Bridges: Latina First for Hispanic Heritage Month. The monthlong celebration that ends on Oct. 15 began with a screening of Dean Ochoa's documentary, "Otra Cosa No Hay/There is Nothing Else," which focuses on the intersection of law, politics and environmental issues in Colombian mining communities. Kristy Pardo, 3L and vice president of internal affairs for LLSA, pointed out that this theme of highlighting Latinas has been at the forefront of this particular executive board. For example, during Black History Month, LLSA did features on Afro-Latina women on their social media. Efforts like this work to foster support and community among students with marginalized identities at IU Maurer.
Hernandez detailed the significance of LLSA: "Not only does it provide an avenue for community and culture at the law school, but LLSA serves the greater Bloomington area as well," he said. For example, another event LLSA has planned during the monthlong celebration is with the Resource Search for El Centro endeavor to continue building community. El Centro Comunal Latino is in desperate need of a legal resource list of different services in Bloomington.
Hernandez is now a public defender in Chicago. When he graduated in 2021, he passed the baton. As a result of his work, the IU Maurer chapter won the Chapter of the Year Award in 2021 from the National Latino/a Law Student Association. These are just some of the many incredible accomplishments within the Latinx community.
Other accomplishments at IU Maurer include Laura Fonseca, IU Maurer's inaugural DE&I director, who recently won the Latino Faculty and Staff Council Distinguished Staff Award at Indiana University. Additionally, the current Latinx Law Student Association president, Espada, received the John H. Edwards Fellowship this past spring, one of the most prestigious academic scholarships at Indiana University. Such accomplishments come from recognizing and uplifting one another within the community.
It remains important to highlight and celebrate the accomplishments of the phenomenal Latinx women at a place like IU Maurer, but also crucial to balance between tokenization and appreciation. It is a time to remember and to celebrate how far the Latinx community has come but also to remember how much farther it can go. An affinity organization like the Latinx Law Student Association works endlessly to create better environments and opportunities for their students. At the same time, LLSA must also prioritize building a support system and community for the students. For years the IU Maurer Latinx Law Student Association has been a strong-knit community for both Latinx students and allies. This is not by chance but rather by the hard work of the executive boards that have passed through Baier Hall.•
__________
Ingrid Radulescu is a student at Indiana University Maurer School of Law. Opinions expressed are those of the author.
Please enable JavaScript to view this content.