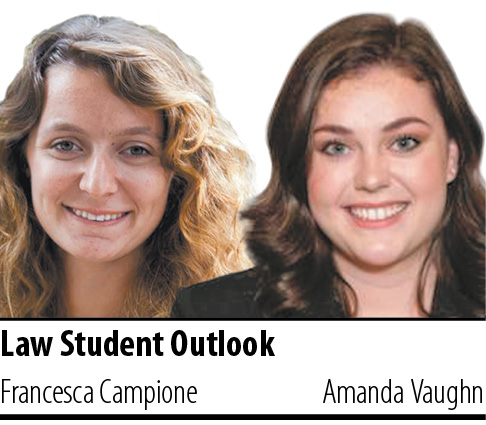 While reflecting on our time writing this column, it became clear that we have not addressed an important aspect of our lives and future legal careers: We are women in the law. Obviously, the legal field has historically been dominated by men, and usually those who are well-off. In our time in law school we have seen a growing movement of greater diversity in the field, paving the way for different groups of people to make their mark in the profession and on the legal landscape.
Last month an event made us realize the day-to-day situations and difficulties that women face in the legal workplace. The event was titled "It's Not You, So Never Give Up: Navigating Your Way Through a Male-Dominated Field" and was a workshop that taught students skills on overcoming challenges in the legal field. The workshop was hosted by the Indiana University Maurer School of Law's ChIPs student chapter. ChIPs is an organization that is aimed at connecting and empowering women in the field of law as it intersects with technology and policy while providing a space for emerging leaders in the field to converse with like-minded people. While the event was hosted by a group that focuses on intellectual property law, it was open to all who are committed to advancing women in the workplace. The workshop was aimed at helping women approach the workplace with a sense of confidence in their skills and in the fact that they belong in the roles they are in. Further, it empowered women with ways and mindsets to tackle the tough situations they may face, and it also gave allies strategies to effectively advocate for their female counterparts.
Some of the main pieces of advice given to students in attendance was to look for allies among classmates and coworkers and to make the most of those relationships. In doing so, women should seek those who are able to elevate their status in the legal field and help them get work they may have been overlooked for or completely passed on. Similarly, the students were told to embrace characteristics that were typically deemed "feminine." The speakers noted diversity adds to the richness and quality of overall work product, and stifling "feminine characteristics" from the workplace would be losing a different perspective that would add to the quality of the work product.
Additionally, as we have gone through law school, we have been given other opportunities inside and outside of the classroom to learn about challenges women face in the law. These have included classroom discussions about women's issues in the law generally and how to best be a successful woman in a formerly male-dominated field. We have been blessed over our three years to have countless female faculty members who are willing to talk about the challenges they have faced over their careers and how we should be prepared to enter the workforce.
As the years have passed in school, it has become apparent to us both how valuable it is to have strong female role models in the legal profession. During our time at Maurer, we have both developed mentor relationships with female faculty who have been candid and supportive about what we should expect in our futures. It would be painting a false picture of the last three years to say we have not experienced some form of sexism at any point, but those occurrences have been far easier to overcome when we have a supportive community around us. Having a trusted group of people has provided us the knowledge and tools necessary to overcome these hurdles.
Another applicable piece of advice we've received during our law school careers is to find someone you trust and can have candid conversations with. This has proven to be a crucial component of overcoming challenges in law school. Sometimes as a woman in a male-dominated field, you don't always know if what you are experiencing is normal or OK, and having a trusted mentor or friend is a positive way to conquer those challenges. Whether it is having someone to bounce ideas off of, to ask how they would deal with a situation or to just have someone support you, the women at the Indiana University Maurer School of Law have consistently filled these roles for us.
As our days at Maurer are coming to an end, we are faced with the new opportunity to find allies in our work environments and to be those allies to other women in our workplaces. While we by no means know everything about the experiences that are ahead for us, we can confidently say we have a support system from our law school days still there for support.•
• Francesca Campione and Amanda Vaughn are third-year law students at Indiana University Maurer School of Law. Opinions expressed are those of the authors.
Please enable JavaScript to view this content.