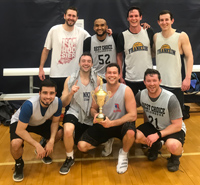 In a close game wrapping up this season of the Indianapolis Lawyers Basketball League, law students from the Indiana University Robert H. McKinney School of Law team defeated the team from Cline Farrell Christie Lee & Bell 55-54 for the championship title.
The winning team was comprised of McKinney students Austin Lensing, Jordan Oliver, Kyle Tucker, Michael Moffatt, Placido Zambrano, Robbie Prather, Barry McGinley, Andrew Verhonik, Juan Sandoval and Chase McDermott.
Attorney Lee Christie, who has helped revive the competitive and collegial league in recent years, said 14 teams played this season.
The league started during the first week of December and finished at the end of February, with single-elimination playoffs immediately following. The games were played Thursday nights at the Indianapolis Basketball Academy, 3800 Bauer Drive West.
Teams can consist of lawyers, law firms and their employees, law students and attorneys' family members, if necessary. Those interested in forming a team for next season can contact Christie at [email protected].
Please enable JavaScript to view this content.