After an exhilarating few months of hastened preparation and crafting rock-solid arguments, Indianapolis attorney Libby Whitaker and her then-classmates sat before the Indiana Supreme Court with bated breath.
Indiana University Robert H. McKinney School of Law students, participating in the law school's Civil Practice Clinic, had drafted from start to finish an amicus brief in an expungement case appearing before the state's highest court in February 2020.
"It was the most amazing experience of my law school career," Whitaker said in retrospect, who is now an attorney with Kids' Voice of Indiana. "It was remarkable."
Filing amicus briefs is a growing trend among law school offerings nationwide, according to law professors, and two Indiana law schools have picked up speed on the opportunity in recent years. Having the chance to dive into active legal matters by appearing as amicus curiae has been a hands-on opportunity many Hoosier law students say has helped prepare them for the daily grind of practicing law while getting real-world experience with real clients.
Picking the brain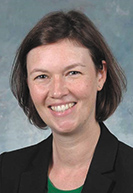 The IU McKinney Civil Practice Clinic has been around for decades, but it wasn't until several years ago that law professor and clinic director Carrie Hagan started considering the idea of having her students collaborate on amicus filings.
As part of its work during the academic year, Hagan said the clinic routinely checks for filed expungement appeals. If a case presents an issue that the students believe merits attention, the class collaborates to reason through the issue, decide what arguments need to be made and what tangible difference their work could ultimately have.
Since 2019, Hagan said the clinic and its students have been permitted to appear as amicus four times in the Court of Appeals of Indiana, as well as the Indiana Supreme Court. Her students write 100% of the briefs they file, she said.
Similar work is being done at the Notre Dame Law School's Religious Liberty Clinic, where students are trained and given hands-on experience to represent clients in national and local religious liberty cases.
John Meiser, the Notre Dame clinic's supervising attorney, said that his students have filed 10 amicus briefs during the first full calendar year of the clinic, including five before the Supreme Court of the United States and in five other cases across the country.
"Because the best way to learn how to write for a court is to actually do it, the more briefs our students are able to work on, the better their training and development will be," Meiser said.
The process for the Notre Dame clinic's amicus filing begins by gathering two to four students to internally discuss a particular case, finding what their interests in the case may be and what value they could add by appearing as amici.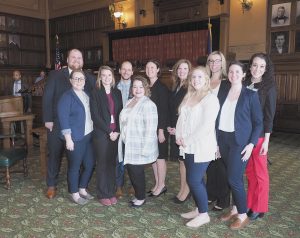 "The students really kind of take the lead in strategizing and outlining what we want to argue," Meiser said. "And then eventually we'll get to drafting and do all the research and put together a draft of the brief and it'll go through several revisions."
When Hagan's clinic sits down together to discuss appearing in a case, they ask questions such as: What is it that the party has said about why they are appealing? Do we agree with what they're saying? Do we feel like we have anything that we can add on top of what they're already saying? And does what we want to add really benefit this case for the court?
"If we can answer those questions with sort of a resounding 'yes,' then we move to the third step," Hagan said. "We figure out what we want to say and how we want to say it."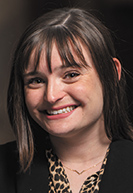 Katelyn Juerling, a 2016 graduate of IU McKinney with Norris Choplin Schroeder LLP, signed on with the Civil Practice Clinic as co-counsel in its most recent amicus brief for Deon Willford v. State of Indiana, 21A-XP-02426.
Having participated in the clinic herself as a student, Juerling helped the current students clarify and edit their points. The group would comb through the briefs for hours, line by line, tying up any loose strings.
Watching the students work on their amicus filing was inspiring, she said.
"Not every attorney gets to do any type of motion that goes in front of the Court of Appeals, let alone have an amicus brief that is accepted by the Court of Appeals," Juerling pointed out. "So, these students that are in this clinic are already miles ahead of some attorneys in our state that have didn't have the opportunity to do that yet."
Equipped for success
The prep for an amicus brief is rigorous work that typically must be completed before the deadlines in a particular case, Hagan said.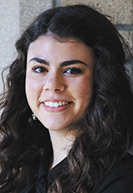 Olivia Rogers, a rising 3L at Notre Dame Law School, said no one brief is the same and can take anywhere from a few months to just a week, depending on the deadline, research load and client needs.
"I've learned so much about the process of litigation and how timelines often change from day-to-day based on motions, judge's orders or new circumstances," Rogers said.
Writing amicus briefs in law school and working individually with clients was an incredible learning opportunity, said Molly Connor, a 2021 IU McKinney graduate. Having participated in the clinic during the height of the COVID-19 pandemic, Connor said all class collaboration was donevia Zoom.
They filed as amicus in Pranav Mishra v. State of Indiana, 20A-XP-1726, where Connor said the appellate court ultimately agreed with the clinic's main position, leading to a reversal.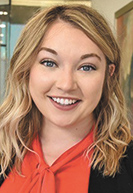 "The opportunity to do the mental gymnastics of how to make (an amicus brief) have a strong argument before the court in concert with six other law students and our professor, I think that's a really unique experience," she said.
The transferrable skills IU McKinney graduate Chandler Clark of Lewis Kappes gleaned from working on amicus filing in expungement cases – like managing large volumes of material and communicating effectively with clients – have been critical to his everyday legal practice in the corporate transactional realm, even years later, he said.
Filing amicus briefs taught Whitaker how to sympathize with clients and think critically about cases in a way that sitting in a law school lecture hall couldn't.
"It made me want to be an advocate for change," she said.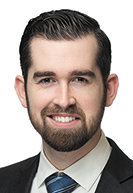 For Rogers, the ability to apply concepts she's learned in the classroom to real life cases as a law student has been "incredible."
"I never thought I'd be able to say that I worked on briefs that have been before the Supreme Court — and did so during law school," Rogers said. "It's an honor to work on these high-profile projects, but even more so, it's an incredible opportunity for growth."
The work Indiana law students are doing with amicus filing before even stepping in the real world of practicing law is vitally important, according to Hagan.
"You are having to make very specific, crucial legal arguments in a very clear way," she said. "I think that presents a real challenge for the students. The amount of pride that they have in their work product, you can't put a price on."•
Please enable JavaScript to view this content.