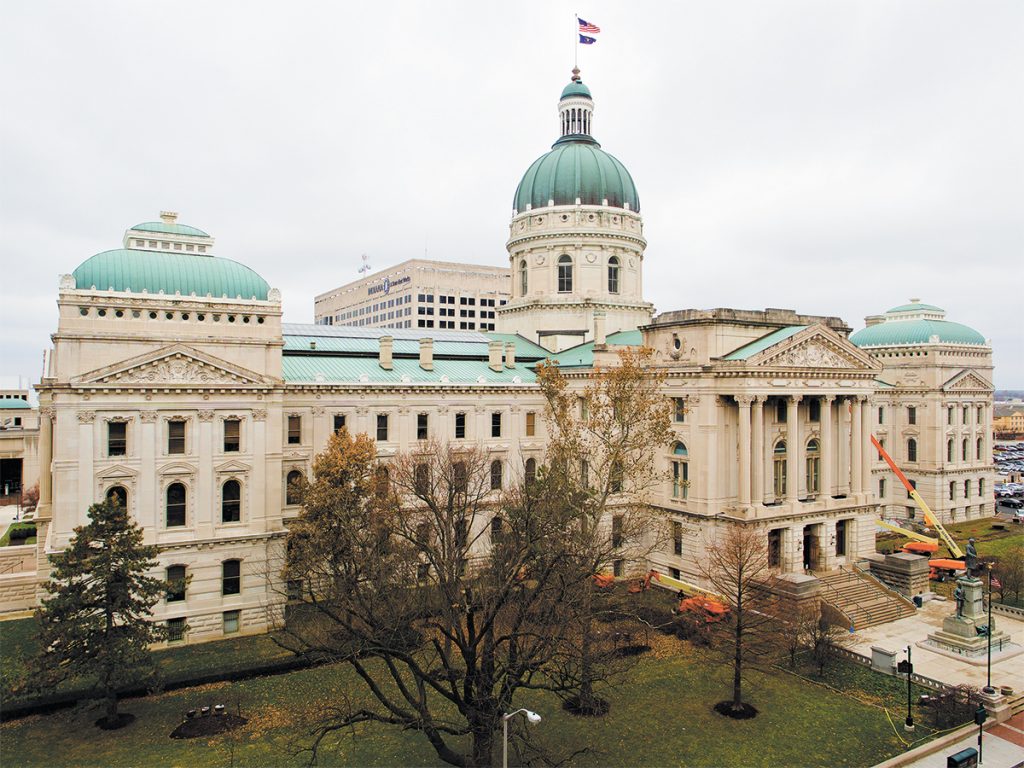 Policymakers, leaders in state government and other influential voices in the Hoosier State will gather at the Indiana Convention Center in Indianapolis on Friday for the 31st annual Dentons Legislative Conference.
The conference, known as "LegCon," will feature sessions ranging from economic forecasts, legislative leadership and higher education to the impacts of the Inflation Reduction Act, utilities, energy and gaming.
Additionally, the event will feature a "fireside chat" between Gov. Eric Holcomb and Toby McClamroch, Dentons US Region managing partner.
"The Dentons Legislative Conference serves as a forum for Indiana's leaders to discuss key issues facing Hoosiers in the coming year and beyond," McClamroch said in a statement. "This year, as we look ahead to what's next, it is important to consider the rapid and constant changes taking place locally, nationally and globally, and how this accelerating pace will impact our State."
Inside INdiana Business, which is owned by Indiana Lawyer parent company IBJ Media, is sponsoring the event.
The conference is approved for 6.5 credits from the Indiana Office of Admissions & Continuing Education, including 1.0 ethics credit. Registration can be done online.
A full list of the panel speakers and the agenda for Friday is below. Panel moderators are indicated with the * symbol.
Education (7:45 a.m. to 8:45 a.m.)
Rep. Bob Behning, R-Indianapolis
Sen. J.D. Ford, D-Indianapolis
Katie Jenner, Indiana secretary of education
Sen. Jeff Raatz, R-Richmond
*Caryl Auslander, Torchbearer Public Affairs
Mental Health Task Force (8:45 a.m. to 9:45 a.m.)
Kevin Rudd, Recovery Centers of America
Lt. Gov. Suzanne Crouch
Ryan Kaczka, CEO, LetsHelp
Mayor Steve McMichael, New Haven
*Jake Bonifield, of counsel, Dentons
E-Sports/Gaming (9:45 a.m. to 10:45 a.m.)
Greg Small, executive director, Indiana Gaming Commission
Sen. Jon Ford, R-Terre Haute
Matt Bell, president, Casino Association of Indiana
Ed Feigenbaum, editor, Indiana Gaming Insight
*Joe Champion, partner, Dentons
Fiscal Leadership (10:45 a.m. to 11:45 a.m.)
Cris Johnston, director, Indiana Office of Management & Budget
Rep. Greg Porter, D-Indianapolis
Rep. Hal Slager, R-Schererville
Sen. Travis Holdman, R-Markle
Michael Hicks, director, Ball State University Center for Business & Economic Research
*Robin Winston, The Winston/Terrell Group
Luncheon/fireside chat with Holcomb: 11:45 a.m. to 1:15 p.m.
Legislative Leadership (1:15 p.m. to 2:15 p.m.)
Sen. Chris Garten, R-Charlestown, Indiana Senate majority floor leader
Rep. Matt Lehman, R-Berne, Indiana House majority floor leader
Senate Democratic Leader Greg Taylor, D-Indianapolis
House Democratic Leader Phil GiaQuinta, D-Fort Wayne
*Caryl Auslander
Utilities & Energy (2:30 p.m. to 3:30 p.m.)
Rep. Ed Soliday, R-Valparaiso
Sen. Eric Koch, R-Bedford
Kristina Lund, president and CEO, AES Indiana and AES Ohio
*Dave McGimpsey, partner, Dentons
Cannabis Legalization & Regulation (2:30 pm. to 3:30 p.m.)
Sen. Rodney Pol, D-Chesterton
Matt Roman, director of government relations, Stash Ventures LLC
Hannah King, partner, Dentons
*Joe Champion
Legal Ethics (2:30 p.m. to 3:30 p.m.)
Tiffany Mulligan, chief of staff/chief legal counsel, Office of the Indiana Inspector General
Ed Ferguson, executive director, Indiana Lobby Registration Commission
Media Panel (3:30 p.m. to 4:30 p.m.)
Oseye Boyd, public engagement editor, The Indianapolis Star
Lindsey Erdody, associate editor, Axios Local
Adam Wren, national politics correspondent, Politico
*Ebony Chappel, director of programs and communication, Leadership Indianapolis
Please enable JavaScript to view this content.