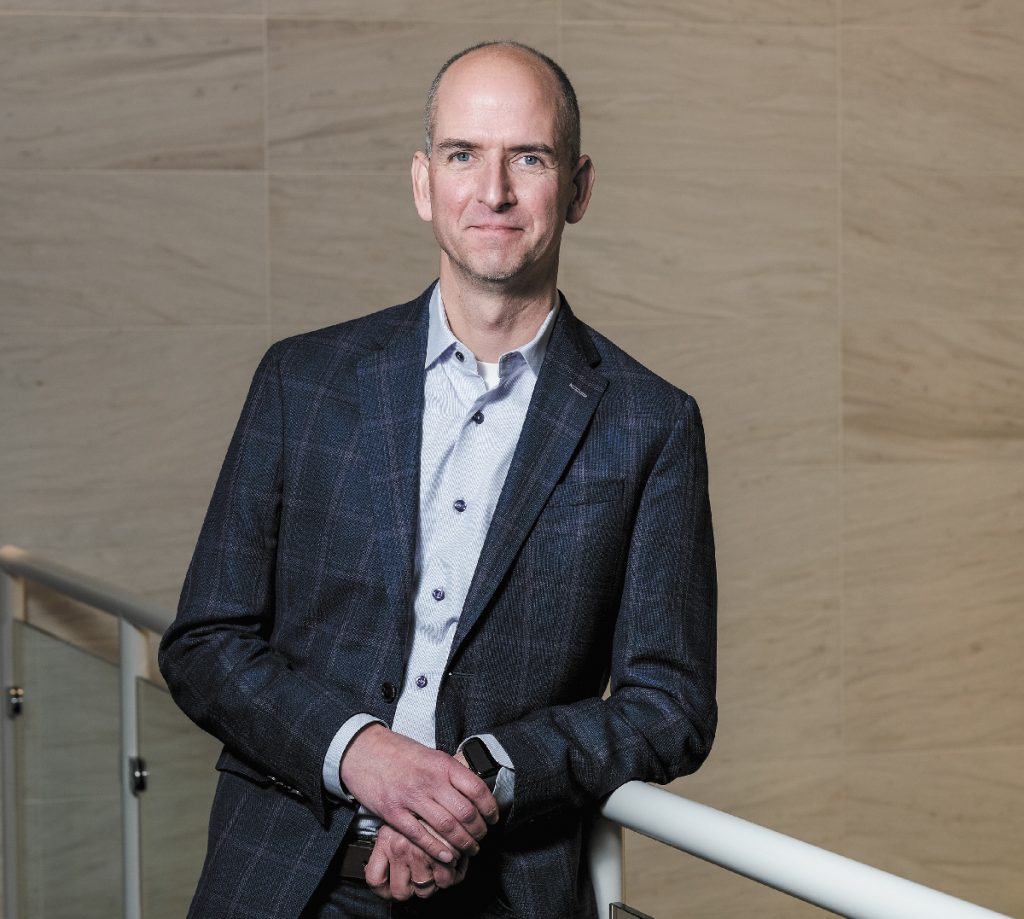 At first glance, Tim Cook might not seem to be in the right place.
He is a lawyer among accountants and he shares a moniker with a well-known giant in the tech industry. Indeed, he hears jokes and fields so many questions about whether he ever mistakenly gets sent the latest Apple prototype that he often begins any public comments with an apology.
"I know you all came to see a different Tim Cook," the attorney will tell the crowd, "and I know how disappointed you are."
However, the Indianapolis native has blazed his own path and made history at the start of 2021. Cook is riding his law degree into the C-suite, becoming the new CEO and president of Katz, Sapper & Miller, Indianapolis' largest certified public accounting firm. He stepped into the leadership position Jan. 1 and is the first non-CPA to lead the 78-year-old firm.
Even putting aside the difficulties of running a company in the middle of a pandemic, Cook is going to have to shepherd KSM through a time when the entire accounting industry is seeing some of the services it has traditionally provided being taken over and done by technology. Also, despite a 17-year tenure at KSM, his legal background makes him a bit of an outsider in the top job.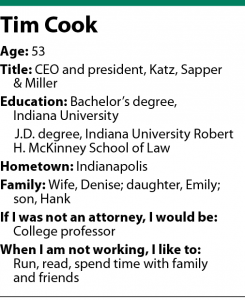 Cook plans to gain his employees' trust and confidence by cultivating relationships with the KSM team, which has more than 350 employees in four locations across the country. He will spend time connecting with workers, introducing himself, listening to them and, most importantly, he said, empowering them by making sure they are passionate about their jobs and are supported.
"Even though I don't do tax compliance, even though I'm not a (certified public accountant), I have tremendous respect for the incredibly talented people we have and our ability to lead in this market," Cook said. "The respect I have for them is genuine and I acknowledge and embrace that their success determines how we do as a firm."
Outgoing CEO and President David Resnick sees Cook as having many attributes that will serve KSM well, including his experience building a niche advisory service line and his perspective as a non-CPA. Resnick described his successor as intelligent, insightful and compassionate.
"The highlight of my career has been watching our people grow and flourish," Resnick said. "I know we've put the right leader in place to ensure KSM's future success."
JD advantage job
Cook went to law school never intending to join a firm, argue in court or provide legal advice to a client. But he never thought he would end up in accounting either.
Enrolling at Indiana University Robert H. McKinney School of Law, Cook had his sights set on a career either in academia or politics. But what he described as a "weird confluence of experience" rather than part of "any grand plan" led him into a nearly 25-year career in the accounting sector.
Cook holds what is classified as a J.D. advantage job, defined as a position where having a law license is not required to do the work but a knowledge of the law is valuable.
"It's always challenged me and it's always created new opportunities for me," Cook said of his 17-year career at KSM. "So I can't really look back on any of it and say I made a mistake. Every chance I got, it was something I was thankful for, and it's just been a great experience."
His first four hours in the field of numbers had him worried if he was going to survive to the end of the workday. The summer after his first year of law school, Cook took an internship at the Indiana Department of Revenue, where he was initially assigned to a data entry job.
"I was just dying inside," Cook remembered of his turn inputting data.
But then he was rescued by a department head who had learned he was a law student. Soon he became a hearing officer, reviewing appeals of tax audits and issuing 10 to 15 decisions a month. The summer work turned into a full-time job that lasted for the remainder of his law school tenure.
"The legal training I received, the analytical practice you have to go through — reading, being challenged, having to support an argument — all these types of things, I think they would serve any professional in any industry," Cook said. "In particular for what I do, that training has been really helpful."
Moot court skills
Cook joined KSM in 2003 and is credited with building two very successful practices within the firm: the State and Local Tax Group and the KSM Location Advisors, a national site selection and incentives practice.
The practices fed his appetite for working in the political arena and gave him a chance to exercise his moot court skills. Although he did not want to be a litigator or appellate attorney, Cook very much enjoyed moot court during his time studying the law, in particular being forced to improvise and being under pressure to come up with something.
He will likely be drawing upon his moot court and many other lawyer skills as he takes over the leadership of KSM. Cook summarized his plan for the next five years as making the employees as well-rounded as possible while still keeping the trains running on time.
More specifically, he believes the way to flourish at a time when technology is changing accountants' jobs is to emphasize the expertise they have. Sounding very much like an attorney talking about online legal service providers, Cook noted KSM employees have the ability to look beyond the questions their clients are asking and get them the answers to the questions that never occurred to them.
First impressions can be wrong, and here, the lawyer leading the accountants seems to be in exactly the right place. He is still challenged by his work and is excited about what is coming next — no apologies necessary.•
Please enable JavaScript to view this content.