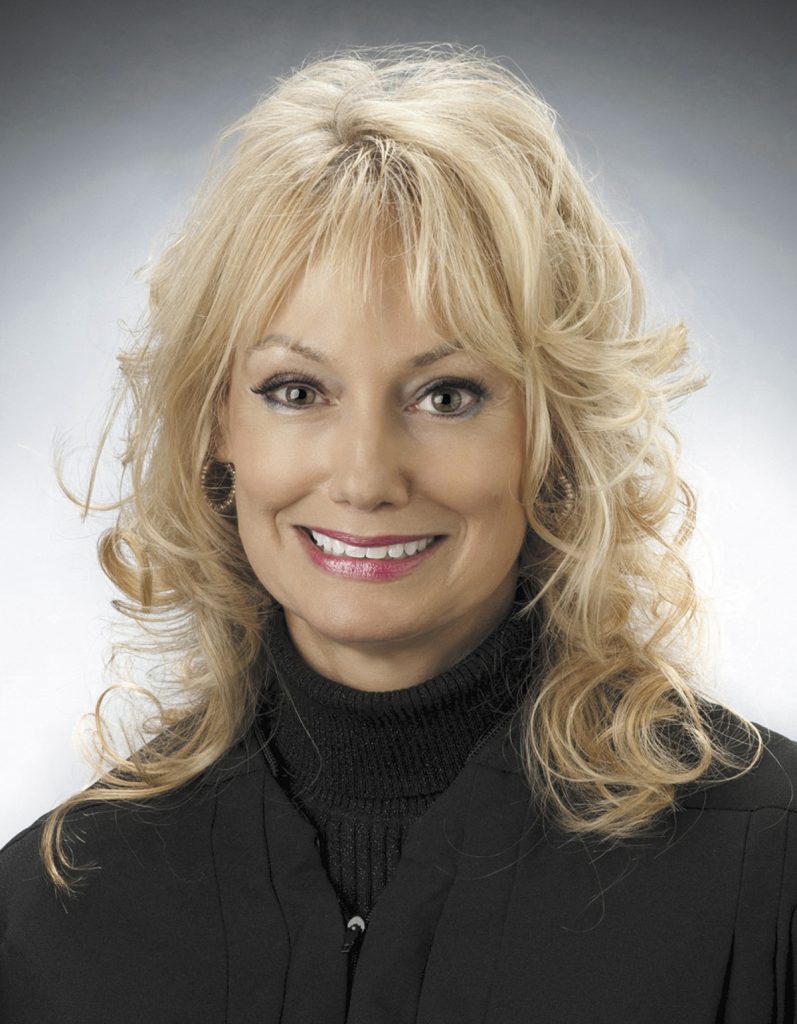 Before breaking ground as the first woman elected to the Indiana bench from Dubois County at age 32, Elaine Brown had been a successful private practitioner. Before her appointment to the Indiana Court of Appeals in 2008, Brown had been an early adopter of problem-solving courts and a proponent of treatment for offenders with drug and alcohol abuse issues. She has a reputation on the appellate bench for rigorous review and educates lawyers and aspiring lawyers at her law school alma mater in trial advocacy and depositions. She also finds time for charitable and community activities in Evansville and southwestern Indiana.
How has your prior work as a private practitioner informed your career as a judge?
My experiences during 11 years in private practice and over 15 years as a trial court judge have all informed my career as an appellate judge. I practiced in a wide variety of areas, primarily civil litigation, and the trial court I presided over had unlimited civil and criminal jurisdiction. Since the Court of Appeals handles everything except tax law and murder cases involving LWOP or the death penalty, prior experience in a multitude of areas is a definite plus.
If you hadn't pursued a legal career, what do you imagine you might be doing?
I'm an adjunct at Maurer Law School and actually began my career post-college in teaching. I love working with students, so it's logical that I would be involved in the educational system in some capacity.
How difficult is it to juggle commitments in Evansville and southern Indiana with your work on the court?
I've learned over the years to become very efficient in time management, and the flexibility afforded by technology means we can do at least 80% of our job from anywhere. I'm an early riser, so coffee in hand, I often put in several hours working on cases before the sun rises, and I'm never without my iPad. E-filing has greatly enhanced our efficiency as appellate judges. With a tap of the screen, up come the briefs, transcripts, appendices, exhibits, motions and orders for our ready review.
Aside from your granddaughters, what motivates you to volunteer in Evansville classrooms?
My daughter is also the principal of an elementary school within the Evansville Vanderburgh School Corporation, so she sees firsthand every day the overload on teachers in the classroom, and she experiences that same overload as an administrator. I also love children, see the need and enjoy helping out.
If you could change one thing about the law in Indiana, what would that be?
I would like to see much more emphasis on rehabilitation of offenders rather than simply warehousing them. I understand the need to keep violent individuals and those likely to reoffend behind bars. But those who are imprisoned and who can be rehabilitated should be, not just for their own good but for that of society at large. Lengthy prison sentences may appear to be justice served at the time they are imposed in trial courtrooms, and in fact they may be for repeat offenders with multiple prior offenses who have demonstrated disregard and disdain for the law. But for those for whom there is the possibility of reform, our justice system should seize on the opportunity to turn lives around both in prison and upon release. The cost savings in multiple arenas would be remarkable. I'm so glad that our governor, Legislature and Supreme Court recognize and promote the effectiveness of specialty courts like drug courts, veterans courts and mental health courts for those who would otherwise be lost in the system without a viable alternative to incarceration, only to be a part of prison's revolving door, never getting the help they need.
What do you most like to do when you have free time?
My free time is focused on physical exercise like hot yoga, pickleball, dance workouts, walking, hiking and biking, and on spending time with my children, grandchildren and friends.
What advice would you give your younger self?
Don't worry so much; things have a way of working themselves out.
What's your best advice for someone who aspires to be a judge?
Reputation and demonstrated trustworthiness are key, built upon a strong work ethic, legal knowledge, skilled communication, civility, professionalism, a wealth of experience in the law and just doing the right thing whatever the circumstance.
Who is someone who mentored you, and what did you learn from them?
I owe a debt of gratitude to many attorneys and judges I've practiced with and in front of over the years, and to fellow judges both at the trial court and appellate level. One person I'd like to recognize specifically is Don Hayes, the party chairman who first reached out to me many years ago to run for the elected position of judge of the Dubois Superior Court. He believed in me before I believed in myself, and winning that judgeship jumpstarted my career, most of which has been spent on the bench as a trial and then appellate judge.
What's the most rewarding thing about being a judge?
Getting to make decisions that are fair and in accordance with the law is most rewarding. On the opposite end of that spectrum are the decisions that don't seem fair but nonetheless are what the law demands. As an appellate judge, that sometimes is the harsh reality. Overall, being in a position to thoroughly review records, consider at length the possible outcomes and give litigants sound, well-reasoned written decisions that resolve disputes and provide future guidance is very satisfying work.•
Read more Leadership in Law profiles.
Please enable JavaScript to view this content.