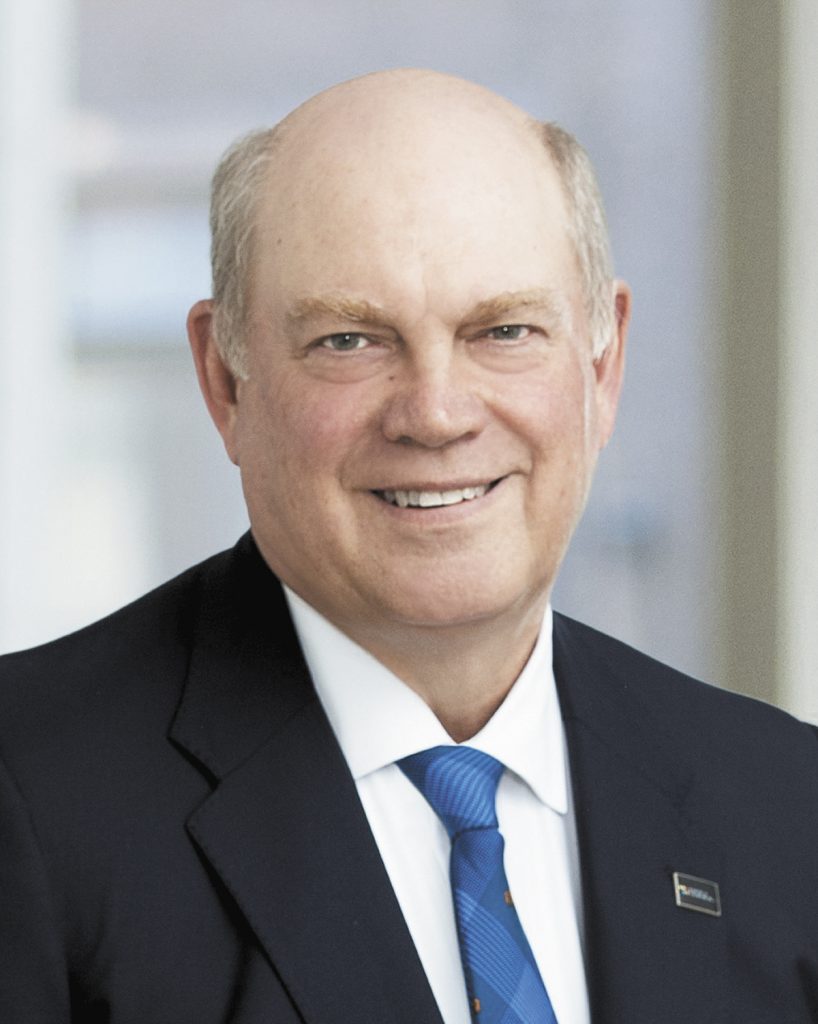 Leading Indiana's largest law firm in his second term as managing partner, Robert Grand has helmed Barnes & Thornburg as it grows organically, opening new offices around the world at a time of swirling change for the legal industry. But Grand is no stranger to seeing the big picture: He's been active in state and federal Republican Party politics for decades, most recently as part of the Republican National Committee's finance team. Meanwhile, he finds time for community involvement in organizations from Little Red Door/Marion County Cancer Society to the Indianapolis Urban League.
What are the vital qualities that make a good law firm managing partner?
Any manager must have the ability to listen carefully and respond in an appropriate manner. A manager must have courage to make tough decisions quickly. Lastly, a manager must lead by example.
What's your outlook on the Indiana legal market, given some of the mergers and combinations of late?
The Indiana legal market is very strong. Growth by merger or aggressive lateral recruitment is the trend for many firms.
If you hadn't pursued a legal career, what do you imagine you might be doing?
I had an early interest in coaching.
What do you like best about your work with Little Red Door and other volunteer efforts?
The Little Red Door opportunity has been most rewarding. Our annual golf outing raises funds to send kids with cancer and their siblings to a weeklong camp. This experience gives all a temporary respite from an ugly disease. Each year a camper speaks at the outing, and there are few dry eyes in the crowd. Supporting these causes reinforces both individually and collectively our values — gratitude, compassion, empathy, etc. It's a great way to remain grounded in what is truly important.
If you could change one law in Indiana, what would that be?
The laws promoting school choice should be enhanced. Giving kids and parents more choices is key to scholastic improvement.
What do you most like to do when you have free time?
In my limited free time I opt to play golf.
What is your most personally memorable moment in your long involvement in politics?
My most memorable moment was serving as one of the lawyers in the 2000 Bush-Gore recount in West Palm Beach, Florida. Equally memorable was serving as counsel to Mike Pence in the initial vetting process for vice president selection.
What's your best advice for someone who aspires to be in politics?
First you must find candidates that inspire your passion. Second, volunteer for everything and execute mundane tasks with zeal. Get some experience with fundraising. It is a key component of every campaign.
Who is someone who mentored you, and what did you learn from them?
My high school athletic director was my first mentor. He taught me the value of hard work and a positive attitude. Gov. Robert Orr was my second mentor. He taught me about leadership, compassion and integrity.
What advice would you give your younger self?
I would spend more time on academic pursuits.•
Read more Leadership in Law profiles.
Please enable JavaScript to view this content.