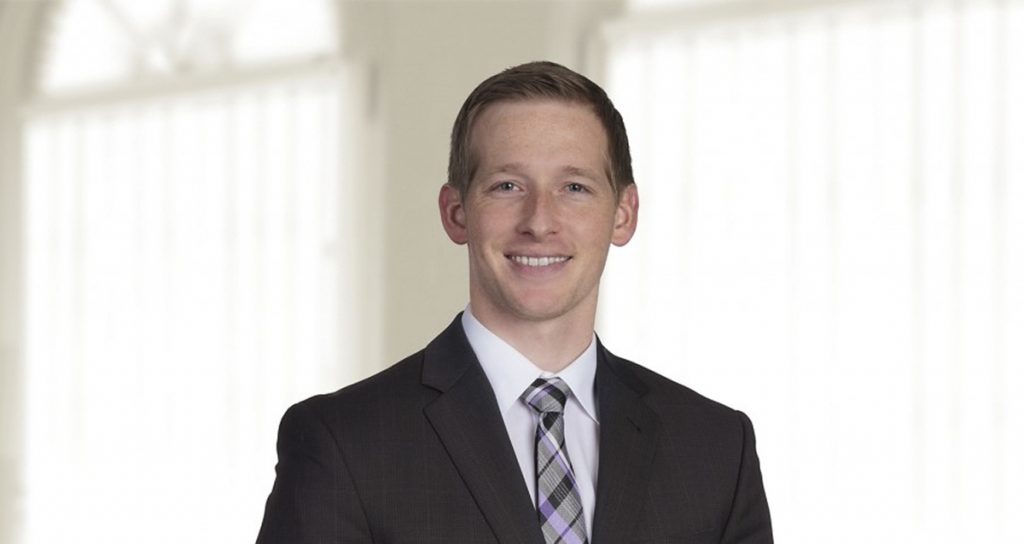 In less than six years of practice, Ryan Leagre has a legal rarity — a nine-figure jury verdict on behalf of a plaintiff. The medical device royalty lawsuit he and his team won for Dr. Rick C. Sasso of Carmel in 2018 pitted the young attorney against a global medical giant. When he's not litigating or working for clients, Leagre has a heart for community. After teaching in Chicago schools, he became a founding board member of Urban ACT Academy, which provides K-8 education to children on Indianapolis' near-east side. You also might find him shooting hoops in the Lawyers Basketball League.
What was your initial reaction when a jury returned a $112 million verdict in favor of your client?
Shock, relief and happiness. I was shocked not with the outcome, but because even after watching the jury for four weeks, I still had no idea what they were thinking as they walked back into the courtroom — stone-faced — to deliver the verdict to Marshall Circuit Judge Curtis Palmer. I then instantly felt relief when Judge Palmer read the verdict because, after five long years of personally taxing litigation, we were able to deliver an excellent outcome for Dr. Sasso. Then for the next several hours, we were all on Cloud 9. This victory was the result of tremendous effort by Fred Emhardt, Joe Williams and everyone else on our team, and I was proud of and happy for everyone. When it comes to professional "highs," this one will be tough to beat.
What do you most like to do when you have free time?
I like to spend time with my wife, Quinyahna, and two boys, Langston, 4, and Lennox, 2. If I find some extra time — and that's a big "if" — I like to go to the gym or play basketball.
What drives your ongoing interest in volunteering in elementary education?
I believe all children deserve a great education, and unfortunately many of our children do not get that opportunity. There is no reason why an 8-year-old in Indianapolis doesn't deserve the same education and the same opportunities as the 8-year-old me that grew up a couple miles away in Fishers. This needs to change, and I'm just trying to do my part to create this change.
What advice would you give your younger self?
There have been a few occasions in my life where I'd like to go back and tell myself to "speak up" and "share your ideas." At times I have kept my ideas to myself — either because I was being too cautious or because I wasn't confident in my ideas — and I'd like to go back and tell myself that those ideas won't do any good sitting in your head.
If you could change one law in Indiana, what would that be?
Over the years, our courts have made it increasingly difficult for policyholders to assert claims against their insurers for breaching their duty of good faith and fair dealing. There have been many cases where insurers unreasonably denied claims, delayed claims investigations, pressured policyholders to accept low-value settlements and placed their financial interests ahead of their policyholders' interests. And often this happens when the policyholder is facing dire circumstances. Yet courts have increasingly suggested that an insurer can only breach this duty when their conduct is driven by some ill will or conscious wrongdoing. That's like saying a doctor or a lawyer can be held liable for malpractice only if the damages they cause are the result of ill will or conscious wrongdoing.  But that's not the standard we hold doctors and lawyers to. Insurers, much like doctors and lawyers, hold positions of power and responsibility in society. They need to be held to a higher standard, and I hope more courts begin to recognize this.
How does Plews Shadley's team fare in the Lawyers Basketball League?
We have a solid team (mainly due to strong recruiting efforts). Last year we made it to the championship game and nearly brought home the title. Unfortunately, this year we got knocked out in the second round of the playoffs. So in many ways, we are comparable to the Pacers from the early 2000s: a perennial playoff contender, but not quite good enough to win the championship — yet.
Who is someone who mentored you, and what did you learn from them?
I've had a lot of mentors at PSRB, but one that stands out is Greg Gotwald. Greg was a young partner when I started as a summer associate, and he took me under his wing. He gave me opportunities, believed in my potential and advocated for me. Greg showed me what true mentorship looks like, and I try to emulate that.
Where do you see yourself professionally in another 10 years?
I see myself doing the same type of work I do now — just doing it better. I've learned a lot since graduating law school in 2014, but I have much more to learn. I'd also like to expand my impact in the community by spending more time helping local charities and supporting local education efforts.
What do you get from your involvement with bar associations?
The best thing about bar associations is the relationships. I've made good friends with people that I never would have met but for IndyBar and the ISBA. The bar associations have also provided great leadership opportunities, such as executive committee positions and the Leadership Development Academy with the ISBA.
What do you think you might be doing if you weren't a lawyer?
Investigative journalist.•
Read more Leadership in Law profiles.
Please enable JavaScript to view this content.