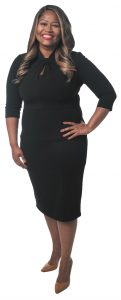 Amber Finley
Health & Hospital Corporation of Marion County
Indiana University Robert H. McKinney School of Law, 2011
Why did you decide to enter the legal profession?
At the ripe old age of 6, I decided I wanted to be a lawyer because I "liked to argue." Later in life, I saw how lawyers were able to make the world a better place and I knew I wanted to be a part of that.
If you hadn't pursued a legal career, what would you be doing?
Running a nonprofit organization that focused on social justice.
Who is someone who has inspired you in your career? 
So many have inspired me, but to name a few:
Floyd County Judge Maria Granger: I am originally from New Albany and had the pleasure of clerking for Judge Granger during the summer of my 1L year (Judge Granger's first year on the bench). I learned so much from her that summer (and continue to do so). She is an amazing judge and even better person who respects everyone who enters her courtroom and makes sure they feel heard.
Jimmie McMillian and Tavonna Harris Askew: They are not only great attorneys, but also serve active roles in the legal community and the community at large. Despite their busy schedules, they also take time to reach back to mentor and guide new attorneys. It's the "reach back" and their involvement in the community that truly inspires me.
Last, but definitely not least, professor Julian Blackshear: Professor Blackshear was one of my professors at Tennessee State University. He was a former student of Dr. Martin Luther King Jr.'s at Morehouse College, and the third Black graduate of the University of Tennessee College of Law. He encouraged me to attend law school and was one of the first people to mention the ICLEO program to me.
What's the best advice you've ever received?
I can always count on my father for sage advice. He always encourages me to stay in the moment and not waste my time regretting the past and/or worrying about the future. I use this advice and the concept of mindfulness daily.
What makes a good lawyer/judge?
A good lawyer/judge, of course, possesses a strong understanding of the law and an ability to communicate said understanding orally and in writing. In my experience, the best lawyers/judges I have encountered are compassionate and able to connect with their clients/individuals in their courtrooms to build trust.
How do you spend your free time?
I enjoy spending my free time serving the community with the various organizations through which I volunteer ("Each of you should use whatever gift you have received to serve others, as faithful stewards of God's grace in its various forms." — 1 Peter 4:10). When I'm not volunteering, you will likely find me at the movies, having brunch with friends or hiking (for the fresh air and to burn off the calories from brunch).
If you were an animal, what would you be?
I'm a Leo, so definitely a lion.
Which superpower would you rather have: invisibility or the ability to read minds?
Ability to read minds, but only using my powers for good!
What was your ICLEO experience like?
It was an amazing experience. It truly prepared me for the rigors of law school and was where I met some of my now-closest friends. I'm forever grateful former Indiana Chief Justice Randall Shepard saw the value in creating this program, which has served to diversify the legal profession in Indiana.
Your resume includes a lot of community service — what issues/initiatives are important to you?
I'm passionate about various social justice issues and giving a voice to the voiceless. Currently, my focus is on closing both the education and economic gap, access to justice, and diversity, equity and inclusion.•
Please enable JavaScript to view this content.