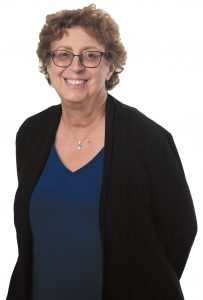 Amy Applegate
Indiana University Maurer School of Law
Harvard Law School, 1981
Why did you decide to enter the legal profession?
I was going to pursue a Ph.D. in romance linguistics, but over the summer before my senior year in college, I was having lunch in a New York City restaurant with my best friend and a friend of hers named Patti. Patti ordered an egg salad sandwich, but the server delivered an egg salad platter. When Patti pointed this out, the server asked if Patti would take the platter. Patti said yes. When the bill came, the server had charged Patti for the platter, which was much more expensive than the sandwich. When Patti said she had not ordered the platter, the server said yes, but she had eaten it. I asked for the manager, explained the situation to him and got the bill adjusted. I had just won my first case! I was hooked. I changed my post-college plans that summer.
If you hadn't pursued a legal career, what would you be doing?
I would be teaching, which is what I do now in the legal context. It took me a while to get to this because I really enjoyed the practice of law. However, I love what I do now more than anything I did before, and I had some wonderful opportunities and legal work. Even though I liked practicing, I think I was always meant to teach. Teaching law students how to be mediators is a real joy.
Who is someone who has inspired you in your career?
Judge Viola Taliaferro. When I moved to Bloomington in 1998, I was still a partner at my law firm in Cincinnati (telecommuting from Bloomington much of the time). I took on some pro bono guardian ad litem cases in town and soon appeared in Judge's court. I was mesmerized. I had never met anyone like Judge before. She was all about the children in family law and child welfare cases. Even when she ruled against the parents, they mostly understood and appreciated that she was looking out for their children.
What's the best advice you've ever received?
Always tell the truth, and if you make a mistake, own it. Your integrity is the most important thing about you.
What makes a good lawyer/judge?
This is complex! On reflection: Working hard; totally understanding your client's case, both the good and the bad; being passionate for your client but not losing your objectivity and common sense; knowing (or learning) the law and applicable court rules; trying to understand where your client and the other party(ies) are coming from and what is most important to them; looking at the big picture but also paying attention to the details, which matter; and knowing when to settle a case.
How do you spend your free time?
With my family and friends, which in my case often means travel. I also like to read and watch good movies or TV series.
Which superpower would you rather have: invisibility or the ability to read minds?
The ability to read minds. I am always interested in what people really think!
How did you get involved with mediation work, and what do you like about it?
I mediated civil cases in Cincinnati. I moved to Bloomington in 1998 and I continued to work with my law firm for a few years. In 2001, I was hired to be the director of one of the clinics at the IU Maurer School of Law (it was a guardian ad litem clinic). At some point, Judge Taliaferro summoned me to her chambers to "ask" if I could train up some law student mediators to help the parents in her juvenile paternity cases mediate parenting time issues. When I said I was pretty busy with the guardian ad litem clinic, Judge responded that, "When you need something done, ask a busy person." Of course, I went on to get the necessary training and experience to mediate family law cases, teach mediation and supervise law students who wanted to mediate. Eventually I chose to make my clinic a mediation clinic, because it was such a positive process for the students and the parties.
What's the best part about being a teacher?
The law students! I have been blessed to have many outstanding students. I love teaching and being part of the students' path to practice. And I always learn from my students.
If you were an animal, what would you be?
This was the toughest question for me. I'm struggling between an eagle and a dove. Both fly, which I enjoy (though I fly only in airplanes). According to my extensive "research" on Google, the eagle is symbolic of loyalty, devotion, freedom, truth, honor, the divine, hope, foresight and psychic awareness. That all sounds great, but the eagle is also a predator, which I'd like to think I am not! Therefore, I am going with the dove, the universal symbol of peace. That is especially appropriate given my focus on mediation.•
Please enable JavaScript to view this content.