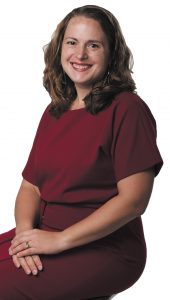 Andrea Townsend
Plews Shadley Racher & Braun LLP
Indiana University Robert H. McKinney School of Law, 2013
Why did you decide to enter the legal profession?
I love how the law enables us to enact change, from Capitol Hill to the courtroom. Being a lawyer empowers me to do better — to draft better governing documents and policies for my community organizations, to help my clients grow and protect their businesses. It is humbling to be able to give a game plan when the people you care about need it most.
If you hadn't pursued a legal career, what would you be doing?
An accountant, probably an auditor because they are the Sherlock Holmes of the accounting world! I studied accounting before law school and had planned on taking the CPA exam after my first year of law school. I still enjoy using my analytical skills and accounting background to identify flags for further discussions in my transaction practice.
Who is someone who has inspired you in your career?
The judges I served — Judge Tim Baker, Judge Margret Robb, Justice Brent Dickson and Justice Frank Sullivan — have left a lasting impression that the law is a noble profession and calls us to be great examples of civility and service for our community.
What's the best advice you've ever received?
Have serenity to accept the things you cannot change, the courage to change the things you can and the wisdom to know the difference, living one day at a time, enjoying one moment at a time and trusting that God will make all things right. It is called the "Serenity Prayer," and it encourages me to be patient and take action when needed.
What makes a good lawyer/judge?
Kindness, civility and an open mind to learning and change.
How do you spend your free time?
"Doing." I like to stay active, so you'll find me chasing my kiddos, gardening, spending time in the woods, sailing, sewing or doing a home project. My favorite local spots are Ritchey Woods Nature Preserve, Geist Reservoir and the Indiana State Fair.
If you were an animal, what would you be?
A horse. I love their speed and strength and kindness. My experience with horses even made it into my application for law school!
Which superpower would you rather have: invisibility or the ability to read minds?
The ability to read minds. It would help with communication so much! In any case, a large part of who I am is being visible and genuine. I would not like being invisible!
Tell us about your love of sailing and your work with the Indianapolis Sailing Club.
Sailing is a great sport for those who like to really focus — you cannot think about work, only adjusting your sails, finding your edge. It is a great challenge and also a great opportunity to compete against a diverse group of sailors. Like the legal profession, we are working to foster more diversity. To reach this goal, I lead our Women on the Water (WOW) program, which encourages women to take the helm. I'm also on our board of directors, where I support community outreach and education initiatives for those who don't have a sailing background (like me once!) and want to learn.
What do you get out of your involvement with the ISBA Litigation Section?
I have been part of the ISBA Litigation Section since law school and was honored this past year to serve as chair. For me, it is all about giving back and fostering the continued self-governing success of our profession. In the process, I have gained great friends.•
Please enable JavaScript to view this content.