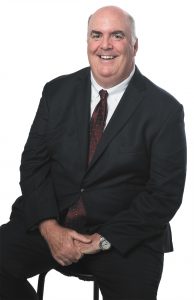 Carl Pebworth
Faegre Drinker Biddle & Reath LLP
University of Michigan Law School, 1991
Why did you decide to enter the legal profession?
After college, I went to work at an advertising agency in Chicago (Head & Shoulders shampoo — "You never get a chance to make a first impression"). Over time, selling soap did not seem like particularly meaningful life's work to me, so I thought again about law school — I had been a history/political science double major in college and the idea of helping people sort through difficult life challenges seemed appealing. At this point, 30 years in as a lawyer, I am more impressed than ever with the choice that I made to be a lawyer. We can make big impacts in the lives of others, and we play a big role in how our society regulates itself. I wish I had been more thoughtful about this in 1988, but it worked out well.
If you hadn't pursued a legal career, what would you be doing?
Aside from still selling soap, perhaps working in higher education (my parents both did that) or as a journalist/public relations executive (one of my grandfathers did that).
Who is someone who has inspired you in your career?
As a young lawyer, Jay Yeager, a recently retired partner at our firm, demonstrated how to be an excellent lawyer and a good guy and person in ways that were particularly resonant for me. In terms of one area of interest for me — pro bono/access to justice — I have been inspired by lawyers, law professors and law students throughout my career, and that continues today; it is one area where young people have really important perspectives. Also, as a young person interested in learning how to contribute to the broader good, I spent time around Bill Taft, David Forsell and Jeff Pankratz — each of whom was personally and professionally remarkable in their own ways and inspirational in the different ways in which they impacted our community.
What's the best advice you've ever received?
"Talk less, listen more." I'm still working on it, but it is excellent advice.
What makes a good lawyer/judge?
In addition to the ability to understand and to process facts and legal principles and to communicate effectively, a good lawyer or judge is curious, empathetic and principled. Also, the ability and willingness to work hard is part of the deal, too.
How do you spend your free time?
I like to take walks — urban and rural hiking. I like to read — I have piles of books lying around the house waiting to be read or in various stages of completion (history, cooking/food, travel, natural science and political philosophy are some areas of interest). I like spending time with my wife, Anne Becker — she's an attorney, too, and I have been losing arguments for the last 24 years, but I enjoy being with her and she keeps me in line. Also, I like spending time with my children, and they tolerate me. With my oldest son, that mostly involves sports (we suffer most years, as do many in the family, as White Sox fans); with my daughter, she and I share an interest in food and cooking; and with my younger son, he and I share some of the same interests in movies and, during the pandemic, streaming and cable programming.
What drives you to do pro bono work?
As a young lawyer, I did pro bono work because I enjoyed one-on-one contact with a client who did not otherwise have access to a lawyer, and I liked helping people — that is still true. At some point, I got interested in also helping other lawyers connect with pro bono clients and matters — a lot of lawyers will do pro bono work if they can be connected with pro bono clients in a manner than aligns needs and interests. I still find that very satisfying. More recently, I have also gotten interested in identifying areas of need that are not otherwise being addressed and working on that. I would not have been as interested in that as a younger lawyer (or particularly useful in doing anything about it). Now, I find it very satisfying to think about how we can take scarce pro bono lawyer time and work to make the most and best use of those resources in places and ways where that otherwise does not happen in Indiana.
Which superpower would you rather have: invisibility or reading minds?
Speaking as a lawyer, the ability to read minds seems really valuable.
How did you get involved in construction/real estate law, and what do you enjoy about it?
I was trained to work as a litigator. As our firm grew and we had a chance to differentiate practice groups, I had a chance to work with Mark Voigtmann, a good friend and colleague, so I did. What is satisfying about working on real estate and construction matters now is searching for practical solutions to potentially significant technical issues and problems. Matters sometimes metastasize into disputes that test our legal and litigation skills, but often, that is an inefficient way to address the underlying problem. It is really satisfying to be in a position to help clients find a more constructive resolution to their issue — and real estate and construction clients are good at that kind of problem solving, which is fun to be a part of, too.
If you were an animal, what would you be?
I have never thought about this before. In an unkind moment, a loved one suggested gorilla or bear. Physical similarities aside and to be a bit different and perhaps aspirational, I just read a book about caracaras — it's a South American bird that is curious, social, intelligent and a bit eccentric. Those are qualities I either admire or reflect. To be able to fly would be nice, too.•
Please enable JavaScript to view this content.