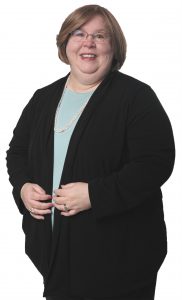 Cathy Canny
Taft Stettinius & Hollister LLP
Why did you decide to become a paralegal/legal support staffer?
I really was not looking for a position in law; it sort of found me. I was looking for an office position and answered an ad for a secretary at a law firm. Although this was a smaller firm in downstate Illinois, there was a paralegal on staff. This was very unusual in the late '70s/early '80s outside of large cities such as Chicago, New York and Los Angeles. One of the attorneys I worked for saw something in me and encouraged me to become a paralegal. I learned everything I could about the paralegal profession. Within my first year, my role evolved into a full-time paralegal position. I promptly went back to school to obtain a B.A. in paralegal studies and have never looked back. I love being a paralegal and am very thankful that I was given this opportunity so early in my career. I have had the privilege of working with many great attorneys. Many times, I'm asked what a paralegal does. Under the supervision of an attorney, paralegals perform substantive legal work that would otherwise be done by attorneys. Paralegals are an integral part of the legal services team. The broad range of my duties includes an understanding of how the law works, research, writing, reviewing and analysis. I enjoy diving into the factual side of a case and sorting through tremendous amounts of data to organize the critical nuggets of information to support a case and, hopefully, a win.
If you weren't working in legal support, what would you be doing?
I have thought about this, as it is usually a Zoom meeting question so participants can get to know each other. I remember in my childhood, I wanted to become a teacher. However, when I had my first job in high school, it was with an insurance company. I loved working in the office setting and enjoyed the challenges of organization, multitasking and problem solving. So, it is not really earth-shattering, but I would say I would probably be working in some type of business administration setting.
What makes a good paralegal/legal support staffer?
I often describe the role of a paralegal as a hub. A good paralegal is flexible, organized, able to multitask, stay calm in the storm, problem solve and keep things moving. Staying calm in the storm is an art as much as it is a necessity. That is a paralegal's superpower. Working as a paralegal is a high-stress and demanding job. There are many moving parts on any given day, or any given hour. Many times, I have heard other paralegals say (with a wink and a smile) that yesterday I had 50 things on my to-do list. I worked hard and checked off a ton of those. Now I only have 100. That is usually true, and circumstances can rapidly evolve. A good paralegal is able to work through high-stress situations, handle what may feel like momentary chaos and still manage to keep a smile.
What makes a good lawyer?
Over my career, I have had the pleasure of working with some amazing lawyers at all stages in their careers. When I work with law school students and young lawyers, I encourage them to focus on what their staff does each day. Law school teaches lawyers how to think, but it is an art to learn to work as part of a team and to become a good leader. Saying a simple "thank you" or "great job on that" goes a very long way with your staff. A good lawyer recognizes and embraces the team concept. Everyone has their different roles, and each one is important. It is the entire team working together that makes things happen. In my experience, the best lawyers care about their clients and their staff. And a sense of humor is always a plus.
You've served on many paralegal associations throughout your career. What do you get out of your involvement with these groups?
When I started working in Indianapolis, I learned that there was a local paralegal association in the area and joined the Indiana Paralegal Association. I remember going to my first paralegal association luncheon and was so impressed with the professionalism, mutual respect and support of the paralegals there. This encouraged me to get more involved. I then joined the Paralegal Committee of the Indianapolis Bar Association, and when paralegals were invited to join the Indiana State Bar Association, I was one of the first in line to become a member. Having the opportunities to serve in various capacities on the boards or committees of these associations has been an honor and a privilege. I have always felt that it was important to be involved with education and development regarding the paralegal profession, attorneys and even the general public.
For me, it is essential to be involved to build meaningful connections. As a paralegal, I want to be at the top of my game. By participating in the CLE programs and events these associations provide, I have been able to become more proficient and continuously develop as a professional. Bar association involvement has provided wonderful forums to network with attorneys, judges and paralegals throughout the state of Indiana, and I have also made lifelong friends from these opportunities.
Which superpower would you rather have: invisibility or the ability to read minds?
That's a tough one. I see the cons to both, which I think would greatly outweigh any benefits. I really do not want the ability to read minds. If those were the only choices, I think I would rather be invisible. This would require you to listen and observe, rather than jump in and participate without all of the information necessary. My father was a lot like this. He was a very wise man.
If you were an animal, what would you be?
My daughters have often said that I have a lion personality — strong, loyal and protective. Perhaps that is true. If so, I would like to have the personality of Sarabi ("The Lion King"), who stood up for others and was cool, calm and collected when facing tough situations. Plus, I really, really like musicals.
What advice do you have for young paralegals/legal support staffers just beginning their careers?
Take every opportunity that crosses your path as a chance to learn and grow. Many times, you may be asked to perform a task that you may not enjoy or one that seems impossible. You may feel like Scotty on the Enterprise facing an impossible situation and still find a way to make it work. (For those who are younger, watch any episode of the original "Star Trek" series and you'll understand the reference. My favorite is the "The Trouble with Tribbles.") However, the more skills you absorb and master, the more you will benefit in your career. Understand that not every area of law may be right for you. Sometimes switching your career from being a paralegal is not the answer, as it may just be switching to a different area of law. Understand that we will all make mistakes. We are all human. We learn from those. Show yourself some compassion, fix the mistake and move on. Keep your sense of humor, "try and give it all she's got, Captain" and try not to take things personally. Everyone has a bad day, and you and those around you may not handle it in the best way. Do not write an email or text if you have a problem with someone. Talk to them and clear the air. Most of all, every day is a new day. And every day is a chance to have a good day.
How do you spend your free time?
As most people will say, I don't have a lot of free time. However, when I do, I love spending time with my husband. We enjoy time outdoors with our labradoodle Teddy, and seeing new places. We really cherish family time. I also enjoy cooking. My oldest daughter and grandson have celiac disease and my youngest daughter is vegan. I have enjoyed looking for new recipes that work for everyone. Lastly, I enjoy continuing to learn American Sign Language. Both of my daughters are American Sign Language interpreters and have many deaf friends.
What does it take to become an Indiana registered paralegal?
The Indiana registered paralegal status is a voluntary paralegal registration program that was adopted by the Indiana State Bar Association. As noted on the ISBA website, "For paralegals who aspire to a higher goal, the Indiana Registered Paralegal status will both recognize and convey a person's commitment to competence with the emphasis on professional education and minimum standards for the profession. An applicant seeking the ISBA's Indiana Registered Paralegal status must meet certain education or credential criteria. Upon approval, the paralegal will become an Indiana Registered Paralegal and identify said status with the initials 'IRP' following his or her name."
To obtain an IRP, a person must have one of the following:
Bachelor's degree with a minimum of 12 hours of undergraduate credit in law or paralegal studies from an institutionally accredited paralegal program.
Bachelor's degree and a paralegal certificate from an institutionally accredited paralegal program.
Bachelor's degree from an institutionally accredited program plus at least two years of paralegal experience.
Associate degree in paralegal studies from an institutionally accredited paralegal program plus at least two years of paralegal experience.
Certification in paralegal studies from an institutionally accredited paralegal program plus at least two years of paralegal experience.
Paralegal Advanced Competency Exam (as offered by the National Federation of Paralegal Associations) and is in good standing.
Paralegal CORE Competency Exam (as offered by the National Federation of Paralegal Associations) and is in good standing.
Certified legal assistant/certified paralegal certification (as offered by the National Association of Legal Assistants) and is in good standing.
Further, to maintain IRP status, there are 18 hours of substantive CLE requirements, of which three hours is an ethics component, over a three-year period. Yearly, there is a minimum of six hours of CLE (which must include one hour of ethics).
For more information see the Indiana State Bar's website: https://www.inbar.org/page/RegisteredParalegal
This credential assists lawyers and administrators in distinguishing paralegals who meet or exceed the skills required for certification. I strongly encourage those paralegals who meet the criteria to take this step and become an Indiana registered paralegal.•
Please enable JavaScript to view this content.