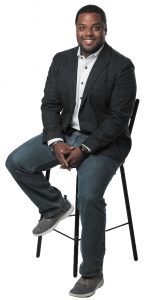 Chris Tucker
Cummins Inc.
Indiana University Maurer School of Law, 2011
Why did you decide to enter the legal profession?
I had the opportunity to work with lawyers in a few unique settings while in undergrad, including a small firm entertainment lawyer and an in-house legal team at a construction and finance company. These opportunities pushed me to law school, but I did not know what kind of law I wanted to practice when I began law school.
If you hadn't pursued a legal career, what would you be doing?
My undergraduate major was psychology and I have always been fascinated with trying to understand why people think/behave the way they do. I don't know if I would have had the drive to complete the requisite graduate school courses to become a psychologist, but maybe something tangentially related to psychology and business.
Who is someone who has inspired you in your career?
My father has been a significant inspiration throughout my career. There are two important lessons from him that I always keep top of mind: the power of networking and never compromising on your morals.
What's the best advice you've ever received?
Be patient in your career. When you come out of law school (and even while you're a student), you're exposed to attorneys who have built their careers over decades or even lifetimes, and it can be discouraging when you don't see "success" right away in your own career path. Keep doing the right things, making the right connections and, in time, your opportunities will appear.
What makes a good lawyer/judge?
A good lawyer understands the perspectives of all the relevant stakeholders and works to craft a solution with all such persons in mind.
How do you spend your free time?
My family welcomed our second child in August, so being in the throes of having a newborn at home, I don't feel like I have much free time right now. As we start to settle into our routine, I look forward to being able to travel, spending quality time with friends and family, and coaching/watching sports.
If you were an animal, what would you be?
An owl — a patient predator that waits for its opening.
Which superpower would you rather have: invisibility or the ability to read minds?
Read minds — see above re: fascination with psychology.
You're a fellow of the Leadership Council on Legal Diversity — tell us about that program.
LCLD is an amazing program that focuses on building a more open and diverse legal profession, and I am a proud member of the 2019 fellows class. The organization provides participants with fantastic networking opportunities to engage with industry leaders in a very authentic manner to drive diversity in the legal profession. If you have the opportunity to be a part of LCLD and you're passionate about improving the legal profession, do it!
How did you end up in an in-house role? What do you enjoy about it?
I worked as outside counsel for Cummins on a number of matters over the course of a few years as an associate at a law firm, which gave me a glimpse into the business and the opportunity to get to know folks in the legal function on a more personal level. When my current role opened up, I decided to make the transition from the law firm primarily because of the people — my colleagues, manager and leadership are sincerely interested in helping me succeed professionally and personally. I have also found that my personal values align nicely with the organization, and I enjoy the complex issues that come with working for a global organization that is constantly pushing to improve.•
Please enable JavaScript to view this content.