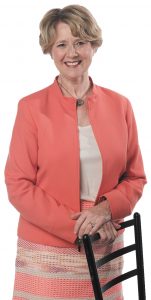 Congresswoman Susan Brooks
Indiana University Robert H. McKinney School of Law
Indiana University Robert H. McKinney School of Law, 1985
Why did you decide to enter the legal profession?
During college I did an internship as a juvenile probation officer. I became fascinated with the criminal justice system and decided I wanted to pursue a law degree to help those who found themselves involved in the system.
If you hadn't pursued a legal career, what would you be doing?
I come from a long line of teachers and coaches. I probably would have become a teacher and coach.
Who is someone who has inspired you in your career?
District Court Judge Sarah Evans Barker. I have always been in awe of her career and her involvement in our community. She is one of the most beloved women I know.
What's the best advice you've ever received?
Have a plan for your career but be ready to deviate from that plan when an opportunity presents itself to do something completely different. For example, leaving private practice after 13 years to pursue public service.
What advice do you have for young women lawyers?
When a young female attorney sees an opportunity to pursue a leadership role in an organization, pursue it! Don't wait to be encouraged or asked to run for the position. Have confidence in yourself, your skills and training and go for it. Build a coalition of supporters, both men and women, to support your endeavor.
What makes a good lawyer/judge?
Good lawyers and judges recognize the importance of listening. They recognize there are always two sides to a story or argument and explore both sides before reaching conclusions. They enjoy solving complex problems for others. Hopefully they are empathetic. Having a good sense of humor helps too!
How do you spend your free time?
I've taken up yoga during the pandemic and love it. I've also recently learned how to play pickleball and thoroughly enjoy that. Our yellow lab Bridger and I go on power walks most days.
If you were an animal, what would you be?
A bald eagle. My husband David and I watch one who occasionally visits our backyard. I love their grace, strength and the fact that it is our national bird — a symbol of our amazing country. It loves to be near water and builds wonderful huge nests.
Which superpower would you rather have: invisibility or the ability to read minds?
I love to observe people and places so I would prefer invisibility.
What is the value of having a law degree while serving in Congress?
A law degree confers a level of respect from other members of Congress as well as staff. Lawyers have been trained with skills to better question witnesses in committee hearings and skills in drafting or interpreting legislation. Most members of the House Ethics Committee, which I chaired, are lawyers. This is an important committee that upholds the ethical standards of the House rules.
Why did you pursue public service, and why have you stayed with it?
I left private practice after 13 years when asked by former Indianapolis Mayor Stephen Goldsmith to join him in city hall in 1998 as a deputy mayor. (He has encouraged me every step of the way in my public service career.) I learned that I loved the challenge of working on complex problems facing our large city. I then pursued other opportunities to serve as U.S. attorney and as a member of Congress because I believed that my experiences as a lawyer and community leader could benefit our state and country. I loved the opportunities to learn, to meet new people and to tackle new challenges.
What's been the proudest moment of your career?
I am proudest of the younger lawyers I've hired or mentored for many years. Watching them lead in the legal community and knowing their character and abilities to lead has given me tremendous pride. Judges include District Court Judge J.P. Hanlon, District Court Magistrate Judge Doris Pryor, District Court Magistrate Judge Matt Brookman and Marion Superior Court Judges Alicia Gooden and David Certo. Lawyers include Heritage government affairs director and my former chief of staff, Megan Savage, IU Health general counsel Erin Lewis, Anthem director Cynthia Ridgeway, U.S. Attorney's Office Civil Division chief Shelese Woods and counsel at Beam, Longest and Neff, Samantha DeWester.•
Please enable JavaScript to view this content.