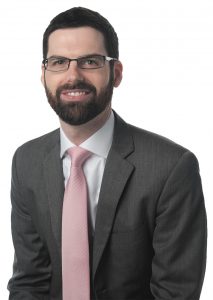 Donald Morgan
Taft Stettinius & Hollister LLP
University of California Berkeley School of Law, 2012
Why did you decide to enter the legal profession?
I've always been interested in public service and the idea that good public policy can improve communities. Coming from a small town and having no real professional or civic network to speak of, I had a vague sense that going to law school might put me on a path toward a career that would feel meaningful to me.
If you hadn't pursued a legal career, what would you be doing?
I'd most likely have pursued a Ph.D. in history and would be learning that there are, indeed, more challenging job markets than the (sometimes quite tough) legal market.
Who is someone who has inspired you in your career?
Too many people to name even just locally. Lawyers like Jon Laramore who are willing to leave lucrative private practices at the pinnacle of their careers to make a difference in the community. Lawyers like Joe Hogsett, Janet McCabe, Anne O'Connor, Deb Law, Anne Harrigan and Ellen Gabovitch who have dedicated their entire careers to public service. Kind, level-headed lawyers like Paul Wolfla and Andy Mallon who set great examples for the rest of us. Devoted mentors who care about our legal community's next generation like Jimmie McMillian, Sarah Riordan and Scott Chinn. Contemporaries like Matt Giffin and Ryan Mann who have the smarts, work ethic and credentials to do anything and go anywhere yet devote themselves to making their city better. And all of my former colleagues in the Indianapolis Office of Corporation Counsel who endure heavy workloads and high stress without the remuneration or resources available elsewhere. I could go on about them for pages.
What's the best advice you've ever received?
Don't let your career happen to you by accident. We're all navigating a legal market that pushes us to differentiate ourselves by focusing on niche areas. Young lawyers who are unwilling (or don't feel empowered) to speak up about what they want from their careers risk becoming late-career lawyers wondering what happened. That advice has limits. Some of the best opportunities in my career arose because I was open to stretching myself and trying something new. But I think we should reassess periodically whether we're spending our days doing work that is meaningful to us. And if we aren't, we should do something about that.
How do you spend your free time?
I don't get to do it as much as I'd like, but very little gets me as animated as taking in the sights, tastes, smells and customs of someplace I've never been before.
What makes a good lawyer?
I think a good lawyer should be a problem solver first. We're all trained to be analytical, to spot issues and to be strong advocates. But the lawyers I wanted to work with when I was in a general counsel role were problem solvers. A client's idea might be unworkable. But even the most sophisticated clients are rarely wedded to an idea for the idea's sake. They're looking to solve a problem. When the idea is unworkable, good lawyers don't just say so. They help identify and navigate alternatives that could help solve the underlying problem.
You were Indianapolis corporation counsel at the start of COVID. What was that experience like?
It was the hardest, most exhausting time in my career. Even among the incredibly important work that office does every day, few challenges present the literal life-and-death questions we helped clients navigate in those early days of the pandemic when the public health community still had so much to learn about the virus and how its spreads (and when vaccines were still a long way off).
How did you get involved in government/public law?
When Mayor Joe Hogsett was elected in 2015, I had a litigation practice at what was then Faegre Baker Daniels. The new administration asked me to lead the city's litigation team, and it struck me as an opportunity to spend more time on the appellate and constitutional issues that most interested me. The bigger stretch for me came later when I was asked to serve as corporation counsel. It was probably the best learning opportunity (and most interesting job) I'll ever have.
That job took me from my comfort zone as an appellate advocate and litigator to a general counsel role that could hardly have been more different.
Which superpower would you rather have: invisibility or the ability to read minds?
Neither. We have too little privacy and an endless deluge of information at our fingertips as it is.
If you were an animal, what would you be?
I've tried to come up with some answer for this question, but I've failed. •
Please enable JavaScript to view this content.