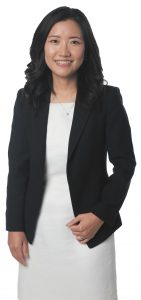 Hae Lee Cho
Kids' Voice of Indiana
Indiana University Robert H. McKinney School of Law, 2013
Why did you decide to enter the legal profession?
When I was in high school, I read a book titled "An Unjust Law is No Law at All" written by a Korean civil rights attorney. His journey to advocate for people in need against injustice inspired me to study sociology and law.
If you hadn't pursued a legal career, what would you be doing?
As I was starting my legal career, I also started a wedding flower business. Designing floral arrangements allows me to be creative. And I enjoy working with beautiful flowers and brides on their happiest day.
Who is someone who has inspired you in your career?
My family. My grandparents and parents have always encouraged me to explore new learning opportunities and to challenge myself. I am from Seoul, South Korea, and that is where I completed all of my schooling through undergrad. Coming to the U.S. for law school was a huge challenge. Some people were not sure that I could get a law degree and practice law in the U.S. But my family made me believe that anything is possible.
What's the best advice you've ever received?
I was 26 when I left Korea to attend a law school in the U.S. Before my departure, I talked with my grandfather about how long law school would take and that I might not be able to start a family. My grandfather told me that marriage and kids can come later, but now is the time to focus on education and exploring the world. He was right. I got to explore the world, get my law degree, I met my awesome husband in law school, and we have two wonderful fur babies, Lou and Milo.
What makes a good lawyer/judge?
Listening and patience. We attorneys like to talk and give advice to help our clients. Frequently, we are advising people that have traumatic life experiences, substance abuse issues or mental health issues. Listening to them not only informs our advice, but it also builds trust so they feel comfortable following our advice. Working as a public defender for children in need of services/termination of parental rights clients helped me to understand the importance of trauma-informed lawyering. This approach is not limited to attorneys but everyone who interacts with children and families in the child welfare system.
How do you spend your free time?
I've been working from home since March 2020, so the distinction between free time and work time has become less clear. My dogs do not understand, but they are very happy I am home all the time. They enjoy napping on or near me when I'm working and competing with the computer screen for my attention.
I volunteer with the Korean American Association of Indiana (KAAI) and it's been a wonderful experience to connect with the Korean community in Indiana.
My husband and I love traveling. Whether it's a road trip somewhere in the U.S., sitting on a beach or traveling overseas, I enjoy exploring new places and experiencing different cultures.
If you were an animal, what would you be?
A butterfly. In some cultures, it's believed that our loved ones are reborn as a butterfly. When I see a random butterfly in my garden, sometimes I feel like my grandfather is here with me.
Which superpower would you rather have: invisibility or the ability to read minds?
Can I pick a different superpower? I would choose the ability to fly. It would make traveling so much easier. No airports, passports or visas.
Tell us about your work with National Reunification Month.
I learned about this program when I attended the national conference hosted by the American Bar Association Center on Children and the Law in Washington, D.C., in 2019. National Reunification Month (NRM) is an opportunity to celebrate families that successfully achieve reunification through the child welfare system and to recognize the people and efforts that help families stay together.
In 2019, a group of us began planning to celebrate NRM in Indiana for the first time. I have to mention Magistrate Judge Jennifer Hubbartt and Pamela Suchecki, because they were the driving force behind getting this done. With support from the Indiana Court Improvement Program, Marion County Juvenile Court (now Family Division) and child welfare stakeholders, Indiana celebrated NRM for the first time. The plans were modified because of COVID, but a lot of resources were distributed to over 1,000 families, including food boxes, car seats, school supplies and sanitary items.
This year, in addition to a community event, there was a seminar. About 160 people attended, and nationally recognized experts discussed the importance of reunification and how we can promote safe and timely reunification for Hoosier families. In addition, Gov. Eric Holcomb issued a proclamation for Reunification Month.
For 2022, we envision NRM to be statewide, and I am looking forward to welcoming new faces to the steering committee and celebrating with more families beyond Marion County.
Why is being part of APABA-IN important?
During law school, I was treasurer of the Asian Law Student Association (ALSA) but I rarely met Asian lawyers or judges. Then I learned about the Asian Pacific American Bar Association (APABA), which connects Asian attorneys and judges through mentoring programs, social events, CLEs and potlucks to celebrate traditional Asian holidays. Being connected with people who have shared experiences and culture has been a great comfort as I build a life in a foreign country.
And now I can share with Asian law students and young attorneys that being different and being a minority isn't a weakness and doesn't hinder whatever their goals are.•
Please enable JavaScript to view this content.