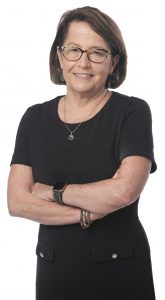 Indiana Chief Justice Loretta Rush
Indiana Supreme Court
Indiana University Maurer School of Law, 1983
Why did you decide to enter the legal profession?
Growing up, I hadn't given a lot of consideration to the legal profession. When I started at Purdue, I thought I would be an engineer. But given the few electives available to engineering students, I switched to getting a degree where I could take sociology, history, government and economics. One of my favorite classes was constitutional law, and when a friend of mine went to take the LSATs my senior year, I decided to join her.
If you hadn't pursued a legal career, what would you be doing?
I had a lot of interests when I was younger. I really enjoyed Model Legislature and Girls State, so if I hadn't pursued a legal career, I could have seen myself pursuing elected office. I would have enjoyed teaching as well.
Who is someone who has inspired you in your career?
My grandmother Sylvia, whom we called "Nana," really inspired me. She was a French teacher, and she challenged me from a young age. I learned to play bridge at the age of 7 and was only allowed to speak French in her house.
What's the best advice you've ever received?
The best advice I've ever received is to "be kind."
What makes a good lawyer/judge?
A good lawyer or judge must have humility and excellent listening skills.
How do you spend your free time?
I love staying active with hiking and biking. I also love cooking and quilting. But most of my "free time" is spent with my family, friends, children and grandchildren.
Which superpower would you rather have: invisibility or the ability to read minds?
Read minds.
If you were an animal, what would you be?
A sea otter.
You've devoted significant resources to addressing the opioid crisis — why did you choose to focus on that issue?
The Conference of Chief Justices asked that I co-chair the national opioid committee, but I've had an interest in this area for a long time. As a practitioner and then as a trial court judge, I saw the devastation that addiction had on children, families, businesses and communities. When the opioid crisis hit and we began to see the human destruction in its wake, I knew the courts had to act. We should have done more to address the crack cocaine crisis of several decades ago. The justice system is the number one referral source (other than self-referrals) to get someone with substance abuse into treatment. We know problem-solving courts work, early intervention works and the accountability involved in being in the court system is powerful. It is imperative that we have judges trained on the science of addiction — that addiction is a disease and not a moral failure, and that there is treatment.
What advice do you have for young female lawyers who want to become judges?
I talk to young female lawyers about becoming judges all the time. Don't wait for someone to tap you on the shoulder. Know that we need you. We need more diversity on the bench. We've come a long way in increasing the number of female judges in Indiana, but we still have a way to go. It is an honorable profession.•
Please enable JavaScript to view this content.